De Villiers to Gayle: Blitz masters and zen blockers

Wisden India
23-12-2016
Fans and the media often see cricketers the way Mr Vernon saw the group of delinquents in The Breakfast Club, "in the simplest terms, in the most convenient definitions." The Wall. Gaylestorm. Tuk Tuk. Mr 360. But a brilliant cricketer can adapt to any situation. Wisden India looks at some modern greats and the contrasting innings they've played, proving that there is more than meets the eye to each one of them, without having forced a Saturday detention.
AB de Villiers
SR: 338.63
149 (44) v West Indies in Johannesburg ODI, January 2015
SR: 14.47
43 (297) v India in Delhi Test, December 2015
Bang! Wham! Kapow! De Villiers's knock against West Indies was like something out a comic book fight sequence. In the process, he also hit the fastest fifty, off 16 balls, and the fastest hundred, off 31 balls, as his blitz, minus one run, tuned out to be the exact margin of defeat for West Indies.
If that was how the year 2015 began for de Villiers, he revealed another dimension by the end of the same year, blocking 32 balls at the Kotla before getting off the mark. For 354 minutes, the runs came drip by drip as de Villiers channelled his inner monk, and South Africa dared to dream that they could escape with a draw in the final Test against India. That didn't happen but, if there's anything to learn from these two vastly different innings, it's this: Pink is a very manly colour, and de Villiers is cricket's Renaissance man.
Rahul Dravid
SR: 37.67
81 (215) v West Indies in Kingston Test, July 2006
SR: 227.27
50* (22) v New Zealand in Hyderabad ODI, November 2003
In the 2011 Bradman Oration, Dravid delighted in the fact that Bradman was mostly a No. 3 like himself, but he also good-naturedly pointed out, "If I bat for any length of time, I am more likely to bore people to sleep."
It didn't matter though because Dravid was India's firefighter, ready to go into a burning building and rescue everyone, kitten included. It was never more in evidence than when he produced a match-defining 81 on a snorter of a pitch in Kingston in 2006, following it up with another half-century in the second dig, to lead India to their second series victory in the Carribbean, ending a 35-year drought.
But Dravid could up the tempo, too, when the mood struck him as he showed when he hit the second fastest half-century by an India player in the TVS Cup in 2003. With over 10,000 runs in ODIs, he found a way to succeed in a format that wasn't supposed to be his cup of tea.
Virender Sehwag
SR: 104.93
319 (304) v South Africa in Chennai ODI, March 2008
SR: 63.98
151 (236) v Australia in Adelaide Test, January 2008
There have been 25 triple-centurions in Test cricket so far, but only one batsman managed to have a strike-rate above 100. That was Sehwag for you. His first triple in Multan came at a touch slower rate, but he rectified that immediately when he got to the milestone a second time, one among four batsmen to do so, in Chennai. Sehwag's philosophy — "see the ball, hit the ball" — simplified the game and he entertained like no one else.
But Geoffrey Boycott's assessment that Sehwag was "talented but brainless" was off the mark. And not just because Boycott once batted the whole day and hit just one four, as Sehwag aptly put it. Ensuring India's 2008 tour Down Under ended with a respectable 1-2 scoreline rather than 3-1 to Australia, Sehwag proved he could rein himself, batting nearly six hours in the final innings of the fourth Test to earn his side a draw.
Brendon McCullum
SR: 308.00
77 (25) v England in Wellington ODI, February 2015
SR: 54.02
302 (559) v India in Wellington Test, February 2014
Another cricketer who exemplifies electrifying and exhilarating batting is McCullum. In the group stage of the 2015 World Cup against England, the New Zealand captain knocked the stuffing out of the opposition, breaking his own record for the fastest World Cup fifty, after a Tim Southee special bowled England out for 123 in 33.2 overs. New Zealand then got there in 12.2 overs for the loss of two wickets to leave everyone gobsmacked.
Incredibly, just a year earlier in the same city, McCullum came up with another doozy to steer New Zealand from certain defeat. Having conceded a 246-run lead to India, New Zealand stumbled to 94 for 5. But then McCullum, bad back and all, defied India for almost 13 hours to become New Zealand's first triple-centurion and take the total to a staggering 680 for 8 declared. The game ended in a draw, but New Zealand sealed a 1-0 series victory and McCullum became a darling of the masses.
Chris Gayle
SR: 248.38
77 (31) v South Africa in Cape Town ODI, January 2015
SR: 36.70
69 (188) v India in Antigua Test, June 2006
A one-man entertainment centre, Gayle can throw a party as spectacular off the field as he can on it. Running between the wickets? That's passé. Why run, when you can clear the ropes with a booming six? He slammed the first century in Twenty20 Internationals in 2007 — a 57-ball 117 — while everyone else was still trying to crack the code of T20 cricket. His most ferocious T20I knock came against South Africa in 2015, when he pummelled five fours and eight sixes during his 31-ball stay at the crease.
However, the man, who once claimed that Dravid could play attacking cricket like him but not the other way around, may have underestimated his talent in the longer format. In the first Test of the series against India in 2006, West Indies were set 392 to win with a little over three sessions to bat. In the first innings, he had won the battle against the bowlers, but in the second, he put ego aside and defended at deliveries. There was no hundred, but West Indies hung on by one wicket to deny India a win, showing there is another side to Gayle.
Misbah-ul-Haq
SR: 42.97
52 (121) v West Indies in Providence ODI, July 2013
SR: 177.19
101* (57) v Australia in Abu Dhabi Test, October 2014
There are sloggers and stonewallers. And then there is Misbah. He is referred to as Tuk Tuk for his go-slow approach to building an innings in ODIs. Osman Samiuddin explained the template best in the Wisden India Almanack 2015, "Arrive to slowly-gathering disaster; staunch by hoovering up dot balls; rebuild; threaten acceleration; make fifty (never a hundred), get out at just the wrong time or more likely, watch unflappably as others do." Against West Indies in 2013, this translated to the third-slowest knock, after facing 100 balls, in the past five years. But it also translated into a win as he was the glue that held the innings together.
It's not that Misbah is incapable from going hammer and tongs. He proved that point emphatically in Abu Dhabi against Australia, when he equalled Sir Viv Richards's record for the fastest century in Test cricket, to guide Pakistan to a 2-0 series win. The man has never hit a hundred in the 162 ODIs he has played, but managed to get a membership into Sir Viv's club in the longer format. It was catharsis, like a girl who had stuck to a diet of salad to fit into a wedding dress finally enjoying a buffet. And the catharsis was experienced not just by Misbah but his fans too.
---
---
Slideshow: Rare photos of cricketers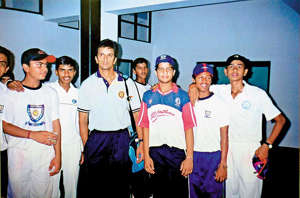 Watch: Virat Kohli pleased by manner of India victories