Dhoni's young India squad: Newbies' journey to Zimbabwe

Wisden India
06-06-2016
By naming five new faces in the Indian team for the limited-overs tour of Zimbabwe starting on June 11, the Sandeep Patil-chaired national selection committee has again rewarded consistent domestic performers. Here is a look at what the newcomers in the squad for the Zimbabwe and West Indies tours have done over the past few seasons.
Tour of Zimbabwe (3 One-Day Internationals and 3 Twenty20 Internationals)
KL Rahul
Rahul's technical correctness has brought him two centuries in five Tests so far, but it was his performance for Royal Challengers Bangalore in the ongoing Indian Premier League that gave him his first breakthrough in limited-overs cricket. With four half-centuries and a strike-rate of 147.89 from different batting positions, his contribution has been significant in Bangalore making it to the Qualifiers after struggling for a major part of the season.

Rahul's best List A score is 110, which had come for Karnataka against Hyderabad in the 2012-13 Vijay Hazare Trophy. His ability to handle pressure was on display during the 2013-14 Vijay Hazare final when Karnataka were reduced to 47 for 5 in their pursuit of 158 against Railways on a bowling-friendly Eden Gardens pitch. He and Karun Nair stitched together a crucial 66-run stand to guide the team to safety. That he has been flexible enough to keep wickets for India in Tests and for his IPL franchise has earned him brownie points.
Faiz Fazal
Originally a part of squad for the 2004 Under-19 World Cup, an injury ruled Faiz Fazal out and gave a chance to Shikhar Dhawan, the eventual player of the tournament. Since making a century on his first-class debut in 2003, Fazal has been a top scorer at the domestic level for Vidarbha, and Railways for a brief while, but found it hard to break into the next level. This season, however, was different. He made 127 and built big partnerships with Sudip Chatterjee and Nair in the Irani Cup for Rest of India against Mumbai in a successful chase of 480.

The only newcomer who doesn't have an IPL contract, Fazal has played for Rajasthan Royals in the past and is currently playing league cricket in England. "To be honest, I wasn't aware that the selections are happening today. I am four and half hours behind (in England). I was sitting in my room when dad called me and broke the news. I didn't believe him at first and I asked if he was joking or if he was referring to India A.
"I have expected calls before but it ended in disappointment. I didn't want to be disappointed anymore. I realised performing is better than expecting and thought if it is going to happen, it will happen surely," Fazal told Wisden India, adding that the feeling had not sunk in. "I started crying after I heard the news because to play for India has been my ultimate aim … Making my country proud and playing under MS is a huge opportunity for me. I believe the harder you work, the more it will pay off."
Karun Nair
Karun Nair marked his arrival with three consecutive centuries in his first Ranji Trophy season for Karnataka in 2013-14 and has not looked back since. A part of a hugely successful state team that won six trophies in his debut season and the next, Nair shifted to a different gear with an 872-minute 328 against Tamil Nadu in the 2014-15 final. He followed that up with twin half-centuries in the Irani Cup win and a match-saving 114 not out in the fourth innings for India A against South Africa A in Wayanad last year. He was immediately called up as a replacement player for India's Test series in Sri Lanka, but did not make his debut.

Consistent performances for Rajasthan Royals and now Delhi Daredevils, including an 83 not out in a last-ball win against Sunrisers Hyderabad, has kept the focus on Nair. "He looks casual because that is his style, like that of Mohammad Azharuddin and VVS Laxman, and that is different from batting casually," J Arunkumar, Karnataka's coach, wrote in the Wisden India Almanack 2016.
Jayant Yadav
An offspinner in the classical mould who bowls with half-sleeve, Jayant Yadav's rise over the past few seasons has been consistent, and it was best marked in the 2014-15 Ranji Trophy where he was only one of three spinners to touch the 30-wicket mark on pitches that primarily assisted seamers. He was the bowling hero of Rest of India's Irani Cup win in 2015-16, and has stepped up his game in IPL 2016 for Delhi Daredevils with economical bowling.

Marked as an understudy to R Ashwin, Jayant, who is not afraid of flighting his deliveries, hates when the ball is taken away from him, he says. He is no mug with the bat too, having notched up two centuries, including one double, for Haryana in Ranji Trophy.
Yuzvendra Chahal
Amit Mishra's presence in the Haryana squad had restricted Yuzvendra Chahal's appearance in white-ball cricket since he made his state debut in 2010. Yet, it is surprising that Chahal has taken this long to break into the Indian team since showing his potential in IPL 2014. His ability to extract sharp turn and provide crucial breakthroughs has made him Virat Kohli's go-to bowler at Royal Challengers Bangalore. He is Bangalore's best bowler this season with 19 wickets and has played a big role in filling the void created by the absence of the injured pair of Mitchell Starc and Samuel Badree.

"In the last two-three years, I have been doing well in IPL, so yes I was expecting the call. I am very excited to play under Mahi bhai. I have already played under Virat (Kohli) bhai in the IPL and have learnt so much from him. It is a proud moment, especially for my mother," Chahal, who got to know about his selection when someone tagged him on Twitter, told Wisden India. "In the IPL, you have so many big hitters like Brendon McCullum, who are all stars at the international level. So bowling to them has made me improve my game and it has taught me a lot. I see myself as a better bowler after playing in IPL."
Mandeep Singh
When he gets going, Mandeep Singh is entertaining to watch. But lack of consistency has hurt the 24-year-old. That was one of the reasons Kings XI Punjab released him before the 2015 IPL. He flourished briefly for Royal Challengers Bangalore that season, but has played just one game in 2016 owing to team composition. Injuries too, like the broken finger while playing for India A against West Indies A in 2012, have curtailed his progress.

Mandeep, who played the 2010 Under-19 World Cup, was asked by his father to be a doctor, but he chose cricket. He has scored two double-centuries for Punjab in the Ranji Trophy, and was also their second-best batsman when they made it to the 2014-15 Vijay Hazare Trophy final. All that has added up to put him on the flight to Zimbabwe.
Mandeep told Wisden India that while he had been expecting the call-up following a good domestic season, he was still excited and cried at the news. "Kedhar Jadhav came to my room and said in the typical Punjabi slang 'badhaaiyaan!' That is when I got to know I was selected. It is the biggest moment of my life."
Having learnt lessons in batting and fitness from Kohli in Bangalore, Mandeep is now looking forward to playing under MS Dhoni. "It is going to be a huge learning curve under him since he has been a superb captain. The way he approaches the game and the way he acts in pressure situations is impeccable."
Tour of West Indies (Four Tests)
Shardul Thakur
How Shardul Thakur lost around 12kg to become Mumbai's strike bowler in 2014-15 is a story that gets repeated in the circuit. Thakur ended as the joint-highest wicket-taker that season with 48 scalps, but could not take Mumbai beyond the semifinals. In 2015-16, he went a step further as his 41 wickets helped Mumbai regain the title after two seasons.

Thakur's biggest strength is his ability to attack relentlessly, no matter what time of the day it is. Strongly built and still working on increasing his pace, Thakur is rated highly by Sachin Tendulkar. Red ball is Thakur's forte and by picking him ahead of Varun Aaron, the selectors have given the team management a raw and exciting option.
"I was travelling in Mumbai when I suddenly got a call from Sandeep Patil about my selection," said Thakur, adding that he was "happy and thankful" for the chance. "I was not expecting the call as such, but was hoping for it. It is not very easy to get into the Test squad. You can only hope your dreams come true and mine did."
The conditions in the Caribbean may be new to him, but he's hoping to make the most of his opportunity. "It is going to be an experienced dressing room and I am sure they will all help a youngster like me. Not only Virat, but there are others as well who can guide and teach you about the game and to adapt to certain conditions … I am quite excited and I can't express that in words."
Recently, after Kings XI Punjab released him from their roster, Thakur made his frustration known through a tweet that was subsequently deleted. Something they say then, about life being a cycle of good and bad days!
Slideshow: 25 cricket world records you must know about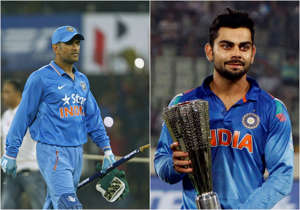 Cricket world records you must know about