Dhoni creates something in every match: Kiran More

Wisden India
12-07-2016
Kiran More is currently in charge of the Board of Control for Cricket in India's wicketkeeping camp, being held in three phases, at the National Cricket Academy in Bangalore. The former India stumper, known for his grit and spirit, spoke to Wisden India about the evolution of his craft over the years, Mahendra Singh Dhoni, the lack of specialised wicketkeeping coaches at the grassroots level, and India's stocks among other things. Excerpts:
You have also worked with Mumbai Cricket Association, Madhya Pradesh Cricket Association, Mumbai Indians, and other teams. What is the state of wicketkeepers at the grassroots level?
A wicketkeeper is the heart of the game. If you don't have a quality wicketkeeper, your team comes down like a wall, yet I feel wicketkeeping has been neglected in most of the states. We don't have enough wicketkeeping coaches in state academies, and many of them are not up to the mark. It is not about somebody taking drills or arranging fitness sessions. Every state needs a good quality wicketkeeper-coach because it is a specialist job. A lot of former wicketkeepers do come to the NCA, but they should be involved more and we have to have more seminars. It's like you call former spinners, fast bowlers and batsmen to camps, then why not wicketkeepers?
If you go through the list of names who have coached the state teams, you won't find many wicketkeepers. You need them from an early age because cricketers are in their formative stage between ten and 14 years. I compare wicketkeeping with fast bowling. If we have correct technique of wicketkeeping then you won't break your fingers, you won't get hit on your face, eyes or shoulder. Suppose your thumb or two fingers get fractured at ten or 12 years, it becomes a chronic problem after that. It affects your game and personal life. As a student, it becomes really difficult to write with a broken index finger. A technically correct wicketkeeper will get fewer injuries, will do a good job behind the stumps, will bat well, will remain fitter and not miss many matches.
You had once said that having played league cricket in England in the 1980s helped you when you made your Test debut at Lord's during the 1986 tour. How important is it for young wicketkeepers these days to gain overseas experience before breaking into the top level?
Absolutely. India A tours are very important. When you get opportunity to play league cricket, you should play because in every country, may it be South Africa, Australia or England, the challenges are different. Having played league cricket in England, it really helped me when I made my Test debut there. I knew the conditions well. When a new wicketkeeper goes to England, he is going to struggle because at Leeds and Lord's the ball really dies on you. You don't know how the ball is going to react.
How much is the wicketkeeper to be blamed for catches falling short of the slip fielders?
The wicketkeeper decides where he should stand, and (in effect) where the slip fielders should be. He is the captain of the ship. It depends on what range you have, how much movement you can make, how is the carry of the ball, and how much it is swinging. It also depends on how the wicket is behaving. On flat pitches, the ball is not going to carry wider of you and is going to come more inside, but if the ball is swinging then it will go wider.
The wicketkeeper has to collect the ball at the knee or abdomen height, so you judge and share the information with the slip cordon. Some batters are very smart; they have loose bottom hands. So, you have to tell the slip fielders that the ball is not going to carry, so come up. Some batsmen play with a tight bottom hand, so the ball carries a little faster and you have to stay one step behind. It also depends whether the bowler is bowling quick or slow. It's a partnership between the wicketkeeper, bowler and the slip (fielders).
What do you observe when you are standing behind the stumps?
You have to observe everything, when the bowler is going to bowl the yorker, the bouncer, the faster one. You will come to know from the way he runs, the way he gets his mould when he comes to the crease and how he is going to finish it. There are bowlers who bowl the inswinger or outswinger. So you observe first how he is going to start off. Some bowler come faster to bowl the bouncer, some bowler come easy and at the last moment (hustle up) to bowl short. You observe everything and when the bowler comes to the crease you see the hand position, and that is how you pick up the changes he does. Some bowlers come and deliver the legcutter from the back of the hand; you have to pick up which one is fast or which one is slow. Some bowlers give signals. You can pick up a lot by watching the seam. Now things are very easy with a lot of video analysis.
What is the ideal stance for a wicketkeeper?
Balance is important, but you don't have to always be low. People say about wicketkeepers having to stay low, but it's not that. Your hand and head position is very important. If your hand position is right and you get up early then it doesn't bother you. The top wicketkeepers get their timing right. If you get up early, but your position is correct then you can catch the ball. If you are late (to react), you will be late to reach to the ball and you will be hit on the face. Once your hand goes up, it becomes very difficult to bring them back. So if your hands remain low and body comes up then it is fine. The guys at slip catch the ball when it is at their knee or abdomen height. That's the position you need to be in while catching the ball.
It's not about remaining low. When you are low, you are seeing the line of the bowler, the delivery of the ball, and then you are getting up with the ball. That's why you stay down especially in the subcontinental wicket where the ball doesn't bounce much and doesn't come to you. You don't have to do that in foreign wickets because the ball comes to you at a good height. Australia and South Africa are good for wicketkeepers, but in England there are a couple of grounds that are really difficult to keep because the ball swings late, it swerves down and comes like a snake sometimes, it dies on you.
Wicketkeeping is regarded as a thankless job as missed chances get highlighted. How do you train youngsters to cope with failure and criticism?
When you increase your percentage of catching the ball then you hardly miss anything, but mentally you have to be very, very tough and forget about missed chances because otherwise it affects the whole day. You have to tell yourself that, the next ball is going to come to you, and you are going to watch and catch it. When you start playing, it is not easy as people point at you. Once you reach the top level you get used to it.
Of course you always have that bad feeling when you drop a catch or miss a stumping, but it's a part and parcel of the game and you have to switch off and switch on. When I dropped (Graham) Gooch in England (at Lord's in 1990), it was the toughest for me. Every wicketkeeper drops catches, but unfortunately he went on to make 333 runs. To come out of it was tough because we lost the match. It played in my mind, but I did come back and we won the next series in India. I had a fantastic series. The dressing room backed me a lot, and my family, friends and coaches supported me. Close friends who know you from childhood and don't always talk good things, but say the right things, are very important.
Do youngsters training under you share their fears?
Of course. As a coach we need to find out what their fear is, what comfort and difficulties they have. Wicketkeeping is just not about technical stuff, it's a lot mental also, and you have to understand the wicketkeeper's mind. How he reacts to situations, what he likes, what he doesn't like. You have to tell yourself that you are tough because you are going to be hit on your fingers, face and shoulder. You can make out who are good wicketkeepers with strong characters. When the bowlers are bowling at you, fielders are throwing at you, there are wild balls and there are wild throws. There are one-bounce throws. Even sometimes the pitches are not good, which is not helping you.
Are you happy with India's current wicketkeeping stocks?
We have a fantastic stock. We have loads of wicketkeepers who are waiting to get the opportunity. Even Parthiv Patel and Dinesh Karthik, who have already played for India, have improved with experience. Wriddhiman Saha and Naman Ojha are there; Sanju Samson and Aditya Tare are all doing very well. We have Rishabh Pant. The talent is unbelievable and they just need to get their act together. The healthy competition is a good sign for Indian cricket. But, still, every time we need to raise our bar and have the best wicketkeeper in the world. What Dhoni has created is fantastic, with more than 700 victims and batting at No. 6 or No. 7 in the shorter version. His contribution to Indian cricket is wonderful. That has given a fantastic balance to the team, and given an easy life to the selectors.
KL Rahul was used as a wicketkeeper by Royal Challengers Bangalore in the latest IPL. Do you think he has the ability to be a full-time wicketkeeper?
KL Rahul has got beautiful hands. There are some flaws that he has and needs to work on them, and then he can do the job. He has the idea, and his temperament and attitude as a wicketkeeper is fantastic.
Which wicketkeeper do you enjoy watching the most?
It is fantastic to watch Dhoni's keeping as in every match he is creating something. There was a belief earlier that wicketkeeper shouldn't be the captain because you have to concentrate so much on the ball. But Dhoni has changed that.
His stumpings without taking the hand back has raised the bar further …
He has got very beautiful soft hands. There is (obviously) a 'give' he gives, but he is very smart. He reads the bowler and the game so well. When you read things well (clicks his finger) then half the battle is won. Like when a batsman hits a 150kph on the front foot by picking the ball early, that's what Dhoni is in wicketkeeping. He knows what is going to happen and that is how he anticipates. The mind and hand position is so coordinated, he is very sharp and his reflexes are fast. That is where his cricketing mind comes into play and that's how he reacts and gets all those stumpings. Once you are ready (clicks his fingers again), you can flick the bails in a few seconds.
Did you see his karate kick during the IPL?
That's a very good addition. I think it's a great mind work and skill work. He is a footballer, so he knows how to do all those things very well. He leaves (and deflects) some of the balls (that come from the fielders) to hit the stumps. He knows where he is standing. He knows his position well. Reading the ball, reading the batsman, when he is going to cut and when he is going to play the late cut. He reads them so well that he puts his foot there or his hands there.
I always believe wicketkeepers should create things. It is just not about waiting for things to happen. You are always thinking about creating something (claps his hand to stress the point). That's how you become world's top wicketkeeper and that's what Dhoni does.
One of the things you created was the David Gower run out during the ODI series in England in 1990. There is a split second gap before you threw the ball at the non-striker's end. Tell us about it.
You get into this habit when you play more matches. As a wicketkeeper you have to be very, very alert. You are close to the stumps, you know how the batsmen are going to react, how their body language is, how they are running, how they are stepping out, what they do when they finish playing the ball. When you observe these things there is an opportunity, and you have to go for it. That is where you get these brilliant run outs.
I got Martin Crowe run out in the 1992 World Cup. I remember I used to practice in the nets. There used to open nets, but there used to be netting on the side. Every time the batsman used to play, the ball used to go and hit the net. I used to try and catch the ball and flick it to the stumps from the back of my hand and try to hit the stumps. That time I just reacted to it and hit the stumps. The commentators were surprised and nobody, including the umpires, knew what happened on the field. Only I knew and Crowe, who was four feet out of the ground, reacted a bit later. When you practice and think about it, then it is going to happen. You have to practice in the nets and try to do something different, try to be creative then all these things happen.
What is T20 cricket's biggest contribution to wicketkeeping?
T20 has increased the demand for wicketkeeping. In IPL or in other T20 leagues, you sometimes have teams carrying four backup wicketkeepers because of the frequency of injuries, and they are outstanding batsmen also. It is a great opportunity for them.
Keeping wickets in T20 is a big challenge. You give one opportunity to a batsman and you lose the match. You have to be very alert because you have to save the wides, the byes. At the same time the batsmen will take a lot of chances, which means opportunities are immense.
There is still a lot of scope for wicketkeepers to stand up to the fast bowlers, which they have started doing. You can create stumpings and a lot of psychological pressure on the batsmen, as they can't step out and then become out because they can't reach to the pitch of the ball and mistime it. I wish I was playing T20 cricket, it would have been wonderful to keep wickets.
Some wicketkeepers don't wear pads in T20s these days …
It depends on the pitches. They wear shin pads inside, which is good enough. In T20, some guys are comfortable with that because you have to catch the ball, run, pick up the side balls as there are singles happening (around you). There are misfields; you have to back up at the non-striker's end at times also. So, sometimes you have to be a bit lighter.
It takes a lot of toll on you as you are running after every ball to the stumps. All fielders have been told to throw at the wicketkeeper's end because if you throw at the bowling end there is a chance that the bowler might get injured. Unless there is a run out opportunity at the non-striker's end, you have to throw at the batting end because it's a dead-ball once the wicketkeeper catches the ball. But, having said that proper protection is a must.
Once upon a time it was about wicketkeeper-batsman; now it's batsman-wicketkeeper. What's the future of your tribe?
I still believe you have to be a wicketkeeper-batsman. Dhoni has effected more than 700 victims; you can't say he is a batsman-wicketkeeper. He is a wicketkeeper-batsman. It's a word that has been misused. Wicketkeepers were always batsmen.
Guys like KL Rahul or Robin Uthappa are keeping superbly. As a selector, I need to pick a quality wicketkeeper. Yes, he has to bat. Take the example of Rahul Dravid (who walks past us as we chat); he played 75 matches as a batsman-wicketkeeper. That's because he is a genuine batsman who had kept wickets earlier but never done it at a top-level cricket. We needed a player to have the right balance, and he gave us that. He did a wonderful job as a wicketkeeper.
Slideshow: Rare photos of MS Dhoni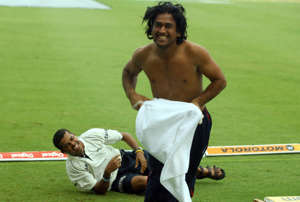 Rare images of MS Dhoni