Diwali brings best out in Indian cricket: Gavaskar equals Bradman, Dhoni destroys Sri Lanka

India Today
30-10-2016
Diwali, the popular festival of lights, has been a joyous occasion for the Indian cricket team. Diwali, which is celebrated across the country with great pomp and vigor, is the most important festival in Hindu mythology.

Over the years, Team India has usually found itself on the field during this time of the year. Even this time, India won the fifth and final ODI against New Zealand by 190 runs in Visakhapatnam on Saturday.
With Diwali being celebrated on Sunday, it is worthy to recall some of the moments when Team India light up a million hearts through their performance during this special festive period.
From former captain Mahendra Singh Dhoni's 183 against Sri Lanka to Sachin Tendulkar winning a thriller with the ball against South Africa at the Eden Gardens, here's our top five Diwali moments for Indian cricket.
GAVASKAR EQUALS BRADMAN'S RECORD
Former India captain Sunil Gavaskar slammed his 29th Test hundred to equal Don Bradman's record of most centuries in Test cricket. Gavaskar's special century came against the West Indies in Delhi. The match, played between October 29 to November 3, ended in a draw but will always be remembered for Gavaskar's heroics. Another player who stood out in the match was Dilip Vengsarkar, who struck a brilliant 159. Captain Kapil Dev too bagged a seven-wicket haul in the first innings. For West Indies, Clive Lloyd hit a gritty 103.
DHONI SHATTERS SRI LANKA
Mahendra Singh Dhoni played the best ODI knock of his career when he hammered Sri Lanka in Jaipur on October 31, 2005. Sri Lanka had set a competitive total of 298 runs, thanks to Kumar Sangakkara's 138 and Mahela Jayawardene's 71. India started the chase on a bad note when they lost Sachin Tendulkar in the first over. However, a long-haired Dhoni, who was promoted to No.3, turned the match around single-handedly with a splendid unbeaten 183 off 145 balls. His knock, which was studded with 10 sixes and 15 fours, helped India cross the line with 3.5 overs to spare.
INDIA DRUB ENGLAND 5-0 ON DIWALI EVE
Skipper Dhoni's unbeaten 75 and Ravindra Jadeja's four-wicket haul helped India maul England by 95 runs in the fifth ODI in Kolkata on October 25, 2011. The victory gave India a 5-0 series win - the same margin by which England had won the home series against India. Jadeja won the Man of the Match award while Dhoni's efforts earned him the Man of the Series award.

Chasing 272, England got off to a great start with openers Alastair Cook and Craig Kieswetter putting on a 129-run unbeaten partnership. But that was the only bright spot in their innings as the rest of the batsmen merely paid quick visits in the middle.
SACHIN SHINES WITH THE BALL
Sachin Tendulkar has won many matches with the bat and holds all the major batting records. However, many few know that Tendulkar has won India matches, not just with the bat but also with the ball. Tendulkar was asked to bowl the last over by then captain Mohammad Azharuddin in the Hero Cup semi-final against South Africa on November 10, 1993 at the Eden Gardens. The Proteas needed just 5 runs to win and it was a big gamble for India. But Tendulkar kept his calm under pressure and conceeded just three runs to win the match by two runs.
INDIA DOWN AUSTRALIA ON DIWALI DAY
India defeated Australia convincingly by 56 runs on Diwali (October 22) at Delhi's Feroz Shah Kotla stadium. Half-centuries from Gavaskar, Navjot Sidhu, Dilip Vengsarkar and Azharuddin powered India to 289 and then the the hosts' bowling attack, led by Maninder Singh's 3/34 and Azharuddin's 3/19, bowled the Australians out for 233.
Slideshow: 27 cricket world records you must know about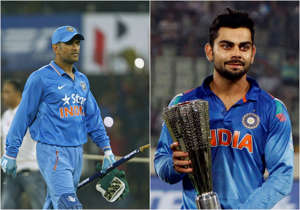 Watch: When Sachin made his first run in ODIs
More from India Today

India Today