End of Pawar-play in cricket

India Today
26-07-2016
Six months back Maharashtra political strongman Sharad Pawar celebrated his 75th birthday with Prime Minister Narendra Modi and Congress President Sonia Gandhi sharing the stage. That he enjoys respect across political spectrum has long been his USP.

The political realities of the day may not give him another opportunity to head the state again but nothing in the constitution stops him from giving it another shot.
Ironically in the world of cricket, in the post Lodha era, he is declared run out because of his age. He stands disqualified to continue as Mumbai Cricket Association (MCA) President, a post he made his own for a good part of the last decade and a half on the strength of his political clout.
Slideshow: 25 cricket world records you must know about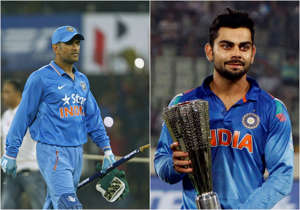 PAWAR HITS BACK

Pawar did not miss the opportunity to deliver his own wisecrack at the situation. "Supreme Court has taken a decision and I respect that but it's good it's not applicable everywhere. I had a look at the Arbitration Panel of the Supreme Court where there are judges who are aged 79, 81, 74,and 74. I am happy that their vast experience and knowledge is available to the Supreme Court," he quipped in a media meet where he admitted his time was up.
It's not the only clause which stops him from continuing as MCA Chief. Pawar has also outlived the 9 year cap imposed by Lodha report to stay in power.
For the MCA managing committee members, a majority of which will also be affected by the order, there was an air of resignation. Pawar too refrained from commenting against the order, seen in the public eye as reformist. "According to our constitution the Supreme Court is the final authority. I am not supposed to comment," he said when pressed for a reaction.
His contribution to cricket and those questioning it can be a matter of another debate but his mastery in orchestrating winning election campaigns will certainly go down as a fascinating template for some, dubious for others in the BCCI history book.
---
Suggested by Microsoft Store
---
NO STRANGER TO CRITICISM

Pawar who has never been a stranger to criticism in political space faced his fair share in cricket administration as well; from ex cricketers for blocking their ambitions by getting into cricket.
He was twice challenged by two former captains Ajit Wadekar and Dilip Vengsarkar for MCA top post as well but Pawar knew his numbers too well and they finished second best. Wadekar lost to Pawar in 2001 and Vengsarkar to Pawar backed Vilasrao Deshmukh in 2013. Vengsarkar subsequently won an election under him while Wadekar never challenged him again.
The last one to contest against him was DY Patil's son Vijay Patil in 2015 and was offering a stiff challenge. Pawar's last minute freebee announcement of MCA's recreation centre membership at BKC and Kandivali clubs to all voters swung the election decisively in his favour.
The only one to keep Pawar at bay in MCA was Late Vilasrao Deshmukh in 2013 with Pawar disqualified from contesting over a technical clause. But there too Pawar kept the moral high ground with his team going on to back Deshmukh for President.
During his decade and a half in cricket administration, he powered his way from MCA President to being BCCI Chief and than going on to head the ICC. While he was unopposed for a great part of his BCCI and ICC stints, his initiation in BCCI electoral politics wasn't smooth with a dramatic loss to Jagmohan Dalmiya backed Ranbir Singh Mahendra in the 2004 elections by a solitary vote. Pawar avenged defeat by beating Mahendra in the next elections.
Those who have worked under him in cricket administration swear by Pawar's ability to get things done playing by the rules. There are also many who think he played with them.
Watch: Make winning matches a habit, says Kohli
More from India Today

India Today