Eng v WI: Key battles

Sky Sports
03-04-2016
Getty
© Provided by BSkyB
With England and West Indies going head-to-head in Sunday's ICC World Twenty20 final, Sky Sport experts Bob Willis compares the sides, including captains Eoin Morgan and Darren Sammy. 
The openers
Since the inception of T20 cricket, Chris Gayle has clearly been one of the most exciting players. He probably comes off just under 50 per cent of the time, which, for a batsman of that style, is a pretty good record.
England have got to be very careful how they bowl to him - I would urge them to bowl really full and straight as if David Willey tries to swing the ball and gets it slightly wrong it could set him on his way.
On current form, Jason Roy would be Gayle's direct comparison, with the England man playing two brilliant innings and almost singlehandedly taking his side past New Zealand in the semi-finals. The other two openers, Alex Hales and Johnson Charles, are lesser lights at the moment.
Hales is still bubbling under but has formed a good partnership with Roy - a tandem that is probably just ahead of West Indies'. Charles has license to play his shots and scored a half-century against India but England will think they can keep him relatively quiet if their bowling is up to scratch.
The middle order
On their day, England possess more x-factor in the middle order than West Indies. Clearly Eoin Morgan, a real feast or famine player, is in one of his slumps but Joe Root has out-batted his equivalent Marlon Samuels, two men who play in different ways to the rest of their side's real shot-makers.
Root rotates the strike with shrewd shots and swift running between the wickets and then England have Jos Buttler, who has peaked at the right time, and Ben Stokes who are capable of remarkable innings - the latter has been quiet in this tournament but we saw in the Test match in Cape Town how blistering he can be.
Lendl Simmons played a remarkable innings in the semi-final having just stepped off a plane but England should bowl a whole lot better than India did, though in Andre Russell, a player Sir Clive Lloyd is desperate to have in West Indies' Test side, they have a potent six hitter.
Write off Russell, and Dwayne Bravo for that matter at your peril, but England's batting line-up is incredibly deep - it is remarkable to think Liam Plunkett, a player with two first-class hundreds and 19 fifties, is at No 11!
The bowlers
Spin will be the main area of concern for England, both in terms of how they handle Samuel Badree and Sulieman Benn and how Adil Rashid and Moeen Ali bowl for them, and I would have to put the West Indies slightly ahead.
Badree is a very capable performer indeed - he is more economical than fellow leg-spinner Rashid and not as tempting to hit. Rashid's loopy delivery excites batsmen, whereas Badree, despite being a taller man, has a much flatter trajectory.
Moeen and Rashid got some tap from West Indies earlier in the competition and also from Sri Lanka, but spin may be harder to hit away at Kolkata - the average scores there in this event have been around 140-150 and when India played Pakistan the pitch was a raging Bunsen Burner.
Seam-wise, Stokes and Chris Jordan's death bowling has been a revelation but in terms of pace variations and disguising slower balls, I class Bravo as the master, closely followed by Russell.
However, if David Willey has a good day and bowls well front-up, I don't think they have a bowler who can compare.
The captains

I think Morgan has captained very well indeed - he, Trevor Bayliss and Paul Farbrace have turned this group into a very happy band of exciting, dedicated cricketers who probably can't quite believe their eyes that they are in this final.
In a funny kind of way, you can say that both Morgan and Darren Sammy are acting as non-playing captains, as while Morgan is enduring a lean trot with the bat, Sammy doesn't really seem to bat or bowl!
Sammy, though, is very level-headed skipper who feels like he is on a mission with this West Indies team, always insisting that it is his 15 players against the rest of the world - and I think he includes the West Indies Cricket Board in that.
He does everything with a smile on his face, is enjoying the success of the country's women's and under-19 teams and is a great ambassador - though I would probably give Morgan the edge strategy-wise.
Slideshow: Virat Kohli - On and off the cricket field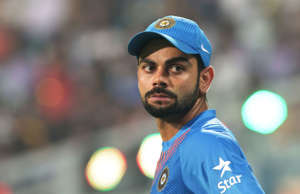 Watch: England v West Indies preview