England's Adil Rashid lives up to promise foretold by Virat Kohli

The Guardian
29-11-2016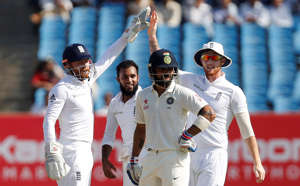 Whisper it for fear of breaking the spell but for the first time since 1951, when Kent's Doug Wright was claiming the last of his 108 Test wickets, England have a leg-spinner in their ranks who is delivering the goods for his captain.
Adil Rashid has been familiar to followers of English cricket ever since, aged 18, he announced himself for Yorkshire with six wickets at Scarborough but while he has become an integral member of their side since – grumbles about last summer's Championship decider aside – it is only now on this tour of India that he is looking the part.
That wrist-spinners rarely mature until their mid-to-late 20s is something that Terry Jenner, the mentor to the rule's exception, Shane Warne, long maintained. But during his time coaching the likes of Rashid 10 years ago, through the money raised by the Brian Johnston Foundation, he found these words largely fell on deaf ears.

Now 28, Rashid, with his figures of three for 81 in the second day in Mohali taking him to 16 for the series in five innings, are we witnessing the blossoming of another Jenner alumnus?
"I don't look for any praise," said Rashid, who for all his new-found threat and additional control remains a man of few words. "I just look to keep my head down, concentrate, work hard in the nets and give 100%. If wickets come then great, if not then it's no big deal."
© Reuters England's Adil Rashid has become Alastair Cook's go-to spin bowler in India.

Such a level outlook may explain how Rashid has bounced back on this second part of the winter tour, having haemorrhaged runs in a low-scoring drawn series in Bangladesh to the point that Gareth Batty came within a whisker of displacing him for the first Test in India.

On the second day in Mohali, he was once again Alastair Cook's go-to slow bowler, sending down 24 overs while Moeen Ali, nine, and the recalled Batty, just five, spent much of the day looking on. And it was not even Rashid's best showing so far on tour, with his desire to get more out of a sluggish pitch through a tickle of additional pace seeing a few more loose balls creep in than have become the norm. One such long hop snared the wicket of Cheteshwar Pujara after tea however and nevertheless, he still went at 3.37 runs per over.

If it needed batsman error for Pujara's scalp – and a smart review by Jonny Bairstow to trap Partiv Patel lbw earlier in the piece – then the ball that trapped Ajinkya Rahane in front for a duck was Rashid at his best. In the past he has over-bowled the googly but in the case of the right-hander, he had a batsmen not reading it and picked his moment superbly.
Before this match, Virat Kohli expressed his surprise that Rashid, who he had faced at Under-19 level in 2006, had not become an England regular within two years of that encounter. It has taken a while, and he remains imperfect, but there are signs the Yorkshireman is starting to show what the Indian captain saw in him.
Slideshow: Virat Kohli - On and off the cricket field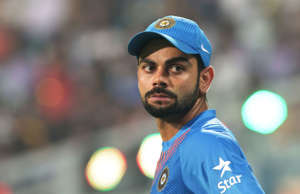 Watch: 23 funniest Inzamam-ul-Haq run outs