Famous father-son duos in cricket

India Today
26-01-2017
Arjun and Sachin Tendulkar aren't the first father-son duo to have played cricket. Here is a list of other such families.
Arjun and Sachin Tendulkar
Arjun and Sachin can perhaps be called the first family of cricket. An rising star in junior and local cricket, Arjun has a long way to go and a tall order to match his father's high standards. But he has the best teacher, that's for sure.
Rohan and Sunil Gavaskar
The former is one of the greatest opening batsmen to have graced the game. Popularly known as Sunny, Gavaskar was the first player to reach the milestone of 10,000 Test runs and his record of 34 Test centuries stood for almost two decades before Sachin Tendulkar broke it in 2005. His son Rohan stacked up a decent record at the first-class level. He has hit 18 firstclass centuries.
Mohinder and Lala Amarnath
Nanik Amarnath Bhardwaj, better known as Lala Amarnath, was independent India's first Test captain. He was also the first to score a ton for India. If the father was among those who played a key role in shaping Indian cricket in its formative years, his son Mohinder was crucial in India's first breakthrough title win -1983 World Cup. He was adjudged the player of the tournament.
Yuvraj and Yograj Singh
Yograj, a right-arm medium fast bowler, played in six ODIs and one Test. He, however, could not find more opportunities to show his talent. Yograj, however, made sure his son does not meet the same fate in cricket. Flamboyant Yuvraj rose up the ranks steadily to become one of India's finest ODI players. He was a member of the 2007 World T20 winning team and played a major role in India's 2011 World Cup triumph where he was adjudged the ' Player of the Tournament'.
Mansur Ali Khan and Iftikhar Ali Khan Pataudi
Pataudi Iftikhar Ali Khan, the nawab of Pataudi, played for England in the infamous Bodyline series, and even scored a hundred on debut in Sydney. He later led India in 1946, ironically to England. He turned out in only six Tests and apart from that hundred, had no substantial scores. His son, Mansur Ali Khan, is a legendary figure in the history of Indian cricket and one of the best captains. He gave Indians the confidence that they can beat the top sides. His greatest legacy was the quartet of great spinners that emerged in the 1960s.
Shaun and Peter Pollock
The first family of South African cricket, the Pollocks have given three world class players to the game. Among them is the father-son duo of Shaun and Peter, both of whom are rated as the top fast bowlers of their generation.
Stuart and Chris Broad
Fater-son duo are rare in cricket, but ones like Chris and Stuart are even harder to find. Both the English internationals have the honour of playing important roles in their teams Ashes wins over the Australians. Chris, a fiery opening batsman, was at the top of his game in the mid-1980s, while son Stuart has become the leading bowler in the current England team.
Shaun, Mitchell and Geoff Marsh
The Marsh family has served Australia well over the years. Geoff is considered a legend at the opener's position, while his elder son Shaun has shown immense potential at making his father's spot his own, especially in the shorter formats of the game. Mitchell is highly-rated as well, but he likes to ply his trade with the ball.
Photos: 'Unique' world records held by Indian cricketers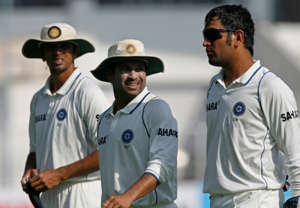 Indian cricketers and their 'Unique' world records

Watch: Virat Kohli planning to play county cricket
---
---
More from India Today

India Today