Fans Urge Kohli To Reveal His Side Of The Story After Kumble Exits As India Coach

NDTV
22-06-2017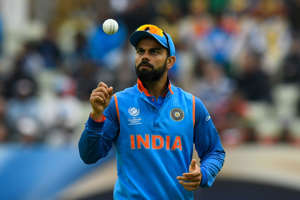 Anil Kumble on Tuesday stepped down as India's head coach saying the Board of Control for Cricket in India (BCCI) had informed him that captain Virat Kohli had reservations about his 'style'. The legendary leg-spinner's decision to quit came after a rift between him and Kohli, with the the Indian board advertising the coach's job before the Champions Trophy. The BCCI had urged Kumble to carry on as coach until the end of a West Indies tour starting June 23, but the former India captain did not travel with the team that left from England on Tuesday.
Complete coverage: ICC Champions Trophy
In his resignation letter, Kumble said his partnership with the captain was "untenable".
Thank you! pic.twitter.com/eF5qVzdBRj

— Anil Kumble (@anilkumble1074) June 20, 2017
Where Kumble has said his side of things on the issue, there has been no word from Kohli or a player within the team. And that former India opener Aakash Chopra believes is unfair because opinions have been formed by many and judgments passed without getting a full account from both sides. He also said players have a say in selection of the coach – as claimed by Ramachandra Guha in his resignation letter from BCCI Committee of Administrators (CoA) – but their reasoning should be justified. "There have been instances where players have had their say and sometimes not had their say. Let's not cherry pick cases. Maybe Kohli wanted Kumble too. A player doesn't get everything every time they ask – sometimes you do and sometimes you don't. That's just part of team culture. Sometimes they comply and sometimes they don't. In this case, it is best to hear both sides of the story before making villians out of people," he said.
In a coach-captain conflict, cricket is the real loser. Fortunately, that wasn't the case with Anil-Virat. Shows maturity from both sides.

— Aakash Chopra (@cricketaakash) June 21, 2017
Slideshow: Coach Anil Kumble's journey through the lens
While fans were disappointed to see the latest development in Indian cricket, they also were eager to understand Kohli's side of the story. The 28-year-old, who is yet to comment on the issue, is currently on his way to the the Caribbean for India's tour of the West Indies.
Totally with @imVkohli on this..Just cuz Kumble resigned doesn't make him a martyr..Cricket is captain's game..Fully back him or replace him

— Al-Sanghi (@AlSanghi) June 20, 2017
I stand with Captain Kohli. He is the man I trust. No one else. And the buck stops with him. No one else. https://t.co/cSGjRLvKQY

— Anand Ranganathan (@ARanganathan72) June 20, 2017
There's always another side to the story. Always 🤘🏼😊

— Danish Sait (@DanishSait) June 20, 2017
So people are trolling Virat Kohli mercilessly without even hearing his side of story and then they call themselves ICT fans. Shame on you.

— Dharav (@dharav_18) June 21, 2017
You guys abusing Kohli...You are not at his place. He has not put his side of story..So go back to your pathetic life and Get a Grip.

— Tanya (@Zoiepins) June 21, 2017
Kumble's resignation came two days after India's 180-run loss to Pakistan in the Champions Trophy final.
However, India board officials praised 46-year-old Kumble, who was put in charge of coaching last June, for his tenure.
Watch: BCCI tried its level best to resolve Kumble-Kohli issue — Shukla
(Video provided by Times of India)
"We wish to place on record our sincere appreciation for the immense contribution by Anil Kumble to the team which enabled India to attain the No.1 Test position," acting BCCI secretary Amitabh Choudhary said.
"Indian cricket needs his continued contribution in various capacities and wishes him all the best in his future endeavour."
The BCCI has retained the rest of its coaching staff for the West Indies series, with MV Sridhar supervising the team's management.
India will play five one-day internationals in the Caribbean, with a Twenty20 international wrapping up the trip on July 9.