Fat 10: A list of overweight cricketers

Wisden India
29-10-2016
Although you knew it was inevitable, wasn't it a bit surprising when, in Kung Fu Panda, Grand Master Oogway pointed his finger at Po and said he would be the Dragon Warrior? No one, not even Po, believed that he had could ignore his giant frame and use kung fu to save the Valley of Peace in times of distress. Eventually he did and it made for a spectacular viewing.

On a cricket field, too, there are several such people who we have looked at and wondered – how are they competing with some of the best athletes in the world? Some have been 'awesome' (a Kung Fu Panda reference), while some have not been so. But they have all done what they could with a nice round mound in the middle.
Bill Bowerman, Nike's co-founder, had once said "If you have a body, you are an athlete" – Wisden India looks at some of the biggest 'athletes' cricket has ever seen.
Arjuna Ranatunga
Inevitably, when a conversation veers in the direction of big men who have played cricket and done well, Arjuna Ranatunga's name is the first to come to mind. The man was big around the waist, but he was adept at handling pace and spin and did a decent job with the ball too. But he couldn't, or didn't, run, between the wickets or on the field, even if his life depended on it. Pictures of a young Ranatunga show a sprightly athlete with all the bounce in the world, but by the time he took over as captain he was rather, well, traditionally built. He would call for runners and substitutes pretty regularly and irk opposing captains, but all of that should be put behind to remember the late cut he played off Glenn McGrath to hand Sri Lanka their only World Cup trophy to date.
Dwayne Leverock
If your mum's a chef, your family has every chance of being on the larger side, and if you end up living above an Indian takeaway, chances are you will look a little like Obelix. Leverock did, but his girth didn't stop him from becoming a prison van driver and a handy footballer, so his weight wasn't really so much of a concern. At the cricket, in Bermuda, he was chucked out of the national side because he was just too big and too much of a liability, but he knuckled down and scrapped nearly 23 kilos off his original 136 kilograms. Leaner, only relatively, Leverock ended up setting the 2007 World Cup alive with one of the greatest catches ever, as he dove full length to his right and latched on to an edge from Robin Uthappa. Fat men can't jump? 'Sluggo' certainly could.
Shane Warne
The greatest legspinner of all time was not particularly slim at any point during his playing days. Warne has, in fact, looked his fittest since leaving the game. When he arrived on the scene as a 22 year old, he was chubby. When he was being touted as one of the best in the world, he was still on the heavier side. When he grabbed his 700th Test wicket, he had a beer gut. At the rate at which he was growing, he was going to have to do something. Who know whether love, in the form of Liz Hurley, made a difference, but Warne has looked healthier since Hurley came into his life.
Rahkeem Cornwall
When you think West Indian cricket, you think athletes who, it seems, can bolt across track for a decent quick 100-metre time if they want. Well, Cornwall doesn't fit that category. His is the sort of body you'd associate with the guys sitting on the sidelines with a beer in hand. Obviously Cornwall isn't one for that. He is a big-built 22 year old from Antigua with a bright smile, good bat speed and effective offspin. He might just make it to the national side at some stage in the future too, but, by then, he might not be as big as he is now. So if you want to catch a glimpse of one of the biggest cricketers in world cricket at the moment, look him up right now.
Inzamam-ul-Haq
If you were wondering how long it would be before this name came up, here it is. The former Pakistan captain was more unfit than fat, big and burly, his brain just couldn't get his feet to move when running between wickets, strange given how quick he was getting into position to play a shot. But, to his credit, although he got heavier around the edges, he was smarter about the running later his career. At the start, it was just series of hilarious incidents. A big guy calling for a run, calling it off and then calling again and getting stranded midway with a bewildered look on his face. It could only have gotten better from there.
Ramesh Powar
A fat Australian cricketer – it's hard to think of such a thing in this day and age, but not too long ago, Australia had plenty of them on the field, and Cosgrove is clearly flying that flag. The batsman from South Australia, who won the Bradman Young Player of the Year award in 2005, has done well for all the sides he has represented so far and he isn't too bad on the field either, but he has had issues with discipline and his weight has continued to go up on the scales. If he ever makes the Australian side, it would be fun to see an army of top-drawer athletes on the field with one guy sticking out so.
Samit Patel
He seems like the guy who'd say, rubbing his paunch, "it's just a sign of prosperity". That's not exactly true. If he had lost some of that stuff he's got around his middle, he might have been a lot more prosperous. Samit wasn't big around the waist when he started out but he had an impressive 2008 season, and next thing you know, he turned up looking so unfit, there were even talks of him being dropped from the 2011 World Cup if he didn't pass the fitness test. Staying off the chocolates, Samit got back in shape for the event but was back to binging soon after. And now, he's a most deserving entrant on this list.
Colin Milburn
The more you read about Milburn, the more you feel like his game was like Virender Sehwag's. It's also pretty clear that the two share a similar love for good food. While Sehwag has his phases of ups and downs on the scale, Milburn was steadily fat throughout his career. He weighed in at a reported 114 kilograms and earned the nickname 'Ollie' after Oliver Hardy of Laurel and Hardy fame. The Wisden Cricketers' Almanack had, in fact, written "Milburn had been marking each passing birthday by adding a stone in weight" and added that he was "the largest man to play first-class cricket in England since Warwick Armstrong in 1921". No easy feat that.
WG Grace
WWG was a rare talent to say the least. He could bat phenomenally well, bowl with some skill, and pull off stunning feats as a fielder too. That could explain why all sides took him in and made him captain despite him being as big as some of the biggest men to have played the sport. He was a champion hurdler too when young. Midway through his cricket career, the gut began to expand and it reached to a point that seemed impossible. Still he was the greatest cricketer the world had seen till that point, so it didn't really matter if he was thick or thin, they did just came to watch him play after all.
Slideshow: Cricketers - then and now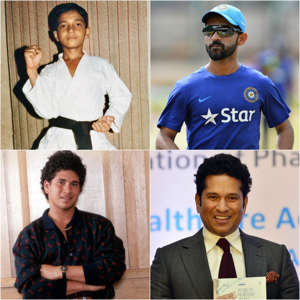 Watch: 23 funniest Inzamam-ul-Haq run outs