For Murali Vijay, trouble comes at short notice

The Indian Express
05-12-2016
It's 2005 and L Balaji, the former India bowler, was running at the Chemplast ground in Chennai. It was early afternoon. Sometimes he would run at 1 in the afternoon, at times even get there before dawn at 5.30 am, and occasionally after sunset. He was just coming back from a severe back injury, ignored doctors' advice to give up the game and was beating his body back into shape to make one of the hardest comebacks in Indian cricket. He thought he was the most hardworking cricketer in town. But irrespective of the time he would come to Chemplast to run, he would find one solitary figure running there.
Long hair tied up in a bandana, the person would be running or just be there. Balaji found out that it was M Vijay, who had just been selected to the Chemplast second team. Curious about this ever-present figure, Balaji stuck up a conversation and one day asked him, "Can you do an Iron-man plank test?" "Vijay asked me my best timing, I told him, 'er, I can do it for five minutes'. Two minutes is tough, five is really really hard, but I just told him to see what he says.
"I told him how it's done through a phone app and he did it. He actually did it for five minutes! He did it so easily and later told me that it was his first time. 'I thought if you can do it, so can I'. I was shocked, and that's when I realised this guy is special mentally. When he puts his mind to something, he does it, and so I am not surprised at how far he has come now. Batting with elegance and all is fine but this boy is mentally really tough. To overcome the stuff he has experienced in his life, and being India's Test opener is no small thing," he narrated.
Photos: 25 world records held by Indians in Test cricket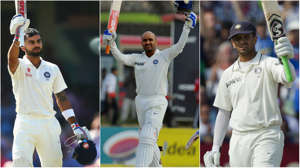 Vijay would need that famed mental toughness right now. It's sort of a dicey stage in his career. For the second time in his career, the opposition thinks they have identified a chink. The first time around it was the looseness outside off stump and after an average show in West Indies in 2011, he was dropped.
Now it's the short ball that England have successfully targeted him with. "As the series has progressed England think they got him sorted out with that short ball just outside off stump," exclaimed Nasser Hussain on air. Vijay has got on to the front foot and just frozen there. The bat has propped up as a face-shield and the ball has either kissed the edge en route to the men behind or popped up to short-leg.
He has just hit a hundred barely two Tests ago but harsh critics would put it down to a paata flat track. And for some strange reason, he seems to be on trial in this team. He was inexplicably dropped in West Indies this year, India's last overseas assignment before this England series, and you never know what a couple more iffy knocks can do. That drop in the Caribbean had shaken him up a bit, and he had called up his mentor Bharath Reddy, former India wicketkeeper and an influential figure in Tamil Nadu cricket. "I told him, don't worry and don't over-think about why they dropped you. You know you are good – you have scored everywhere."
Overcoming the first flaw
It's instrumental to see how he handled that first chink of being loose outside off stump. He became the batsman with the tightest technique in the corridor – leaving ball after ball, creating a record of sorts in the number of dot balls in that region, showing great patience and technique.
It would be interesting to see how he handles this apparent second chink: the short ball. The man who has seen him closely from U-19 days is genuinely surprised at the turn of events. It was K Srinath, now an umpire and then the Tamil Nadu selector, who had called up VB Chandrasekhar to tell him to watch the boy. It was circa 2000, a U-19 game, and Srinath was wowed by the back-foot play of Vijay. "I remember he would cut and pull so often. And I remember that knock, he was so majestic with his back-foot play that it stuck in my mind," Srinath tells The Indian Express.
Watch: Top 5 funniest cricket moments
A curious thing has happened, though, in the recent years. Vijay has just stopped cutting or hooking. "He has the glide/steer that he plays through gully but the cut is gone. Similarly, I don't see him playing the hook at all. I don't know why, I am just guessing here, is it something to do with the fact that he only plays Tests now? You can get a bit rusty as a player when you are in and out of team, and think Tests means you need to be that extra tight and cut down on shots?" Srinath says.
An old glitch resurfaces
It may not be in his shot-making but in some other ways he has gone back to how he started his international career. In his debut game against Australia in Nagpur in 2008, called in a replacement to Gautam Gambhir, he impressed everyone with his solidity but the dismissal was exactly similar to the recent days. It was a shortish ball that climbed, and he was caught on the front foot, the bat hanging out there, the edge exposed for the kiss of death. It's something that Bangladesh's Shahadat Hossain said after putting Rahul Dravid in hospital that comes to the mind now. "Sometimes, the Indian batsmen are not good leavers of the short ball." It was a spot-on observation. For all his solidity, Dravid would often find himself hopping or standing tall to keep the short balls down. Nothing wrong with it of course but many of them could have been left alone- swayed away but Dravid had the habit of getting behind the line and keeping out more than it was really necessary. Not that he had any problem with the bouncers but his idiosyncrasy was that he would sweat real hard to keep them away instead of just letting them go.
Vijay seems to be going the same way. If he has erased the horizontal cut shot or the pull, he would perhaps be better off to let these short ones alone. For that he has to stop himself getting stranded on that front foot so early in the piece –he stations himself there rather early and sets himself up for these bumper attacks. You can see his intention kicking in after the dismissals when he is walking away, or after getting beaten. He would drop his wrists and practice swaying away but it's obviously not an easy thing to do in live situation.
---
---
One good thing is that it's the situation he faced after the debut Test dismissal and he got around putting the doubts to rest. If he can make the looseness outside-off disappear and make it seem as if he was always this air-tight in that area, he can make the necessary adjustments against the short ball as well. Back then, in 2011, he went to his childhood coach Jayakumar and mentor Bharat Reddy who told him it wasn't about technique per se. "I didn't understand the synchronisation of mind and body. I alternated between blocking in one session and going on the attack in the next. Even in domestic games. Now I am more aware." It's time now to be aware of how much he parks himself on that front foot and making a decision whether he really needs to play at the short balls or its better to sway away. 

Iron man challenge for five minutes? Tick. Tightening the game outside off? Tick. Stop hanging his bat out at short ball?