For Virat Kohli, it's a matter of numbers

Livemint
22-07-2016
There was nothing alarming about Virat Kohli's failure (14 runs) in the first practice match of the Caribbean tour against the West Indies Cricket Board President's XI in St Kitts. A half-century in the second practice match on 15 July was enough to indicate that the Indian captain hasn't lost his touch with the bat.
It's going to be a long season of Test cricket for Team India, with 13 domestic matches slated from October-March. But it is the Caribbean tour that started Thursday, that's significant for Kohli for more than one reason.
For all his exploits in the shorter formats of the game, Kohli is yet to fully establish himself as a champion Test batsman in comparison to past masters and contemporaries. His supremacy in One Day Internationals (ODIs) is beyond doubt (he is the fastest batsman to score 7,000 runs, and reached 24 tons in 161 innings compared with Sachin Tendulkar's 219 innings), but it is his Test match profile that needs reassertion.
All of Kohli's contemporary challengers—Steven Smith, Joe Root and Kane Williamson— have better averages. Kohli and Smith have played an equal number of Test matches (41), but there is a huge difference (almost 20 runs per innings) in their batting averages.
Kohli averages about 44 in Tests, which is lower than his averages of 51-plus in ODIs and 58-plus in Twenty20 Internationals. He has less than 3,000 career runs in Tests. In the West Indies, however, he has the chance to significantly improve his record.
The West Indies have one of the most pedestrian bowling attacks in Test cricket, one which appears ridiculously thin after the omission of experienced pace bowlers like Kemar Roch and Jerome Taylor for the first Test in Antigua.
Shannon Gabriel (16 Tests, 34 wickets) is the only specialist fast bowler in the 13-man West Indies squad. Leg-spinner Devendra Bishoo (15 Tests, 55 wickets), the only specialist slow bowler, is not expected to be threatening either. The rest of the bowling attack consists of seam-bowling all-rounders Carlos Brathwaite and captain Jason Holder (13 Tests, 21 wickets).
"But wickets are likely to be slow in the West Indies, unlike the Australian pitches where Kohli loves to play the ball on the rise," says Mohammad Kaif, who had an average of more than 56 on the victorious West Indies tour of 2006.
Wounds from the past
Kohli got his first break in the longest format (against the West Indies) in 2011, partly due to Tendulkar (he had opted out of the tour, scheduled after a hectic World Cup and before the start of the Indian Premier League, or IPL), and largely after his sustained excellence in ODIs since his debut in 2008.
It turned out to be an anti-climax: Some short-pitched bowling, especially from Fidel Edwards, put a question mark over Kohli's ability to handle quality pace as he finished with figures worse than Harbhajan Singh (98 runs) in the Test series—forget comparisons to Suresh Raina (232 runs) and Abhinav Mukund (147 runs).
Kohli was dropped for the next Test series against England in 2011, but made a comeback against the West Indies almost six months later. This time, he got half-centuries in both innings in the third Test (he did not play in the first two). There has been no looking back since.
Photos: Cricketers — Then and now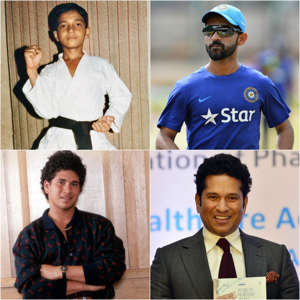 "He (Kohli) is a proud cricketer and doesn't forget his failures easily. You can rest assured that he would obliterate those ordinary numbers in the West Indies," says Lalchand Rajput, who was recently appointed the Afghanistan cricket team's head coach. He had guided Kohli during his Under-19 days.
Given the Caribbean bowling and Kohli's form—based on IPL Season 9, in which he scored 973 runs—the captain can set himself several targets, including Sunil Gavaskar's record of 774 runs in just four matches. That staggering record, which has held firm for almost five decades, was made in the West Indies.
It may not be too much to expect from Kohli if seen in perspective—in the Test series against Australia in the 2014-15 season, he scored 692 runs in a four-match series.
"This time, the challenge is not to score heavily but to do something extraordinary. Something like he did in the last IPL season," says Rajput.
The other goal Kohli can set, though it may be far-fetched since he is not even at 50 in his Test averages, is to achieve another seemingly impossible task for Indian batsmen in Test cricket—a batting average of 60 at least once in his Test career. Of those who have scored at least 3,000 runs in Test matches, only 14 have managed to reach that figure in the 139-year-old history of Test cricket.
Tendulkar's highest career average (59.17) came in his 93rd match and Rahul Dravid's (58.76) in his 104th. Gavaskar's best (57.52) came in his 50th match.
According to Ananth Narayanan, a statistician with Espncricinfo, if Kohli is to get an average of 60, he would need to score 1,086 runs without being dismissed or, more practically, 1,686 runs, assuming he does get dismissed in 10 innings.
"This is so difficult that I would go on record to say that Kohli will never reach 60 in his career," Narayanan wrote on Espncricinfo.com on 7 May.
For some, however, numbers don't mean everything. "I don't judge players by their statistics," says Javagal Srinath. "Kohli will win many matches for India. He doesn't get tired and always looks positive in his approach—his energy level is the same for all five days."
"The season is long," Kohli said in Bengaluru, before the team's departure for the West Indies, "and we're playing the same format over a length of time. So there's an opportunity to use this stretch to challenge ourselves. That will give us a chance to assess ourselves and will determine how we play Test cricket over the next few years."