Forget slow and steady, fast and furious is the way to get Test triples

Wisden India
24-12-2016
This week's Chennai faceoff was the 2241st Test in the history of the game, a history that dates back to March 1877 when Australia took on England in the inaugural game at the Melbourne Cricket Ground. Given cricket's status as a batsman's game, it is little short of astonishing that Karun Nair's monumental unbeaten 303 is only the 30th Test triple-century.
Nair's is perhaps the most unlikely of the 26 names that occupy a club that has welcomed as many members in the last 15 years as it did in the first 124. It wasn't until April 4, 1930, that Test cricket had its first 300-plus man when Englishman Andy Sandham, a young 39 then, piled up 325 against West Indies in Kingston. For some reason, that triggered a spate of triples in the 1930s, which produced five three-tons.
By the end of 2001, there were only 15 instances of batsmen having registered a 300-plus score. In the last 15 years culminating in Nair's epic, there have been 15 further cases. Is that a reflection on the improving quality of bats and batsmanship? On the declining quality of bowling attacks worldwide? On the nature of pitches that greet Test cricket? On the positive approach that is a direct fallout of limited-overs cricket in general, and Twenty20 cricket in particular? All of the above, one would be tempted to say.
The 2000s produced eight scores in excess of 300; with four full years left in this decade, there have already been seven triple-centuries, including two this year alone – just recently, Azhar Ali had made 302 not out for Pakistan against West Indies in the UAE. Is this indicative of a trend? Will we see more scores of 300 and more in time to come, even in this era of the DRS where the balance of power has tilted more from the batsman towards the umpire? Time will tell.
Nair has gone where several of the game's most celebrated names haven't – Gavaskar and Dravid and Tendulkar and Laxman among Indians, the Chappell brothers and Ponting among Aussies, the mighty Richards from the Caribbean, Pakistanis Miandad and Zaheer, Kiwi legend Martin Crowe… But he is also in spectacular company – Bradman and Sehwag and Lara and Gayle (all twice), Sobers and Hutton, Inzamam and Hammond, Sangakkara and Jayawardene, among others. And yet, a week back, who would have thunk?

Nair is no stranger to big innings and long stays at the batting crease. Nearly two years back, he made the highest score to date (328) in a Ranji Trophy final, and has been one of Karnataka's more consistent performers in domestic cricket. In 40 first-class games, he averages a tick over 56.5; his tally of 3165 runs includes 395 fours and 20 sixes – 53.71% of his runs have come through boundaries – and he strikes at 52.84 for every 100 deliveries faced.
Strike-rate? Hello? Wasn't it only a couple of months back that Anil Kumble, the Anil Kumble, had said that as far as he was concerned, strike-rates only went in the same sentence as bowlers? That, in Test cricket, they shouldn't really be the yardstick to measure the value and quality of a batsman? And yet, you cast your eyes on the triple-centurions in the last 15 years, and the one thing that stands out is the rate at which they have scored their runs throughout their careers.
Slideshow: 27 'unique' cricket world records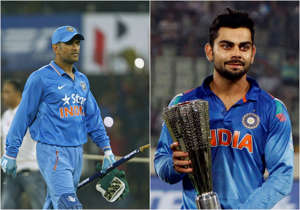 At the beginning, it was almost incongruous that Virender Sehwag and Chris Gayle should stack up Test triples, not once but twice. How could they, with the high-risk games they possessed? Shouldn't it be the classicists, the Dravids and the Boycotts, the Tendulkars and the Pontings, who should occupy that list? After all, they had the game, the temperament and the stamina to bat long periods, the hunger and the desire to get there. And yet, they didn't. Maybe not so much in Ponting's case, but when it came to the rest, they just couldn't score quickly enough to make triples in an age – even when Boycott was around — where big scores don't hold too much meaning unless they are made in a winning cause. Or at least in a match-saving endeavour, like with Brendon McCullum, another unexpected entry in the 300-club.

The slowest recorded triple-tons in terms of time came in the 1950s and 1960. Hanif Mohammad, the original little master, batted 858 minutes in making 337 against West Indies in Bridgetown some 60 years back. Bob Simpson, the former Australian skipper, was faster only in comparison, occupying the crease for more than 12 and a half hours while scoring 311 against the old foe in Manchester in 1964. In saying that, the fast three-hundreds in minutes came as early as in the 1930s, when defensive cricket was as unheard of as sliding stops and putting body and limb on the line. Bradman – should he even be figuring in these discussions?! – took 336 minutes for his triple in Leeds in 1930, but two seasons later, Wally Hammond trumped him by blasting his way to 300 in a mere 288.

But, as the stakes became higher and the onus shifted from wanting to win to not losing, it became more and more difficult to score quickly. Rapid triples quickly went out of the window, until the new generation of batsmen arrived in the 2000s, unafraid to hit in the air, buoyed by sticks that required some lifting and some more wielding, and encouraged by smaller boundaries and flatter decks.
Watch: 'After reaching century mark, I felt no pressure'
Sehwag set the benchmark by hurtling to 300 in just 278 deliveries against South Africa, the fastest to date when it comes to balls faced. Matthew Hayden, second on that chart, was almost pedestrian in comparison, having taken 362 deliveries, two more than Sehwag himself for his maiden triple, against Pakistan in Multan in 2004. Nair's 300th run came off his 381st delivery, with 32 fours and four sixes – 50.2% of his runs in boundaries – a triple that was a giant leap not just for the 25-year-old but also for a country that, for all its batting riches, had just one member previously in the 300-plus club.

Inasmuch as sportspersons as a whole dismiss playing for records, it is impossible for them to not keep an eye on the numbers, especially in a sport like cricket which is such a numbers-driven game. And while there will be a huge place in every team for the Vijays and the Rahanes, the Hameeds and the Brathwaites (Kraigg, of course, not Carlos!), these aren't the men likely to gatecrash into the 300-zone. You would bet on the Kohlis and the Warners, the Roots and the de Villiers' to get there sooner rather than later. And, to occasionally, be greeted by the likes of the Azhars and the Nairs, not brazenly aggressive but no slow coaches either.