Four big reasons Australia will struggle in Bangalore

The Roar
04-03-2017
Australia's win in Pune was both emphatic and record-tumbling. Only 120 deliveries were required from front men Mitchell Starc and Josh Hazlewood, the lowest tally in 82 years by an Australian strike attack.
It was also India's first Test defeat for 19 Test matches, their previous best having been a 17-match streak in the late 1980s.
Full scorecard: India vs Australia, 2nd Test
Some symmetry was remarkable. Steve O'Keefe's outstanding figures of 6/35 were directly mirrored in the second innings. Similarly, India's first innings total of 105 was only just surpassed by their second dig of 107. It was the unlikeliest of scripts.
But despite the victory curtailing attacks from major critics and pessimists towards Australia's chances this tour, observers must remember a few things.
1. India remain the best team in the world
The Indian cricket team last lost a Test match midway through 2015. They also had not lost their last 20 matches at home. They have the top two ranked ICC Test bowlers, the number two batsman, not to mention a host of other talent to be collectively dubbed 'team incredible'.
Photos: Cricketers — Then and now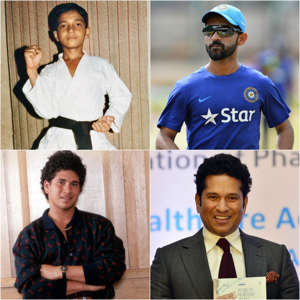 As one demonstration of their depth, an individual by the name of Karun Nair, who made 303 not out in December, in just his third Test innings, did not make the team. What's more, their captain is already the country's third-most successful skipper for Test wins, despite his tenure of just 23 Tests.
Most good teams relapse; it keeps the audience alert and gives supporters more material for appraisal upon return to success. What separates good from champion teams is how they respond to their own hiccups. Recent history suggests that India's return will be devastating.
2. Luck was on Australia's side
The pitch was dusty, the outfield was patchy, but Australia undoubtedly got the rub of the green. The tourists' fortune began with what Darren Lehman predicted would not determine the outcome of the match: the toss. Steve Smith's correct call did not necessarily determine Australia's fate, however it made the match their Test to lose.
A steady head from 20-year-old Matt Renshaw and a key contribution from tail-ender Mitchell Starc pushed Australia past 250 in their first innings. It was calamitous for India from thereon in.
---
---
Their inexperience with the DRS became evident, as they failed to recognise the tactical significance of the technology. This is something they will have to review, as is their catching, with Steve Smith dropped four times on his way to a match-winning century. 

Although India has never been renowned for their fielding prowess, the number one Test side in the world will understand how the game may have changed had they taken their chances. If India wins the toss, makes better use of the review system, and remembers to catch the ball, the outcome may well be vastly different in Bangalore.
3. Australia's poor subcontinent record
Before the miracle of Pune, Australia had won just one Test on the subcontinent since 2006 – in 2011, against Sri Lanka, where Nathan Lyon took a wicket with his first delivery in Test cricket. Unfortunately, this was no omen for Lyon, who has struggled in these spin-friendly conditions, particularly against Sri Lanka less than seven months ago.
Lyon is not to blame alone. Australia suffered a batting collapse in each of their three matches last year, where in each match they were unfortunate enough to bat second each time. Poor form, poor selection or poor luck does not excuse a record of losing ten of the past 14 matches in Asia, with the four others ending in draws.
Fortunately, that drought was broken with some class and luck last week. It is hoped that the success in Pune will rid Australia of previous demons they have faced in the most foreign of conditions. However, it will take more than one convincing victory before the recent memories of Sri Lanka and Pakistan in the UAE are diminished.
4. Inexperience
Matt RenWhat? Steve O'Who?
The Australian captain mentioned that the youth and inexperience of his side might have been of assistance in their win. Players with less experience were not reminded of bad subcontinental memories, and they had the liberty to trust their own game. Being fearless may well have been a barometer for the victory.
Prior to Pune, the team averaged just 27 Test matches per person, with six having played under 20 matches, and three having no cricket experience in India at all. That is without considering the likes of Ashton Agar, Mitchell Swepson, Glenn Maxwell and Usman Khawaja, who eagerly wait in the wings, offering some-to-no wealth of Test match experience themselves.
Naivety, inexperience and youthful enthusiasm can bring unforeseen success: just look at the current president of the United States (although not all that youthful it must be said). Nonetheless, be it in sport or politics, it is often the wiser and more knowledgeable who prevail.