From Ganguly to Kohli: By right, accident and default

Wisden India
09-01-2017
Over the years, India have adopted an experimental approach against Zimbabwe. Last year the BCCI appointed Ajinkya Rahane as the captain of the side that travelled there for a limited-overs series. Wisden India takes a look at India's captains over the last decade and a half and the circumstances that led to their appointment.
Virat Kohli (2013)
Following an exhaustive away schedule that included three weeks of a memorable Champions Trophy campaign and a dramatic tri-series win over West Indies and Sri Lanka in the Caribbean, the selectors decided to rest seniors, including Mahendra Singh Dhoni, the regular captain, for a series of five One-Day Internationals in Zimbabwe. Kohli, who had by then replaced Daniel Vettori as captain of Royal Challengers Bangalore, was thrust into the hot seat. It was only a year earlier that he was elevated over Gautam Gambhir, another senior member, as vice-captain. The man who looked every bit in charge led from the front as India registered an emphatic 5-0 whitewash, with Kohli topping the run-charts.
Gautam Gambhir (2010)
Following a hectic home season and an impending tour to South Africa towards the end of the year, the selectors rested a number of senior players including Dhoni, Virender Sehwag, Sachin Tendulkar, Zaheer Khan and Harbhajan Singh for the ODIs against New Zealand. Despite Suresh Raina already having led India before, the selection panel led by K Srikkanth decided to hand Gambhir the opportunity, which he grabbed with both hands by leading India to a 5-0 sweep. Interestingly, Gambhir is undefeated in six matches as India captain.
Suresh Raina (2010)
Four months prior to Gambhir being handed the job, India embarked on a tour of Zimbabwe for two Twenty20 Internationals and a tri-series also involving Sri Lanka. Given that it came on the back of the IPL and a disastrous World T20 campaign in the West Indies, the selectors decided to field a second-string squad again as Dhoni and a few other seniors were rested. By then, Raina had earned the reputation of being a run machine for Chennai Super Kings, and was an ODI regular. However, things didn't quite pan out the way he would have liked as India lost twice to Zimbabwe and failed to qualify for the final. He was later also named captain for the tour of the West Indies immediately after the 2011 World Cup and IPL, where he somewhat redeemed himself with a 3-2 ODI series win, apart from leading the team to victory in the one-off T20I.
MS Dhoni (2007)
The focus was on youth after senior players like Sachin Tendulkar, Sourav Ganguly and Rahul Dravid opted out of the inaugural World T20 in South Africa in 2007. With India, the least experienced of all T20I sides, expected to set foot in the Rainbow nation literally hours after a hectic two-and-a-half month tour of England, the selectors preferred Dhoni's calm to Yuvraj Singh's flamboyance. The rest, as they say, is history. India would go on to find a leader who would not only erase the horror memories of their World Cup showing earlier that year, but also take Indian cricket to unprecedented heights culminating in a World Cup win four years later in Mumbai. Along the way, Dhoni also became the most successful Test and ODI skipper for India.
Virender Sehwag (2003)
India's tour of Bangladesh in April 2003 was a low-profile one. With Tendulkar and Dravid, who was set to get married a month later, being rested, the selectors didn't leave anything to chance with Sourav Ganguly leading out an otherwise strong side. Sehwag, who played a key role at the top of the order alongside Tendulkar during the World Cup in South Africa a month earlier, was a regular by then and was handed the captaincy for India's third match of the tri-series after they had walloped Bangladesh and South Africa in their first two engagements. Sehwag made 43 in a comfortable four-wicket win. Interestingly, Sehwag, who led India to seven wins in 12 ODIs, wasn't appointed for a full series even once across formats. In 2005, he led India to victory over Sri Lanka in his first Test as captain in the absence of Dravid, while in 2006, he led India in their first-ever T20I which they won against South Africa at the Wanderers in Johannesburg.
Anil Kumble (2002)
A hamstring injury to Ganguly, who led India in the first two ODIs of a five-match series against England, meant Anil Kumble was handed an opportunity to lead India for the first time in Chennai. And he did quite admirably at that as a strong bowling performance set the platform for Tendulkar to blaze away with a century. India won by four wickets to take a 2-1 lead in the series. Ganguly returned to lead in Kanpur, but India squandered a 3-1 lead as the series finished on level terms. More than five years later, Kumble was handed charge as full-time Test captain following Rahul Dravid's sudden decision to step down after a successful Test tour of England. Kumble, who later said he became captain by default, started his tenure with a series win over Pakistan at home before playing a stellar role, both on and off the field, in an acrimonious tour of Australia where India became the first subcontinent team to win in Perth, after losing the first two Tests. He retired midway through the home series in 2008 against Australia to pave the way for Dhoni to take over across formats.
Rahul Dravid (2000)
With the ODI series against Zimbabwe wrapped up 3-1, Dravid stepped in for regular skipper Sourav Ganguly for the final match in Rajkot. It was a match made famous by Ajit Agarkar, who smashed an unbeaten 67 off just 25 balls, in the process scoring the fastest ODI fifty by an Indian. That was the start of Dravid's tryst with captaincy as he would time and again step in for Ganguly, who was rested, injured or banned during the course of a five-year period in which he formed a successful combine with Dravid as his deputy and John Wright as coach. Interestingly, Dravid replaced Ganguly full-time in 2005 during the tour of Sri Lanka following which reports of rifts between Ganguly and Greg Chappell, the then coach, surfaced.
Sourav Ganguly (1999)
It was perhaps quite apt for Ganguly to make his captaincy debut at a venue where he first made waves as an ODI cricketer. In 1997, he won four successive Man of the Match awards in Toronto to lead India to a 4-1 series win over Pakistan. Two years later, following a successful World Cup campaign in which he was one of India's biggest finds along with Dravid, Ganguly was pitchforked into the saddle for a three-match series against West Indies after Tendulkar opted out due to an injury. He began with a 2-1 series victory that would eventually pave the way for him to take over full-time six months later after Tendulkar had decided he had enough. It would be the start of a successful chapter for India, who would go on to register Test wins in Port of Spain, Bulawayo, Kandy, Headingley and Rawalpindi, which also capped off a historic series win in Pakistan.
Slideshow: Meet India's 15-man squad for England ODI series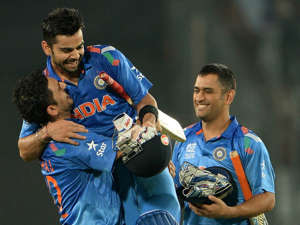 Meet India's 15-man squad for England ODI series

Watch: Virat Kohli's debut ODI innings