From Hughes to Dhoni: 10 that went unexpectedly

Wisden India
25-12-2016
Mitchell Johnson's sudden retirement from international cricket after the second Test against New Zealand in Perth brought to light the demands of the game that prompt cricketers to hang up their boots midway through series. Younis Khan's retirement after the first of four-match One-Day International series against England, stunned his teammates and Pakistan Cricket Boards officials alike.
Wisden India looks at ten other cricketers from the past who retired midway through a series.
MS Dhoni
The Indian captain abruptly walked off into Test sunset after leading the side to a draw in the third Test against Australia in Melbourne in December 2014, staving off a third consecutive loss on tour with the fourth and final Test still to go. The manner of the announcement of his retirement was also strange. He addressed a post-match press conference, where he gave no hint that he had played his last Test, immediately after which the Board of Control for Cricket in India sent out a press release making the announcement on Dhoni's behalf. The announcement triggered conspiracy theories, primarily because Dhoni himself never dwelt on his reasons to call it quits at that time, only citing "strain of playing all formats".
Kumar Sangakkara
© Reuters
"I had plans to retire immediately after the World Cup, but they wanted me to try and play a bit more Test cricket. Four Tests was all I could offer them and they were okay with that." Kumar Sangakkara had explained the logic behind his decision to retire after the first two Tests of the three match series against India in August 2015 – a part of a deal he had made with the Sri Lanka Cricket Board after the World Cup 2015 which also included playing just two of the three preceding home Tests against Pakistan. He was in the form of his life, having amassed 1438 runs at an average of 71.90 in Tests against Pakistan, England, South Africa, Bangladesh and New Zealand in 2014, but indicated that he felt like a 'dinosaur' among the much younger players in the side.
Anil Kumble
A finger injury ended Anil Kumble's illustrious 18-year-old career in the middle of the home series against Australia in 2008. Captaining the side, Kumble sustained a finger injury on the third day of the third Test in New Delhi, but the news of his retirement was made public only in the dying stages on the final day; Kumble then bowled four overs after the tea break and the match was called off as a draw. It was only fitting that Kumble announced his retirement in Delhi, the scene of his greatest bowling effort -10 for 74 in an innings against Pakistan. He had all but made up his mind to quit at the end of the series after the fourth Test in Nagpur, the finger injury merely hastening his announcement.

Graeme Swann
The Engand offspinner's hasty retirement after the third 2013-14 Ashes Test earned him a lot of flak from all quarters. On a disappointing tour of Australia in which England were 0-3 down after the first three Tests, Swann failed to make an impact and had managed only seven wickets at 80. One of several under-performing players in Alastair Cook's touring party under pressure to retain their places for the final two matches, Swann took no part in the Melbourne and Sydney Tests, and ended his career with 255 wickets at 29.96 from his 60 Tests. Gooch, the former England batting coach, described his decision to retire in the middle of the series as "criminal" and said that it left a bad taste.
Damien Martyn
"I said to myself when I made this decision in the last 48 hours that I may lose friends in doing what I'm doing. But I also said to myself that if I stayed doing what I was doing, I may equally lose respect for myself and the friendship of those around me who are entitled to expect from me more than 100%." Damien Martyn shocked the cricket world when he announced his retirement mid-series during the 2006-07 Ashes at home. Martyn had been under pressure to hold his middle-order spot after scoring just 35 runs in three innings in the Ashes series. His decision to quit – citing lack of motivation – arrived via an email to James Sutherland, the Cricket Australia chief executive, just as he was he was being considered for the third Test.
Stuart MacGill
The legspinner was Australia's go-to man after Shane Warne's retirement, but a surgery on his right wrist to deal with carpal-tunnel syndrome cut short his Test career in 2008. MacGill retired from international cricket after the second Test (with one match to go) against West Indies in the Carribean, throwing Australia's plans in disarray. It was also not a match to remember for MacGill, who returned figures of 1 for 182 and finished with 208 Test wickets.
Allan Donald
Allan Donald announced his retirement from Test cricket following South Africa's innings-and-360-run defeat in the first Test against Australia in 2002. "I have reached a stage where I am tired of letting myself, my team and my country down with my injuries," said Donald with a heavy heart. Donald was at the fore of South Africa's readmission to international cricket, and despite mediocre success in the 1992 World Cup, he returned to form in the home series against India, where he bowled South Africa to victory, taking 12 wickets at Port Elizabeth. But injuries took a toll and Donald could do little to save his career. However, he went on to play ODIs and quit the limited-overs format after South Africa failed to make the second round of the 2003 World Cup held at home.
Kim Hughes
The former captain's retirement came against the backdrop of controversial events after leading a rebel Australian side to old South Africa in 1984, and his tearful resignation as Test captain a year earlier. Hughes's massive slump in form in 1984 – he scored just 372 runs in 10 Tests at an average 19.57 – and ragged state of mind compounded his woes further. During his last Test series, against West Indies which Australia lost 1-3, Hughes could score only 81 runs in four matches and hung up his boots during a tearful press confderence with the final Test still to be played in Sydney.
Shane Bond
Shane Bond was forced into Test retirement during the series against Pakistan in 2009 when he felt that his body could not handle the rigours of the five-day game. Having quit the unofficial Indian Cricket League, Bond revived his international career in early 2009. He eventually worked his way back to the Test squad, and following a match-winning performance – where he took eight wickets in the first Test against Pakistan in Dunedin — Bond was forced to withdraw from the two remaining games after tearing an abdominal muscle. That injury setback, in a career punctuated by back and feet problems, prompted Bond to reassess his future as a Test player after only 18 Tests and 87 wickets.
Sanath Jayasuriya
The former Sri Lankan captain made a brief international comeback, against England in June 2011, just shy of his 42nd birthday, and retired from international cricket after playing only first of the five match ODI series. Jayasuriya had retired from Tests in 2007, and hadn't played an ODI for Sri Lanka since 2009, but was recalled for the England tour after Upul Tharanga was unavailable.
Slideshow: Rare Images of MS Dhoni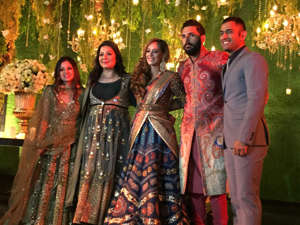 Watch: Best helicopter shots in cricket history