From Laxman's bird print to Lillee's bat pendant

Wisden India
18-12-2016
Many players consider themselves fashion forward, but it takes a lot more than an expensive haircut and an Armani Exchange t-shirt to be a true cricketing sartorialist. You need to be willing to push the boundary of what is acceptable. The cricketers listed below caused a bit of a stir for what they wore on the field, but they also backed that up with some pretty impressive performances too. Style with substance. Wisden India looks at ten big style statements in cricket:
VVS Laxman's bird print shirt
Laxman has always been known as a stylish batsman — his languid elegance at the crease a sight to behold — so it shouldn't come as a surprise that he's equally dashing off the field. A wet outfield, forcing the third Twenty20 International between South Africa and India to be abandoned, at Eden Gardens is no excuse to look dowdy. So, Laxman wore a bold, blue bird print shirt. The Indian team may be divided about who should bat where, but there was no such confusion about their love for his shirt.
Imran Khan's tiger t-shirt
There was no denying that the former Pakistan captain had a certain je ne sais quoi about him. He had more talent in his little pinky than most have in their entire body. He was ruggedly handsome without even trying to be. So, only he could pull off turning up at the toss of the 1992 World Cup final, wearing a white t-shirt with a tiger plastered on the front and explaining, as if it was the most obvious thing in the world, that he wanted his team to fight like cornered tigers. That they did and ended up winning the title just adds to his mystique.
Mohammad Azharuddin's upturned collar
In Hollywood, the upturned collar was made famous by 1950s style icons such as James Dean in Rebel Without A Cause and Marlon Brando in On the Waterfront. But before popping your collar meant upping your cool quotient, it was René Lacoste who got the ball rolling in 1927, designing a polo shirt with flexible collars that could be turned up to prevent the neck from being sunburned. Azharuddin, too, wore it for a similar reason. He mostly fielded at silly point or point, where his neck would burn. He tried wearing a handkerchief, but it was too uncomfortable. Then, one day, he just turned his collar up and began a trend.
Viv Richards's Rastafari wristband
If there was one batsman who epitomised cool, it was Richards. Maroon cap perched on his head, his unmistakable swagger, his gum-chewing … he scared the bejesus out of bowlers before he even arrived at the crease. And then, one fine day, he began wearing a three-colour Rastafarian wristband. "I read a lot about my culture, my ancestors and various things, and I wanted to know what all these things meant — the red meant all the blood which was shed in Africa; the green for the greenery of the land itself, and the yellow for the gold and all the richness, which some of the pioneers of that time took away … and this is all part of my culture," explained Richards. And just like that, he let everyone know there was no messing with him or West Indies.
Moeen Ali's Save Gaza wristband
While there was no hullabaloo when Richards wore his wristbands, when Moeen wore wristbands carrying the words "Save Gaza" and "Free Palestine" during the third Test against India at the Ageas Bowl in 2014, there was immediate backlash. But this time, the England and Wales Cricket Board weren't the ones throwing a tantrum over it; it was the International Cricket Council. The ICC told Moeen he wasn't permitted to "display messages that relate to political, religious or racial activities or causes during an international match" but no one had taken issue with the England team wearing the logo of the charity Help For Heroes, to commemorate the 100th anniversary of the outbreak of the first world war. The ECB, in fact, pointed out the hypocrisy and added that Moeen's gestures were "humanitarian, not political" but to no avail. Nonetheless, Moeen managed to make his message heard around the world.
Dennis Lillee's cricket bat pendant
He was the guy every fast bowler wanted to be. He had pace, but it was his scary accuracy that had the batsmen hopping. Richard Hadlee once remarked, "When things are going badly I often think, 'What would Lillee do'?" For mere mortals, one suggestion is going out and buying a cricket bat pendant like Lillee used to wear. Indeed, many youngsters did exactly this back in the day, wishfully hoping it would help them achieve Lillee's level of greatness. It never quite made sense why Lillee opted for a bat pendant instead of a ball, but it's probably wise not to try and make sense of genius and just accept it.
Douglas Jardine's Harlequins cap and neckerchief
He's considered one of cricket's biggest villains for his role in Bodyline but, if he has one thing going for him, no one can accuse Jardine of being anything less than impeccably dressed. Even before he instructed his fast bowlers, Harold Larwood and Bill Voce, to go for the jugular and target the Australian batsmen rather than the stumps, the England captain incurred the wrath of the nation simply by wearing his Oxford Harlequins cap. While it was part of tradition for some Oxford and Cambridge cricketers to don university caps during games, the Australian crowds felt Jardine was being too hoity-toity. That didn't bother him one bit though, and he continued to slay in fashion circles with a silk neckerchief tied jauntily around his neck.
Hamid Hassan's headband
What's not to like about the Afghanistan pace bowler? He sends down 145kmph thunderbolts, does cartwheels, has his country's flag painted on both cheeks and is never without his multi-coloured headband. Naturally, Hassan became a cult hero in the 2011 World Cup and was appropriately dubbed 'Rambo' on social media. There's definitely a bit of Dennis Lillee in the way he charges in too. Sure, he doesn't wear a cricket bat pendant, but he also doesn't need to; he knows what works for him.
Richie Benaud's unbuttoned shirt
We all remember the man for being The Voice of Cricket. He knew the value of a pause like no one else in the commentary box and he was a distinguished player in his heyday. In the era he played in, it was fashionable to wear your shirt unbuttoned half way down. But Benaud was more cavalier than most, with his Brylcreemed hair and his shirt unbuttoned almost to the navel. After he called it a day, he went on to become one of the best dressed commentators, showing he still had game with gorgeous cream commentary sports coats.
Warwick Armstrong's oversized shirt
Armstrong wasn't nicknamed The Big Ship for nothing. The former Australia captain had an impressive frame — at one stage weighing 140 kilos in a six-foot frame — but his achievements on the field were equally monumental. Gideon Haigh wasn't exaggerating when he compared his voluminous shirt to a "clipper's main-topsail". Indeed, Armstrong wore an oversized shirt long before it was officially deemed cool by the likes of Vogue. His circus-tent size shirt and massive boots are proudly displayed today in the Australian cricketing Hall of Fame at the Melbourne Cricket Ground Museum.
---
---
Slideshow: Top 25 Indian cricketers of all time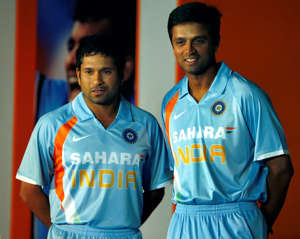 Watch: Best helicopter shots in cricket history