From tennis to cricket, Indian sports stars wash their dirty linen in public

India Today
20-09-2016
The recent outburst by veteran tennis star Leander Paes and the subsequent response by Sania Mirza has once again highlighted the growing problems in Indian tennis and there seems to be no clear cut solution in sight at the moment.
Social media has become the favourite platform for sportspersons to vent out their anger or raise their voice against something which they feel is not right. It all started when Paes missed out on the opportunity to participate in the mixed doubles event at the Rio Olympics as Mirza and Rohan Bopanna had been picked to represent India in the Games and the duo lost in the semi-finals before going down in the Bronze medal playoff as well.
Unhappy with this, Paes said, "I can very clearly say that in this Olympics and tlast Olympics we didn't put the best team forward. This Olympics the mixed doubles was a great opportunity. What more does a man need to do than win four Grand Slams in 14 months. There was no more tournaments to win, I could not create anymore tournaments. Sad. Long story short, let's nurture these kids."
Photos: Most controversial quotes by sports stars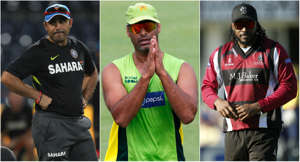 The All India Tennis Association (AITA) once again failed to handle this situation properly which caused yet another rift between the players right before the Games started in Rio. Selection problems had happened right before the London Olympics in 2012 as well. Theses lingering issues had a direct impact on India's performance with Paes and Bopanna crashing out in the first round in men's doubles while the mixed doubles team also failed to impress despite being seeded sixth.
"I always believe it is the decision of the selection committee and captain but considering the way we played against a gold medal winning team and that too against 14-time Grand slam champion and Marc Lopez who has just come from winning a grand slam, good God, it will be crazy to switch anything around but having said that I am here to support the team," the 43-year-old told the media after partnering Saketh Myneni in a hard-fought men's doubles loss to Olympic champions Rafael Nadal and Marc Lopez in the ongoing Davis Cup.
Mirza immediately hit back with a reply which was an obvious dig at Paes over his somewhat caustic remarks.
The ONLY way to win with a toxic person, is not to play!!! #karmaiswatching #zenmode 😇🙏

— Sania Mirza (@MirzaSania) September 18, 2016
In a separate incident, cricketer Gautam Gambhir stoked a fresh controversy on Sunday asserting that films shouldn't be made on cricketers but on those people who have contributed for the welfare of the country and hence are more "deserving" of biopics.
September 18, 2016
Gambhir's comments were seen here as controversial considering his rather cold relationship with Mahendra Singh Dhoni and he said all this barely days before the release of an eagerly-awaited biopic on the life of India's most acclaimed captain.
In the film, titled "MS Dhoni: The Untold Story", Dhoni's character is being portrayed onscreen by Bollywood star Sushant Singh Rajput. The film, releasing on September 30, is believed to unfold the rags to riches story of Dhoni and has been shot extensively in Dhoni's hometown of Ranchi.
Gambhir though, was quick to clarify that his comments were not directed at any particular person but against the very concept of biopics on cricketers in general.
My detractors got it wrong. Am not against ANY ONE cricketer's biopic, am against d very concept which includes a biopic on my life.

— Gautam Gambhir (@GautamGambhir) September 19, 2016
All this is happening in the full glare of the general public, the fans and millions of followers who idolise these sports stars. But trash talk and trivial fights is all they are getting in return.
More from India Today

India Today