From Wankhede to MCG – how to score 400 and get thumped

Wisden India
02-01-2017
It might sound far-fetched, but in 139 years, eight months and 27 days since the first ball was bowled in Test cricket, only two teams had scored more than 400 and lost a Test by an innings. But now, with Australia dramatically toppling Pakistan in Melbourne on Friday (December 30), there have been three such instances in the last 19 days.
A look at the scorecard from the first Test in history, between Australia and England back in March, 1877, at the Melbourne Cricket Ground, reveals that a total of 653 runs were scored in the match.
Over the years, with gradual changes in the pace of the game, teams have even gone on to score over 900 runs in a single innings. But despite racking up such huge totals, some sides have struggled to squeeze results out of these contests due to lack of time.
Test sides winning by an inns after conceding 400+ bowling 1st
Aug 1930: Australia
May 2011: England
Dec 2016: India, India, Australia
😱😱😱

— Mohandas Menon (@mohanstatsman) December 30, 2016
Cut to December 2016, and despite being the slowest and longest format of the sport, Test cricket appears to have entered the fast lane, with teams losing by an innings even after scoring 400 or more runs in their first dig.
Given the odds of those results being repeated, Alastair Cook and his men would have felt safe after scoring 400 in the fourth Test – the 2,239th overall – against India in Mumbai. Who would have thought they'd end up on the losing side, that too by an innings and 36 runs, inside 32 minutes on the fifth morning?
Photos: 'Unique' world records held by Indian cricketers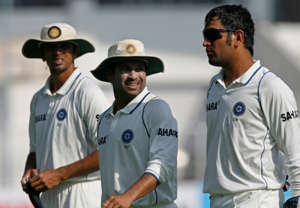 In the fifth Test that followed in Chennai, England amassed 477, batting through most part of the first and second days of the contest. Moeen Ali's 146 and half-centuries from Joe Root, Liam Dawson and Adil Rashid almost ensured the visiting side would end their disastrous tour on a positive note before heading home for the Christmas break. The eventual result: A loss by an innings and 75 runs!
If that wasn't enough to test the probability charts, Australia capped off 2016 with a fantastic victory over Pakistan by an innings and 18 runs in Melbourne after the visiting side had declared their first innings on 443 for 9.
Pakistan, who, for a brief period, became the top-ranked Test side in August this year, have lost five matches and won only two since achieving the feat.
This also happened to be only the second time that a team has lost by an innings after declaring their first innings. Michael Clarke's Australia had lost to India in Hyderabad after declaring at 237 for 9 in 2013.
Incidentally, the win further boosted Australia's Boxing Day Test record. Since the start of the contest was fixed as December 26 in 1990, they have won 20 of 27 Tests, losing only four.
Watch: 10 biggest sixes in cricket history
But to shift the focus back to teams losing despite scoring big, it is important to see how quickly the opposition have batted in each of the three matches after conceding the runs in the first innings.
At the Wankhede Stadium, India, riding on a double-century from Virat Kohli and tons from M Vijay and Jayant Yadav, hit 631 in response to England's 400 in the first innings. While England scored at a run rate of 3.07, the hosts responded at a rate of 3.45 in 182.3 overs, before bowling England out for 195 to seal the match.
In the fifth Test too, Karun Nair's triple-hundred and a clinical 199 from KL Rahul helped India register their highest Test total of 759 at 3.98 runs per over after England scored 477 at a rate of 3.03.
---
---
Over at the MCG, after Azhar Ali's unbeaten double-ton took Pakistan to a healthy total, Australia scored at a whopping 4.39 runs per over to hit 624 and take a 181-run lead. 

With most cricketers having adapted to the Twenty20 style of play, aggressive batting has become commonplace across all formats. This calendar year also witnessed the highest T20I team total, when Australia scored as many as 263 runs in 20 overs in a contest against Sri Lanka in September.
And with a result-oriented mindset taking over the longest format in recent years, it is clear that we are headed towards a time when even a 500-plus score may no longer be considered safe batting first.