Gaekwad, Sehwag, and the short-sighted brigade

Wisden India
27-11-2016
One of the great challenges of being a part of a Test series in India in particular is the complicated travel schedule. Even given how well connected the major cities are, it is not always possible to go from venue A to venue B without touching down in venue C. Occasionally, venue D as well.
This doesn't often apply to the players themselves, needless to say. A chartered aircraft ferries them from one port to another without the attendant hassle of disembarking and re-embarking somewhere along the way, and that's how it should be. Despite its seemingly unhurried pace, a day of cricket – six hours, sometimes six and half, in heat and humidity, or terrible cold like in Dunedin or Hobart – takes more out of you than any other sport, physically and mentally. The least the protagonists deserve is relatively easy passage between matches.
Private transport allows the players to also be themselves for the duration of the flight, let their hair down, pull a few legs, catch forty winks, depending on how they might be inclined. When they travel commercial, they are expected to be on their best behaviour. Without warning, young and old alike will descend on them with the ubiquitous smart phone, the obligatory selfie never more than a second away. Whether they want to or not, players shut themselves out with earphones that may or may not be blaring music, with sunglasses, maybe even a fake shut-eye. Or, at least, they try to shut themselves out. From time to time, even that may not be enough to prevent a polite prod as the need for the selfie becomes overwhelmingly desperate.
Apart from those not involved directly with action on the field – read, the players, the support staff and, currently, the British media – it is the commercial route from one place to another. It can be a little tiresome. For instance, the day after the Visakhapatnam Test, we had to scramble to the airport for an 8.15 am flight to New Delhi, spend two and a half hours in the airport to catch the connecting flight to Chandigarh, and a further hour in the aircraft stationary on the tarmac because the bags of some of the passengers who had checked in but did not report for boarding had been offloaded.

By the end of it all, we had spent more than ten hours, from checkout at the Visakhapatnam hotel to check-in at the Chandigarh place of residence for nine nights. It was tiring for the most part, but one of the perks, if that is the right word, of connecting flights is the chance encounters that make the whole exercise well worth the while.
A friend and I were making our way to the departure gate in the national capital to board our flight to Chandigarh when a tall figure walked in the opposite direction, hurrying to catch a flight of his own. We had almost passed each other, he caught in his own world and we torn between walking on and catching his attention, when he suddenly stopped and turned towards us. Aunshuman Gaekwad wheeled in our direction, put his hand out – 'Very nice to see you after such a long time' – and then dispensed with correctness as he pulled out the bear-hug. "To Vadodara for a couple of days, then back to Delhi for the third Test," he offered, "so call me and let's catch up." And off he went his way, we on ours, all a little more energised after a brief meeting that lifted the spirits.

As luck would have it, that same evening, the same friend and I tuned in to the Sri Lanka-West Indies One-Day International in Zimbabwe, just in time to see Sulieman Benn walk out towards the end of a stiff, exciting run-chase that ended with the men from the Caribbean falling a heart-breaking one run short in pursuit of Sri Lanka's 330. Big Benn was sporting big glasses, not of the fashionable keep-the-sun-and-the-fan out type, but spectacles for vision. A la Gaekwad, and several others before and after him.
Slideshow: 27 cricket world records you must know about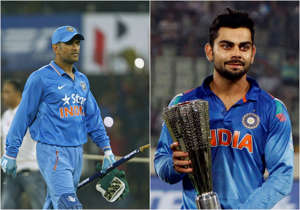 Time was, when players didn't either have the means or access to contact lenses. Or when they didn't really consider the spectacles a nuisance. Used to it from a relatively young age and having played their cricket at every level wearing those glasses kept in place by a variety of means, they were perfectly comfortable and at home wearing them in the nasty cauldron of international cricket, too. David Steele. Clive Lloyd. Dirk Welham. Looking like a professor who had strayed on to the cricket field instead of a classroom by mistake, until the willow started to make sweet contact with the ball and the glasses became no more than a peripheral accessory.

Gaekwad was in that category, too. He wasn't the prettiest batsman, but what he might have lacked in grace and elegance, he made up with grit and determination. For a while, he was Sunil Gavaskar's trusted opening ally, always put a huge price on his wicket and did everything and more that the team asked of him. He made a double-hundred against Pakistan in Jalandhar – yes, they did play Test cricket there once, just as India and Pakistan once used to square off in Test matches – but that doesn't really tell you the full picture.
Gaekwad, glasses and all, came to embody the virtues of commitment and application. The Chennai critics might have categorised his batting as azhukku, but they put him in that bracket of the 'unappealing' with grudging admiration. Just as even the Mumbaikars conceded that there was someone outside of their city that was khadoos.

Gaekwad played Test cricket briefly alongside another bespectacled player in Dilip Doshi, the left-arm spinner who didn't represent India until nearly 32 and who immediately made up for lost time with 6 for 103 on debut in September 1979 against Australia in Madras, as Chennai was then called. Doshi was – is– a stickler for appearance; not a well-oiled hair out of place, his whites whiter than white, looking every inch the cricketer, as they say. He looked far more scholarly and professorial than the somewhat ungainly, angular Gaekwad. But neither was any less effective than the other.
In more recent times, the man who lent class to the vision-glasses was Dan Vettori, the former New Zealand captain who made his Test debut as a teenager, and whose left-arm spin fetched him upward of 700 international wickets. As he also sported a beard towards the middle-to-closing stages of his career, he was the classic case of the wrong man in the right place, bowling with guile, batting with gumption and leading New Zealand in the post-Stephen Fleming era with dignity and purpose. Without intending to, he became the style icon, though you can almost visualise Dan the Man turning red with embarrassment to be called style anything.
Charles Coventry, the maverick Zimbabwean who equalled Saeed Anwar's then ODI record 194, did so with the aid of spectacles, but the most celebrated – or at least talked about – pair belongs to Virender Sehwag. The Indian opener who annihilated bowling attacks around the world largely on the back of hand-eye coordination sadly felt his eyesight going at the start of this decade. When he arrived one day at a Test match with bat in hand, eyes protected and eyesight enhanced by glasses, a song on his lips and intent in his heart, you felt you had seen it all on the cricket field. More power to the bespectacled, then?
Watch: 'ICC needs to make clear rules on ball tampering'