Ganguly-Shastri fracas does Indian cricket a disservice

Wisden India
02-07-2016
Boys in a toy shop. Not difficult to picture, is it? At least more than one of them taking a particular fancy to a specific toy, pushing and grappling and shoving, holding on to the favoured piece for dear life. Boys, of course, will be boys, it's all a part of the charming process of growing up.

But when otherwise mature men behave like boys, then there's something not so charming about it. Especially when the men involved enjoy a certain iconic status in the most iconic of sports in the world's second most populous nation.
When Ajay Shirke said Sourav Ganguly and Ravi Shastri were behaving like boys in a toy shop, he was merely expressing the opinion – though perhaps not as charitable – that many people across the cricketing landscape in India and beyond have held for the last week or so. The very public standoff between two former India captains in the wake of the appointment of a third Indian captain as the head coach of the national team has been little short of embarrassing, to say the least.

Shirke's gentle admonition assumes significance because he is the secretary of the Board of Control for Cricket in India. From all accounts, Shirke is a mild-mannered individual who must positively have blanched at the salvos and counter-salvos fired by Ganguly and Shastri alike. A less patient and less mature individual would, in all likelihood, have handed down a more damning indictment, but the very choice of Shirke's words should force the warring parties to take a step back and draw a line in the sand so far as this episode is concerned.
Photos: Most controversial statements by cricketers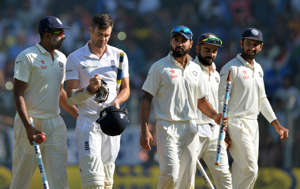 It all started the day after Anil Kumble was formalised as the head coach. From the time Kumble officially expressed his desire to coach the Indian team by responding to the advertisement calling for applications from aspirants, it was obvious that he was going to be one of the front-runners alongside Shastri, the erstwhile team director who had already declared that he had sent in his application. The Cricket Advisory Committee, latent since September last year, was hastily summoned to zero in on the coach, and after hours of deliberation, informed the BCCI of their opinions.
Kumble's appointment was understandably greeted with enthusiasm and glee, given his exemplary record as player, mentor and administrator. There was also no little sympathy for Shastri either; he had opted to get his hands dirty at a tricky time for Indian cricket in August 2014, and galvanised a young team into aspiring for the stars. It had to be one or the other, it was Kumble. That should have been that. But that seldom is, in Indian cricket.
For Shastri to express his disappointment at being overlooked was both natural and understandable. Had he just left it at that, we wouldn't be where we are today, there would have been little material for the 'boys in a toy shop' scenario.
It's hard to imagine when the expression of disappointment which was accepted without murmur mushroomed into something more. Maybe when Shastri mentioned Ganguly's absence during his interview, terming it disrespectful? Most likely. That then opened up a Pandora's Box, and that can never be a good thing, can it? Conspiracy theories abounded from various quarters. Kumble was already a done deal, they said. The whole thing was an eyewash, Ganguly would have anyone but Shastri as the head coach – after all, there is history between the two strong characters, isn't there?
So, after days of silence, Ganguly chose to react. He said many things by way of clarification that people at large might not have been aware of. But he also said some things that, on reflection, he will feel he could have refrained from. Such as questioning why Shastri was holidaying overseas at the time of the interview and why he wasn't present in person. And the choice of the phrase 'fool's world' to reiterate that if Shastri thought he wasn't the head coach only because of Ganguly, then he was grossly mistaken.
Just as well that Shastri didn't point out that he wasn't the only one not physically present. That Tom Moody too made his presentation via skype. And that one of the interviewers, Sachin Tendulkar, was away in the United Kingdom and therefore not physically a part of the deliberations. And certainly just as well that Moody hasn't pointed out that Ganguly wasn't around for his interview either. More than enough points have been made, more than enough shots sent flying.
At a time when Indian cricket is under the scanner from every conceivable direction, this is the last thing it needs. It is no secret that at the best of times, people look for wispy, isolated clouds to paint a picture of doom and gloom in a sea of silver, and this is certainly not the best of times for various reasons, including the Lodha committee observations. Against this backdrop, it is hardly behoving to offer drama and controversy and mud-slinging on a platter. Surely, we are entitled to expect this much that from the Champion of Champions, and from the man widely credited with improving India's touring stocks in his long stint as a natural leader of individuals.
And what of the team itself, now at a preparatory camp in Bangalore ahead of the tour of the West Indies that will kick off a long season of Test cricket? What will they make of all this? For all their proclamations about not watching the news or not reading the papers, it is impossible for them to be insulated from these goings-on. We might say they are professionals and therefore should remain unaffected and untouched by the events of the last several days. But they are also young men, young human beings who know what the contributions of these two stalwarts are, and who share a close bond with Shastri, until recently team director second and motivator supreme first. Is this what they should be exposed to as they hone their skills? Is this what the followers of Indian cricket deserve?
Come on, gentlemen. Come on, indeed! You might not have been the best of friends and you never will be from now on either, one is safe in surmising. But this — a street-fight minus the blows? Where words are meant more to hurt than clarify? Please, can we heed the sagacious Shirke and move on?