Gautam Gambhir's latest India axe has an air of finality

The Indian Express
23-11-2016
At some other time, Gautam Gambhir's Twitter or Instagram timeline would have been replete with snaps of the mist-skirted ghats that overlook the Krishnagiri Stadium in Wayanad, where Delhi is playing Rajasthan in Ranji Trophy. But the Delhi skipper must have had too many botheration to not fully soak in the languorous setting of the stadium. Or even feel a little distracted. His domestic side's unflattering start to the season must be one, but he would have been more distressed at how he has contrived to blow up another, and possibly the final, shot at prolonging his Test career. His return to the Test side had yielded only 98 runs from four innings, the last a duck in Rajkot.
On Tuesday morning, he lasted just 3.4 overs, adding only four more to his overnight tally of 10. Late sometime in the day, the message that he was axed from the remainder of the series must have been conveyed to him. At 35, and with a posse of suitable suitors around, Gambhir's prospects of wooing back another comeback look imminently bleak. Unless, there is another strange recurrence of more than a pair of regular openers getting injured.
Three balls after his stumps were dishevelled by Aniket Choudhary, his opening partner Shikhar Dhawan too joined him in the pavilion, having added nine more runs to his overnight score, a crunchy 38. Late in the day, someone might have informed him about his omission from the squad too, though he has fully recovered from the thumb injury. His plight, though, is not as grim or dire as Gambhir's. As coach Anil Kumble has time and time again reiterated, he doesn't want injured players to return hastily to the side. So the selectors must have deemed it judicious to give Dhawan some more time in the domestic circuit before feeling his way back to Test cricket. In a way, this might bode well for him, for he hasn't looked entirely assured since the 84 against West Indies in North Sound. In five innings since, he has managed only 72 runs. Hence, if he can string together a few good knocks, he could restore his Test career.
Photos: 25 world records held by Indians in Test cricket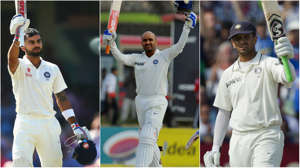 This, though, literally implies that India would have just two specialist openers—Murali Vijay and KL Rahul. However, this wouldn't vex the team management much, even in the eventuality of one of the openers sustaining an injury in the morning or on the eve of the match. There is always the emergency alternative of asking Cheteshwar Pujara to open, and the pitches anyway would unlikely be spiteful enough to tax a makeshift opener.
The only other addition to the squad was medium pacer Bhuvneshwar Kumar, who sustained a back strain in the second Test against New Zealand in Kolkata, in which he had taken five wickets in the first innings. He could straightaway be picked, even ahead of Ishant Sharma, in the playing eleven, if the strip wears a greenish tinge.
Watch: 10 biggest sixes in cricket history
---
---