Gautam Gambhir Says he Will be Aggressive Against Virat Kohli if Need be

NDTV
19-10-2016
Veteran batsman Gautam Gambhir on Tuesday finally opened up on his much-talked about relationship with Virat Kohli.
Speaking to NDTV, the Delhi left-hander, who leads Kolkata Knight Riders, stated that there was nothing personal in his 2013 Indian Premier League verbal duel with Royal Challengers Bangalore's Kohli and that he would not hold himself back when it comes to taking on India's Test skipper in the future.
"There was nothing personal in the IPL fight with Virat. If I play against Virat again and need to be aggressive, I will," said Gambhir.
The 35-year-old Gambhir highlighted the fact that Kohli and he were not just aggressive but also extremely passionate individuals.
According to Gambhir, there was nothing wrong in having a go at each other on the field as cricket was serious business.
"Virat and I are both aggressive and passionate individuals. When on the same team, Virat and I have the same goals," Gambhir added.
Photos: 26 most controversial statements by cricketers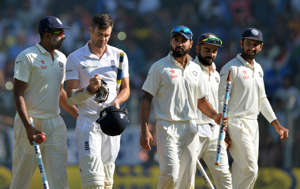 Gambhir was recalled to India's Test side against New Zealand after a gap of two years.
After being ignored by the selectors during the initial squad announcement, injuries to KL Rahul and Shikhar Dhawan paved the way for Gambhir's selection in the playing eleven at Indore.
Gambhir didn't disappoint his fans, as he notched up a fifty in the second innings.
Gautam Gambhir praises Test captain Virat Kohli
After having played under Kohli's captaincy in whites for the first time, Gambhir lauded the 27-year-old's leadership.
"Virat leads the team by example," he said.
All eyes were on the Delhi duo after Gambhir was recalled to the squad in Kolkata. However, they appeared quite comfortable with each other and even shared a laugh on multiple occasions.
It remains to be seen whether Gambhir will find favour with the team management during England's visit as both Rahul and Dhawan are expected to make a return.
Either way, Gambhir deserves credit for not just wearing his heart on his sleeve but also continuing to fight hard for a Test slot.
Watch: Nothing personal in my fight with Kohli — Gambhir