Gavaskar – forever the first in burgeoning Club 10,000

Wisden India
06-06-2016
After a little bit of drama and some artificial suspense, Alastair Cook has taken his appointed place in the 10,000-run club. As its 12th member. The England captain became the first batsman in three-and-a-half years to gatecrash into this elite, exclusive band, membership to which isn't gained without blood, sweat and tears being expended. He is not only the first Englishman to top 10,000 Test runs, he is also the youngest entrant to what is now a Dazzling Dozen.
Much has been made of the fact that, at 31 years, five months and five days, the left-hand opener got to that milestone five months quicker than the previous youngest, Sachin Tendulkar. It's a nice statistic to possess, sure, but it is no more than a nice statistic. Cook started his international career far older than what Tendulkar was when he began his but England play a whole lot more Test matches than India do – though India are on a catch-up mission with 17 Tests lined up between July 2016 and March 2017 alone.
Youngest is good, make no mistake. But quickest is even better. Cook's debut was in March 1, 2006 – in Nagpur, in case you are interested. His 10,000th run came on May 27, 1016. In a little over ten years, it was his 128th Test match, and 229th innings. Tendulkar's journey to 10,000 spanned 15-and-a-half years, the milestone came in his 122nd Test and 195th innings. He had equalled Brian Lara's feat of fastest to 10,000, and Kumar Sangakkara – the last man to top 10,000 before Cook – gatecrashed into that league of legends when he, too, brought up his 10,000th run in his 195th innings. The quickest gave the youngest a whopping 34 innings. Would you rather be the quickest, or the youngest?
Moot, really, because while it might form the basis of an inane argument, quickest or youngest holds no value for the men who have actually got there. Inasmuch as cricket is a numbers game, not everyone plays it for just the numbers. If you are good enough, fit enough and driven enough, then longevity is a given; one of the by-products of longevity is the stacking up of records which will inevitably be broken. Or rather, most of which will inevitably be broken.
When Fred Trueman became the first bowler to take 300 Test wickets, in 1964, he was asked if he foresaw anyone emulating his feat. "If he does, he'll be bloody tired by the time he does it," the feisty paceman from Yorkshire thundered. Trueman bowed out with 307 wickets, Lance Gibbs topped it and reached 309 when he called it quits. Gradually, that number began to burgeon. And it now stands at an incredible 800. Eight 'oh my god' hundred! Muttiah Muralitharan should be bloody tired, though seeing him even in retirement, you wouldn't always get that feeling.
There has been plenty of debate over whether Murali's Mark will ever be even neared, let alone emulated or surpassed. With more and more Twenty20 cricket on the anvil and shelf lives of cricketers – bowlers specifically – becoming lesser and lesser, it will be next to impossible to play, say, 160 or so Tests required to reach 800, assuming the bowler is good enough to average five wickets a game. To me, 800 will remain out of reach. Forever. To all-comers.
Murali will remain the first, the fastest, the youngest – and, I am convinced, the only – bowler to reach 800 Test wickets. But the 10,000-run club will have greater company in years to come, in keeping with cricket's reputation as a batsman's game. The names roll off the tongue – Virat Kohli (2994). Joe Root (3486). Steven Smith (3852). Kane Williamson (4037). Look at how far behind they are! Williamson, the leading scorer in this quartet, has little under 6000 to go, Kohli has a little over 7000. And yet.
And yet, these men all have at least a good decade of cricket at the top level ahead of them if they can remain injury-free and don't reach saturation point. Kohli and Smith are both 27, Williamson and Root 25. They might not be the youngest or the quickest to break in, but if all other things are equal, they will be there. At some stage in the early 2020s.
But what of the Edmund Hillary of the 10,000-club? The pioneer? The first man to scale the peak? The man who showed the others the way? For a little under six years, Sunil Gavaskar experienced what it felt like to be lonely at the top. The little Indian opener with the heart of a champion, the mind of a Zen master, the technique of a virtuoso and the appetite of a glutton was the first to go where no man had gone before, with a dab-cut to third man off Ijaz Faqih, the otherwise anonymous offspinner from Pakistan. That brace came at the Sardar Patel Gujarat Stadium in Motera on March 4, 1987, Gavaskar putting his head down and raising the bat with his right hand as he dashed back for the second run. It was truly a milestone moment in the history of Test batsmanship. Runs spilling over to five figures. 10,000!
It had taken Gavaskar 15 years and 363 days since his debut to reach 10,000 Test runs. When he blazed a spectacular trail in his debut series in the Caribbean in early 1971, he fired a massive shot for Indian batting. Hitherto seen as meek and submissive and ill-equipped and fearful of fast bowling, the stock of Indian batsmanship was singularly raised by the man who announced his entry with 774 runs in four Tests in the West Indies. Gradually, as Gavaskar tamed the best attacks around the world – at home and away – his wasn't just the most coveted Indian scalp, but one of the most sought after wickets in world cricket. The Vengsarkars and the Viswanaths and the Amarnaths (briefly) and the Azhars came later; for a long, long time, Gavaskar was by a distance the solitary torchbearer of Indian batting.
In November 1983, Gavaskar went past Geoffrey Boycott's then highest Test tally of 8114 runs, so until Allan Border joined him in the 10,000-run gathering in January 1993, he had spent several wistful moments longing for company. The legends then had to wait for a further 11-and-a-half years until Lara made it a club of three, but once the membership drive opened, several worthy candidates broke through in fairly rapid succession.
And so, while Lara, Tendulkar and Sangakkara will be hailed for being the quickest and Cook celebrated as the youngest, those numbers can be bettered. Perhaps someone will get there in 194 innings, perhaps somebody will be only 30 when he stacks up five figures. But no one else can be first, of course. That honour will remain Sunil Gavaskar's, and fittingly so, because he surged to the top without consistent support, without a helmet, and with a panache and a style that doesn't come to everyone.
Slideshow: Unseen images of cricketers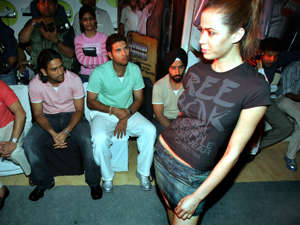 Never seen before pictures of cricketers