Geoffrey Boycott not ready to call Virat Kohli a great player just yet

India Today
15-12-2016
Virat Kohli's career-best 235 against England in the Mumbai Test has now taken his Test average past 50; generally considered a hallmark of a great Test batsman. The real value of his knock goes beyond these numbers as Kohli's eight-hour vigil at the crease, on a track turning square, won India the Test match.
Many experts reckon Kohli will go on to rewrite many records. Former England great Geoffrey Boycott also thinks highly of Kohli but is not ready to call him a great just yet. "We're all human. What we see on TV, we think that it's the best ever. Is Kohli better than (Sunil) Gavaskar? Hang on. The kid's going to be a great player. But Gavaskar and (Sachin) Tendulkar were great players too. It's easy to say 'long live the king.' 'The king is dead.' That's what happens to us all. We're all: 'Was that Tendulkar, did he really play and get a 100 hundreds?' 'Was he really better than Kohli?' We focus on what we see because we're human," Boycott said at a private event in Mumbai.
Photos: 'Unique' world records held by Indian cricketers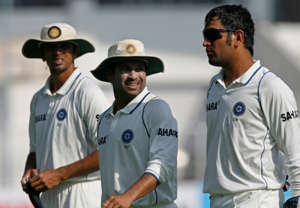 Unlike James Anderson who said Kohli's technical shortcomings during India's tour of England in 2014 may not have been put to test on Indian wickets, Boycott did not question his ability to score away. "He will get a chance in England when they go there next. He will have a chance to put that right. He has got hundreds in Australia. He has got a hundred in South Africa," he said.
Boycott wanted people to be guarded before calling a great. By reminding the audience how proud he was of the fact that England never lost when he scored a hundred, he suggested people attribute more importance to runs scored in winning causes.
"Virat won't break all records. And it won't matter even if he does. It will not make him greater the greats of the past. I broke Gary Sobers' record of most runs in Delhi. I said at the time it won't make me a greater player than Sobers. Gavaskar got past me in two years. I saw Lara twice get world records. Records are meant to be broken. What he has to do is continue scoring runs, help India win Test matches. At the end of the career he will be judged in the pantheon of great players," he said.
---
---
Boycott, a keen observer of Indian cricket, did rave about Kohli's work ethics though. "There are many things I like about Kohli. Something I hear from ex-Indian players I know, he trains so hard, practices so hard to get where he is. If that is true which I have no reason to believe it isn't, he deserves his success. Most people earn it by hard work," he stated. 

The Indian Test skipper may be having an extended purple patch but with every finger pointing towards his unconquered territory - England, India's tour of England 2018 may have a whole new meaning to it.
More from India Today

India Today