Getting Virat Kohli out is a task: Bhuvneshwar Kumar

India Today
29-05-2016
This Sunday, it will be a tussle between a star-studded batting line-up and an equally powerful bowling attack in the final of the Indian Premier League 2016. Virat Kohli and his Royal Challengers Bangalore will play the summit clash at M Chinnaswamy Stadium against Sunrisers Hyderabad where there has been little respite for bowlers.
Purple Cap holder Bhuvneshwar Kumar feels it would be a tough task for his team to counter the marauding RCB in Bengaluru.
Hyderabad edged out Gujarat Lions by four wickets here last night in Qualifier 2 to set up a final clash with Bangalore, who had beaten the same opponents in Qualifier 1.
'BIG TASK TO GET THEM OUT'
"We will definitely strategise because I read somewhere the other day that Virat Kohli has scored 35 per cent of RCB's runs.
"It'll be a big task for us to get (Chris) Gayle, Virat (Kohli) and AB (De Villers) and later, (Shane) Watson, out. We are hoping for a good contest," Bhuvneshwar said.
"We'll enjoy for now because we know there's a pressure match coming up," he said.
'LOSING FIZZ WASN'T GOOD FOR US'
Bhuvneshwar also said losing Mustafizur Rahman in the Qualifier 2 was not an ideal situation for them but backed Kiwi paceman Trent Boult, who replaced the Bangladesh pacer.
"Mustafizur did really well but losing him in a crucial game wasn't good for us but Boult did very well. It's a part of the game that he went for a few runs in the second last over. But if you look at him, he has really worked hard in the nets. He knew that there might be a chance for him to play either the semifinals or finals but you can't say he has given runs; it's a part of the game. Losing Fizz wasn't good for us," he said.
'WANTED TO CHASE AGAINST GUJARAT'
Warner had earlier said that he would like his batsmen to put up big totals for the bowlers to defend but Hyderabad decided to bowl on Friday.
Asked about the decision, Bhuvneshwar said keeping the opponent's strength in mind, it was the best decision to take.
"We had decided in the meeting to bowl first. If you look at their (Gujarat's) batting line-up, they have good batsmen like (Aaron) Finch, (Suresh) Raina, (Brendon) McCullum and (Dwayne) Smith. They are good chasers. So we wanted to make them bat first so that we could get them out early and chase down the target," he explained.
Slideshow: 26 things you should know about Virat Kohli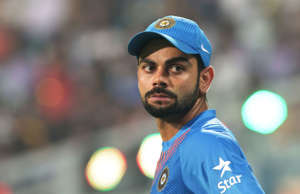 27 things you didn't know about Virat Kohli
More from India Today

India Today