Greatest cricket fans

Wisden India
17-02-2017
When Kevin Garnett returned to the Minnesota Timberwolves, the NBA side, after 12 years, he was surprised to see a shirtless fat guy who would paint the front of his body with the letters 'KG' and the back with 'Wolves' as long back as 2000. KG acknowledged 'Jiggly Boy' with a grin and a tap on his chest. That was a welcome gig that drew millions of hits on Youtube and social media in general.

There are several guys engaging in such acts across all sports, and cricket fans are right up there with the most fanatical. Some say the cricket super fan is crazy, others dismiss it as a publicity-seeking stunt. We at Wisden India look at eleven of the most visible cricket super fans.
Sudhir Gautam (India, Mumbai Indians)
First up, it's the man who everyone in the world of cricket and possibly beyond knows as the 'guy with the paint, the flag and the conch'. Few cricket super fans have attracted as much attention and controversy as Sudhir Gautam. The man from Muzzafarpur in Bihar began his journey in 2003 as an ardent fan of Sachin Tendulkar, and since has cycled to various venues in India, Bangladesh and Pakistan. Sudhir, who lives on public support, has travelled the world and his devotion gave him the chance to hold aloft the 2011 World Cup at the Wankhede Stadium after Tendulkar invited him to the Indian dressing room. Since Tendulkar's retirement, Sudhir has continued to travel with the team but instead of the white paint on his chest that says 'Tendulkar 10' now it's 'miss you Tendulkar 10'.
Ram Babu (India, Kings XI Punjab)
Just how influential is Sudhir in the world of superfandom? He inspired another super fan into being. Ram Babu adopted MS Dhoni as the name worthy of a spot on his chest. The former Haryana district cricketer gave up the sport following the death of his father but returned, this time as a fan, with a bang. Spotted at every game featuring Dhoni, Ram Babu, a resident of Mohali, is also a Kings XI Punjab fanatic. But it's his love for Dhoni that puts him on this list.
Percy Abeysekara (Sri Lanka)
Percy doesn't look like much of a supe rfan. Dressed in Sri Lankan colours with a cap and a flag, the 79-year-old looks like any other veteran at the stadium, but he isn't. In fact, he is one of the greatest super fans in cricket history. With witty rhymes and a flag in hand, Percy has been on the sidelines cheering the side for over six decades. There are reports that suggest that he has turned into more of a nuisance with his drunken spells but a Sri Lankan cricket side without the voice that fuelled it for over half a century doesn't sound like an interesting enough proposition.
Chacha Cricket (Chaudhury Abdul Jalil) (Pakistan)
This is the story of the man we have all seen coming up with a chant or two when Pakistan were in action. The man, known widely as Chacha Cricket, is Chaudhry Abdul Jalil, and he began his rise to the top of the super fan list in the 1980s when he started showing up at Sharjah Cup matches. So inspiring were his ways that the Pakistan Cricket Board hired him and sponsored his trips until the 2015 World Cup. It was sad to not see him during Pakistan's World Cup campaign, but he made his presence felt once again when he turned up in Lahore to witness Pakistan play Zimbabwe. In case you were wondering, the white beard is still flowing as it did all those years ago.
Mohammad Basheer Bozai (Pakistan)
This super fan is a bit stranger than the rest. He was born in Pakistan, is settled in Chicago, married to an Indian, a huge fan of MS Dhoni and an even bigger fan of Pakistan cricket, and neutrally supports both the teams. He was first spotted during the 2014 World T20 in Bangladesh and later during the World Cup. It isn't certain yet if he is going to make it to every match Pakistan features in but he is most likely to pop up at every major ICC event and more certainly so if India are up against Pakistan.
Shoaib Al Bokhari (Bangladesh)
Bangladesh have now become a force to reckon with, prompting teams to take them more seriously. Shoaib Al Bokhari, a Bangladeshi super fan, took them far too seriously even before they came close to becoming what they are right now. Irrespective of conditions and oppositions, the 'Tiger', because of the yellow and black stripes he paints on his body, is in the stands shouting relentlessly to get the side going. It seems like he has learnt a thing or two from Sudhir, but the cricketers won't mind that one bit. At least they know that no matter where they go, they'll have a friendly face and an earful of Bengali.
Gravy (West Indies)
For 12 years from 1988, Labon Kenneth Blackburn Leeweltine Buckonon Benjamin, aka Gravy, danced his way into everyone's heart at the Antigua Recreation Ground. Referred to by many as the 'cricket comedy shows', Gravy's antics made for quite the viewing when Test cricket was telecast live. He would dance from the start of the day to the end and from day one to the last, but what really made it funny was the cross-dressing and the uninhibited swinging from the rafters. He retired in 2000 and now runs a hardware stall, but has left us with the image of him dressed in a wedding gown on his final day at the ARC ground.
Dharamveer Singh Pal (India)
Known by many international cricketers as the 12th man of Team India, Dharamveer, a resident of Gwalior, is often seen by the ropes bounding after the ball and returning it to the fielders. Sounds like any other ball boy, but he isn't. Dharamveer was struck by polio in his childhood and it affected his legs to the extent that he can't walk. He literally balances himself on his hands and rushes forward but that hasn't stopped him from travelling thousands of miles to watch India play since 2004. He doesn't come across as someone who is as fanatic as a Sudhir or a Percy or Chacha but he will definitely go down in the annals of super fan history as one of the most persevering.
Luke Gillian (Australia)
"No ODIs or T20s for me. It's Test cricket or nothing else," said Luke Gillian when asked why he wasn't spotted waving the flag during Australia's limited-overs matches. The 'Sparrow' is always in a bright floral shirt and a flag and has been to nearly 200 Test matches in his career. He is a full-time chef in London and admits to being weary of travelling around the world with the team, but one can rest assure that each time Australia get their whites on, the 'Sparrow' will be in the stands with a mouthful of the anthem. Oh, and he has a website called 'Wavin the flag' to inspire more Australian to join him in his journey.
Larry the Leprechaun (Ireland)
This is the newest kid on the block and he made waves during the 2015 World Cup with his son Hamish. Larry, aka Adrian Raftery, is a university lecturer in Australia but during the World Cup, he was the Irishman with a beer in his hand, a replica of the World Cup in the other, the banana chant — "Peel a banana, mash a banana, throw a banana, and let's go bananas!" – at the tip of his tongue and a spring in his step. He entertained the masses with his gigs, making the cricket a little more fun, especially in New Zealand where it can get a bit quiet.
Carl Teuser (Australia)
It's anybody's guess if the man who dressed as a kangaroo and began appearing during Australia's World Cup matches intentionally botched his costume or was hard pressed for time. Either way, the character in question is Carl Teuser and the Australian, inspired by Larry, was at each of Australia's games with a really poorly made kangaroos costume on. He was vocal enough the catch the attention of the players and inspire Australia to another World Cup win but we don't know yet if in time he will achieve the celebrity status some of the other super fans have achieved or if that World Cup display was a flash in the pan.
Slideshow: Cricketers: Then and now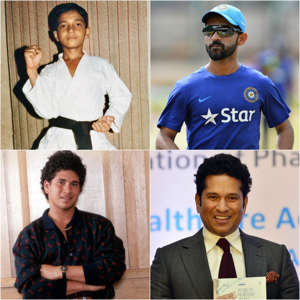 Watch: MS Dhoni felicitated by Kapil Dev