Ground reality of Mohit Ahlawat's '300', first in T20

The Indian Express
09-02-2017
At Lalita Park, a mini-cricket island embedded deep inside the mostly-commercial and always congested Laxminagar area, they are still talking about Mohit Ahlawat's 300 off 72 balls and his 39 sixes. It's the day after this multi-purpose ground with irregular dimensions — it's roughly a 60m x 40m patch with a 25-yard boundary behind the batsman — made a 21-year-old Delhi first-class player trend on twitter and put him on front page of newspapers. Ahlawat's brutal assault against a bowling attack, a mix of club and mohalla players, had the IPL franchise owners scrambling for the wicket-keeper batsman's number and the international media hailing the son of a Haryana farmer as the 'Indian who hit the first-ever T20 triple hundred'.
The innings has changed the life of a boy who had scored 5 runs in 5 Ranji Trophy innings for Delhi.
Full scorecard: India vs Bangladesh, one-off Test
"Yes, I have put my name in IPL auction but I am not sure if this knock will make people to notice me," Ahlawat was quoted as saying on Tuesday.
For a first-time cricket-watcher at Lalita Park, what catches the eye is the concrete stage that is not far from the pitch. The Yuva Kala Manch — that's what is painted on it — sitting at cover is barren and vacant. It has seen better days — it gets decked up for Ram Leela and when the tri-colour gets unfurled here. The ground is a dustbowl that is skirted by tightly-packed weather-beaten matchbox-size flats tied together by low-hanging electric cables. To get a sense of size, it would be safe to say that at least five full Lalita Parks can be fitted into the sprawling 172.9m X 147.8m Melbourne Cricket Ground.
Photos: Cricket world records you must know about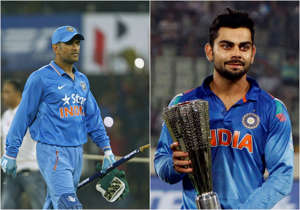 So it's understandable that this Friends Premier League, an initiative by the area's enthusiastic youth, isn't recognised by the Delhi and District Cricket Association. The treasurer of the tournament, Manohar Yadav, beams as he relives Ahlawat's sixes. However, considering his area of work, he confesses, "We play this tournament with the pink ball, they cost Rs 300. We had to replace the ball nine times because Ahlawat hit it well beyond the sight screen. I believe some of his hits were over 100 metres."
The news of the "72 ball, 300" has spread, as the tournament in its third edition has invited sudden interest. Locals standing behind the wicket-keeper can easily hear the chatter on the field. They also need to be cautious as sixes keep raining down on them. They are used to it.
Monstrous scores aren't new to the spectators here. The scorer flaunts sheets that are littered with '4s' and '6es'. Batsmen on these scorecards have only their first names recorded. The organisers say that since the umpire has to shout the name of the incoming batsman from the middle, it's tough to catch the "full names".
---
---
Regulars recall a local legend, lovingly called "Lara", who scored a T20 double hundred last year. He isn't playing this time. Today, Lalita Park has another minor hero. Sultan Ansari has hit 18 sixes in his 139 off 39 balls. In one particular over he hit 34 runs — five consecutive sixes and a four. 

Just then a batsmen glides the ball past the square leg boundary. The umpire doesn't signal a four, Yadav clarifies. "Since that is a short boundary, you only get a couple for that," he says. The treasurer believes Ahlawat's record innings will boost the reputation of the tournament which will help attract bigger teams. "Right now we can't afford to invite registered clubs in Delhi because they will want a dressing room and other facilities. This is a local tournament but after Ahlawat's triple hundred we hope to attract more sponsors from next year," Yadav says.
Ahmed Ali, who has played on this ground for a local club, says the relatively smaller dimensions make it a batsman's paradise. "You are never out of the match on this ground because even an average batsman can hit a century as it is easy to hit boundaries. Even in yesterday's match, Ahlawat's team scored 416 but the rivals replied with 216 in just 15 overs," Ali says.
Even as another boundary-fest is in progress, the live commentator, had an important announcement to make. "Aapke ghar pe mehmaan aaye hai Girish ji," he says as the spectator who is wanted at home raises his hand and rushes out of the ground. One look at the bowler on this batting paradise, you feel they'd want a similar announcement asking them to run home.