Hameed, Cook extend England's lead to 163

Wisden India
12-11-2016
The fourth day of the first Test between India and England in Rajkot began with a world of possibilities. It ended with a draw the most likely outcome, barring a dramatic collapse by either team on the final day.
India were trailing England's first-innings 537 by 218 runs when the day began. That number looked bigger when Virat Kohli and Ajinkya Rahane fell early in the day, but an elegant 70 by R Ashwin reduced the deficit to just 49, with India bowled out for 488 at the stroke of tea.
It was the first time in 13 matches since the England Test in Nagpur in 2012 that India conceded the first-innings lead at home, but with four sessions to go on a wearing surface, they still had a shot at victory.
Haseeb Hameed and Alastair Cook, however, brought those hopes crashing with a steady century partnership to take England to 114 for no loss at stumps, an overall lead of 163. Hameed, the 19-year-old debutant, was on 62 with his captain on 46 for company.
Scores (Day 4): England: 537 & 114/0 against India: 488
The centre part of the pitch largely stayed true and had nothing in it for the bowlers. Only Adil Rashid extracted bounce from the rough and enjoyed some success with four wickets.
England's late strikes towards the end of the third day proved to be invaluable. It meant India couldn't go on an all-out attack, and instead had to focus on getting as close to England's total as possible.
The two key batsmen for that were Kohli and Rahane but both fell within the first hour to some casual batting. Rahane was first bowled trying to flick Zafar Ansari while Kohli was hit-wicket after going too deep in the crease while pulling Rashid.
However, India still had a deep batting line-up and two able batsmen in Ashwin and Wriddhiman Saha. The pair kept India going with a 64-run stand for the seventh wicket, gradually chipping away at the lead.
The pitch continued to break on the sides through the day and batting wasn't the easiest, with Rashid in particular extracting big turn and bounce from the rough. Ashwin and Saha countered that with good footwork and by playing late. Ashwin used his reach to go completely forward or back, while Saha came down the track or played the occasional paddle.
Saha took India past 400 with a straight six off Rashid before falling to the same bowler – edging behind while playing a cut shot – just after lunch. India were still trailing by 112 runs at that point, but the rest was all about Ashwin reducing that number.
He did that through mini partnerships without playing a single shot in anger. England spread out the field and bowled to their outside-off plan, but Ashwin still found the boundaries through deft touches, elegant drives and even an upper-cut to the left of the wicketkeeper.
Ashwin knew exactly when to farm strike and attack too. When Mohammed Shami, the No. 11, walked in, Ashwin was on 49 with India still trailing by 78. He extended the innings by 6.2 overs and added 29 for the last wicket stand, in which Shami batted for just seven balls.

England could have kept India to a much lower total if not for dropped catches at critical times. Saha was put down on 9 by Jonny Bairstow when Ben Stokes was in the midst of a good spell and India were on 378, while Cook dropped a dolly off Shami at slip when the batsman had just walked in.
Despite the lead, England might have had some nerves in the dressing room at tea. Not too long ago, they lost all ten wickets in a session to give Bangladesh a famous win.
But it didn't take long for Hameed and Cook to calm the nerves. India expectedly began with spin with Ravindra Jadeja trying to exploit the rough outside Cook's off-stump, but the England captain was resolute in defence despite a few balls jumping around.
Photos: 30 greatest pace bowlers of all time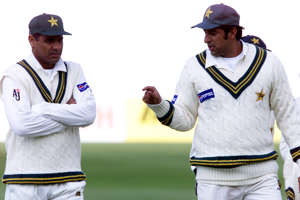 While Cook took his usual defensive route, his younger partner was more expressive, smashing Jadeja for a straight six out of nowhere. He looked confident against Ashwin as well, taking him for consecutive boundaries with a deft touch and a classic cover drive. Fittingly, Hameed brought up his fifty with a cut to the deep point fence off Amit Mishra's bowling.

It might not produce a result, but the fifth day could turn out to be even more memorable for the teenager.
Watch: Irfan Pathan's hat-trick against Pakistan