Hamilton extends title lead

Sky Sports
27-09-2015
© Provided by BSkyB Getty
© Provided by BSkyB Getty
Lewis Hamilton has extended his world title lead over Nico Rosberg after winning the Japanese GP at Suzuka on Sunday. 
The defending champion took the chequered flag 19 seconds ahead of his team-mate, with Sebastian Vettel finishing third in his Ferrari.
Starting from pole position, Rosberg dropped to fourth place on the first lap after he and Hamilton headed into the first corner side-by-side.
Rosberg was on the outside heading into Turn 1 but was forced out wide at the next corner, losing momentum and falling behind Vettel and Valtteri Bottas' Williams.
He moved back ahead of the Finn - overtaking Bottas at the chicane on lap 17 - and then took second place back from Vettel on lap 31 after both drivers made their second tyre stops.
Even so, Hamilton's lead has increased to 48 points with five races to go this season.
Kimi Raikkonen also moved ahead of Bottas to finish fourth, with Nico Hulkenberg, Romain Grosjean, Pastor Maldonado, Max Verstappen and Carlos Sainz completing the top 10.
After starting from the pitlane following his huge qualifying crash on Saturday, Daniil Kvyat finished 13th, two places ahead of Red Bull team-mate Daniel Ricciardo.
Ricciardo started seventh but collided with Felipe Massa's Williams off the start line, with both forced to pit at the end of the first lap.
Meanwhile, Fernando Alonso finished 11th after describing McLaren performance during the race as "very embarrassing".
At Honda's home race, the Spaniard also compared their hybrid with a "GP2 engine". Team-mate Jenson Button finished 16th.
The outburst came during the early stages after he had briefly run in the points but was then overtaken by Sainz and Marcus Ericcson's Sauber.
Both moves came under DRS into Turn 1, with the McLaren-Honda's lack of power all too apparent. Verstappen also got Alonso there later in the race , with the Spaniard likening his hybrid to a "GP2 engine".
Team-mate Jenson Button finished 16th.
Japanese GP result:
1. L Hamilton Mercedes 53 laps
2. N Rosberg Mercedes +18.9s
3. S Vettel Ferrari +20.8s
4. K Raikkonen Ferrari +33.7s
5. V Bottas Williams +36.7s
6. N Hulkenberg Force India +55.5s
7. R Grosjean Lotus +72.2s
8. P Maldonado Lotus +73.5s
9. M Verstappen Toro Rosso +95.3s
10. C Sainz Toro Rosso 1 lap
11. F Alonso McLaren 1 lap
12. S Perez Force India 1 lap
13. D Kvyat Red Bull 1 lap
14. M Ericsson Sauber 1 lap
15. D Ricciardo Red Bull 1 lap
16. J Button McLaren 1 lap
17. F Massa Williams 2 laps
18. A Rossi Manor 2 laps
19. W Stevens Manor 3 laps
20. F Nasr Sauber Retired
Slideshow: F1 Grid Girls: Glamour around the Globe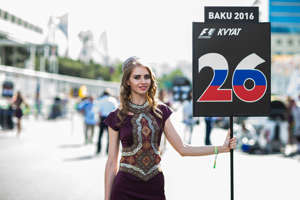 Gorgeous Formula One Grid Girls