Happy birthday, Kapil 'Paaji': 11 fascinating facts about the 'Haryana Hurricane'

India Today
06-01-2016
One of Team India's most successful captains, Kapil Dev was born on January 6 in 1959. His contributions to the sporting fraternity is unparalleled. Under Dev's captaincy, India won its first World Cup in the year, 1983. Dev's indomitable spirit and cricketing acumen has spelled magic for the Indian cricket team and the supporters.
Kapil continues to play a major role in guiding upcoming talents and supporting them in need. He had also coached the Indian team for 10 months in 1999-2000 when Indian cricket was facing a troublesome time.
On his 56th birthday, we bring to you 11 amazing facts about Kapil Dev:
1. Although known as one of the best all-rounders ever, Kapil Dev was popular as a bowler in the domestic cricket circuit. On his first-class debut, Kapil bowled out Punjab for 63 runs with six wickets to his name.
2. Kapil finished his debut first-class season (1975-76) with 121 wickets in 30 matches. A feat that surprised the nation.
3. Kapil played for Haryana for 17 years. He was a constant member of the team from 1975 to 1992.
4. Apart from Haryana, Kapil's first-class experience also includes English county clubs, Worcestershire (1983-84) and Northamptonshire (1981-83).
5. Kapil Dev played his first Test match against Pakistan in Faisalabad on October 16, 1978.
6. In his entire 184-innings Test career, Kapil Dev had never been run out. No other cricketer has achieved this feat.
7. During a series against Pakistan in 1979-80, Kapil became the youngest Test player to achieve the all-round double of 100 wickets and 1,000 runs.
8. Kapil held the world record for the most number of wickets (434) in Test cricket for eight years. The record was broken by West Indies fast bowler, Courtney Walsh in the year, 2000.
9. 303 runs, 12 wickets and 7 catches in 8 matches - this was Kapil Dev's statistics in the 1983 World Cup. His extraordinary knock of 175 runs against Zimbabwe saved India from being ousted from the quarter-finals. India went on to lift the cup when they defeated the mighty West Indian team in the final match.
10. India had always bore the brunt of not producing quality fast bowlers. Kapil broke this myth. He could bowl at a speed of 140 kilometres per hour for hours. His fast pace earned him the nickname, 'Haryana Hurricane'.
11. A patriot by heart, Kapil Dev joined the Indian Territorial Army as a honorary Lieutenant Colonel on September 24, 2008.
---
---
Slideshow: Rare photos of cricketers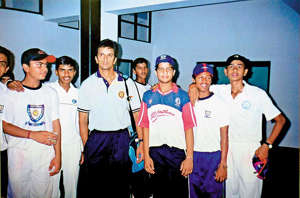 Rare photos of cricketers
More from India Today

India Today