Harbhajan Singh backs BCCI, says IPL not a 'tamasha'

India Today
07-10-2016
Harbhajan Singh and Irfan Pathan have voiced their support for BCCI, ahead of a crucial Supreme Court hearing on Thursday.
The board will be filing its reply on why they have not accepted the Lodha reforms in its totality.
Both the cricketers hailed the Indian Premier League and said BCCI should be given credit for providing a platform for the youngsters.
"With all the due respect to Justice Lodha, IPL is not a 'tamasha' but it is a platform for youngsters to showcase their talent. Players are getting lot of money and the competition is so good.
Photos: 26 most controversial statements by cricketers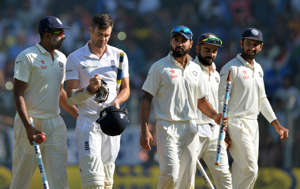 "It is a brilliant platform and this is one of the best thing that has happened to Indian cricket," Harbhajan said.
Pathan also reiterated to what Harbhajan said and wanted the good initiatives taken by BCCI to be counted.
"BCCI has done so many good things and it is unfortunate the way it is being represented now. The good initiatives taken by BCCI should also be taken into count," Pathan said.
"Because of IPL, many cricketers get huge opportunity and their families also get financial support because of it," Pathan added.
More from India Today

India Today