Hardik Pandya: From white ball to whites

The Indian Express
03-11-2016
LESS THAN two weeks before he was appointed as chairman of the national selection committee, MSK Prasad sought Hardik Pandya for a chat in Brisbane. It was the eve of India A's first out of two first-class matches against Australia A at the Allan Border Field. Pandya had even made it this far on tour due to injuries to other players following unimpressive outings in the Emerging Players tournament. But Prasad, who had fellow selection committee member Gagan Khoda for company Down Under, had seen a certain spark in the Baroda all-rounder. Prasad felt there was more to his cricketing skill than the bluster and bombast of his personality. Prasad wasn't ready to be deterred by the 23-year-old's mediocre first-class record.
It's learnt that the conversation went something like this. "We want you to show more responsibility with both bat and ball. We want to see you dig in for a long innings with the bat and also bowl longer spells consistently at good pace," Prasad is believed to have told the flashy youngster.
Pandya didn't quite live up to the selector's expectations in the first game, with the bat anyway, scoring 0 and 7 at No.7. But with ball in hand, he did tick most boxes that Prasad had drawn out for him.
He looked significantly sharper, had his radar in the right place and ran in hard even during an eight-over spell, which included a breakthrough, in Australia A's second innings as the hosts chased down a tricky total.
He'd also impressed Prasad by the fact that he went off the field after this spell with a twitch in his back but returned for another six-over burst. Prasad now wanted to see whether Pandya could do what would be expected of him as the team's all-rounder; bat his team from out of a hole.
Photos: Meet India's 15-man squad for England Test series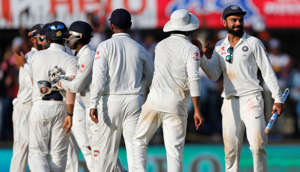 A mature knock
Then in the second match, despite being demoted in the batting order, Pandya walked out with this team at 46/6 and saved the day with a defiant 79. It wasn't the kind of knock you would associate with a man who Indian cricket got associated with thanks to the IPL playing cupid. He was patient, took his time and hit his first boundary after facing 21 deliveries. And he reined himself in even after reaching 50.
He might not have known it then but it was also a knock that probably convinced the soon-to-be selection chief that Pandya was indeed the man he was looking for. And as it turned out, the talented all-rounder was picked for the first two Tests against England on Wednesday in what was the first time Prasad chaired a meeting on the eve of a big series.
First-class stats that read 727 runs at 27.96 and 22 wickets at 33.72 might induce the odd raised eyebrow over Pandya's maiden Test call-up but Prasad was confident that he was the right choice just like he was two months ago in Australia.
"After the India A tour to Australia, if you look at it, his pace has increased, he is able to move the ball much better, his batsmanship has increased and overall, his personality has mellowed down a bit and he is doing really well," he said.
---
---
On the face of it, it's a selection that does give more options to captain Virat Kohli. India hadn't bothered about having a seaming all-rounder in their squad against New Zealand, and preferred to go in with the more traditional six batsmen-four bowler formula. And it worked out pretty well too considering the 3-0 score-line. But having seen England flounder against the young spin attack of Bangladesh last week, it's likely that the Indians might now be keen to go in with three spinners themselves, not that R Ashwin and Ravindra Jadeja haven't shown the ability to run through sides without a third wheel. If anything they've hardly wanted the ball to be too far away from their grasp.

Playing three spinners would also be the only plausible way for Pandya to be part of the playing XI, making him the second seamer behind either Mohammed Shami or Ishant Sharma, who returns to the squad having missed the entire series against the Kiwis owing to illness. And even though on paper Pandya might be India's answer to Ben Stokes, you simply can't see him fit in as the third seamer with pitches not expected to favour the fast bowlers in any great fashion lest that provides an opening to the English.
'The right balance'
"It will allow us to play three spinners. Pandya has been picked to help the team strike the right balance for the England series, and also with an eye to the future. The selection committee took the decision. There was no specific request from the team management for a seaming all-rounder," Prasad told The Indian Express on Wednesday.

It's not always that you'll hear a selector openly talk about a cricketer's personality as part of the rationale behind him getting the nod. But with Pandya you're talking about someone whose flamboyance and outré attitude hasn't always gone down too well with many, especially when he hasn't backed it up on the field. Not to forget a cricketer who once said, "Main khud ko bahut pyaar karta hoon". Now none of this might actually have anything to do with how he bats or bowls, but it was interesting to hear Prasad firstly bring his 'personality' up and then talk about how working under the likes of Rahul Dravid and Anil Kumble has had a positive impact.
Watch: Top 5 funniest cricket moments
"We all know he is a bit hyper. Rahul Dravid has been really working hard with him on the mind aspect. I was part of that A tour where he has worked so much on his mind and now Anil is guiding him," he said while bringing up the El Dorado equivalent of Indian cricket, the search for the next Kapil Dev.
Pandya's inclusion might also well have signalled the end of the road or at least rung alarm bells for Stuart Binny's future in the longest format. Binny was the one the previous selection committee went to whenever they thought it wise to pick a seaming all-rounder in the squad. After making his debut at Trent Bridge in 2014, he made intermittent appearances playing five more Tests, his last outing coming in a rain-affected game against South Africa in Bangalore. He was part of the 17-member party to the Caribbean a few months ago but was overlooked against New Zealand. At 32, age too will understandably go against Binny, who scored a century for Karnataka against Assam only last week.
And based on Prasad's insistence on Wednesday that his selection panel believed in giving players they pick a long-enough rope, it looks like Pandya is here to stay. And that the man who's backed him immensely in the recent past has a few more boxes for his 'find' to tick, but now at the highest level. "I want to make it very clear that we are thinking 10 times before picking a player but if we pick a player he should be given due chances," Prasad said.