Has Mahendra Singh Dhoni lost his magic?

Livemint
27-05-2016
Sometimes, all is not well even if it ends well.
On 21 May, Mahendra Singh Dhoni brought his A game to the field against Kings XI Punjab in the Indian Premier League (IPL). Twelve runs were needed to win off the last two balls of the match and what did Dhoni do? Hit two sixes of course, snatching an improbable victory for his team, as he has done on so many occasions, whether for India or for his IPL team.
However, this last-over heroism wasn't meant to win a tournament; it wasn't even something to celebrate. The win for Rising Pune Supergiants, the team captained by Dhoni, achieved just one thing: Instead of finishing last in the league, Pune finished second last.
It was the first time in IPL history that a team led by Dhoni had failed to make it to the play-offs.
Along the way, there was another dubious distinction for the man widely regarded as the best Twenty20 (T20) captain in the game: For the first time in his IPL career, Dhoni lost four matches in a row.
Has Captain Cool lost the plot completely in this IPL? Apart from being the most successful Indian captain in all formats, Dhoni also had an aura of invincibility in the league—no one has won more matches as a captain in the IPL than him; in the last eight tournaments, he won two titles and his team finished runners-up four times.
"When you get tired of seeing someone being so successful, you tend to wait for such moments to find faults," argues former Indian wicketkeeper Syed Kirmani. "It has happened with me when I was at the peak of my career. People just wanted some change. The same is happening with Dhoni and it's unfortunate."
Rising Pune Supergiants, new entrants to the IPL this season, never really took off—perhaps they were weighed down by the heft of their name.
Or perhaps it was the long list of injuries that clipped their wings. Over a three-week period, Dhoni lost almost his entire overseas contingent to injuries—Kevin Pietersen, Faf du Plessis, Mitchell Marsh and Steve Smith.
"Captaincy is about leading the players at your disposal as well as you can. No matter what you do, if you don't have good players, you won't be able to win matches. The only way you will be called a good captain is if you win, and not for anything else," wrote Virender Sehwag in his column for Sports360.com.
"The difference in captaincy that people talk about between Suresh Raina and Mahendra Singh Dhoni is just a reflection of the quality of players on both sides," wrote Sehwag.
The former India opener's thoughts on Dhoni were echoed by his former teammate Gautam Gambhir. "It would be wrong to blame captain Dhoni for the situation that Pune are in," the Kolkata Knight Riders captain wrote on 8 May in his column for Hindustan Times. "Give Dhoni the core team of Chennai Super Kings and he will be a transformed captain. Get in (Suresh) Raina, (Dwayne) Bravo, (Brendon) McCullum and (Ravindra) Jadeja, and Dhoni's captaincy will run on autopilot. That further underlines my belief that a captain is as good as his team."
Stephen Fleming, the Pune coach, says it is not easy to create a squad from scratch and do what they had been doing with the Chennai Super Kings (CSK) for so many seasons (Fleming was coach for CSK too). "It was a big challenge to bring another group together. You have to get to know people very quickly and not only that, you have to get your combination right," he says. 

However, Dhoni has come under tremendous criticism for some of his seemingly strange decisions, like taking leg-spinner Adam Zampa off the attack against Royal Challengers Bangalore (RCB) after he got the wicket of A.B. de Villiers. He did not allow Ravichandran Ashwin, a proven match winner, to bowl his full quota of four overs in most matches this season, and sometimes introduced him as late as in the 17th over.
Ishwar Pandey, who was one of the best bowlers for the defunct Dhoni-led Chennai team, and who made the shift with his captain to Pune, did not get a single game this season. Sidelining Irfan Pathan for most of the season even had Sunil Gavaskar questioning the move. Dhoni gave Rudra Pratap Singh and Ishant Sharma four matches each (despite an economy rate of over nine) and Pathan was discarded after just one match (he gave seven runs in one over) and got another chance only after everything was lost for Singh. "
At that level, you have big likes and dislikes and it happens with many great captains," says Chetan Sharma, a former India pace bowler who played 23 Tests and 65 ODIs in the 1980s.
Then there is the question of Dhoni's batting. To put it bluntly, he was a miserable failure with the bat this season. He struggled with his timing, and took 22 balls to score eight runs in a match against Kolkata. He finished with one of the lowest strike rates for a batsman in the IPL.
Be it David Warner or Gambhir, whose teams have made it to the play-off berths, or the stunning resilience shown by Virat Kohli for RCB, most teams have been led from the front by their captains as far as batting is concerned. Among all the captains (except Zaheer Khan, who is a bowler), Dhoni was the only one who was not among the top 10 leading run scorers after the league stage ended on Sunday night.
Dhoni took some inexplicable decisions about his team's batting order too, sometimes promoting Ashwin, Thisara Perera, even Pathan, ahead of himself.
Dhoni had faced just 178 balls in the tournament—approximately 16 balls per innings if you don't count his last innings, which turned out to be his best, so it was even more surprising that he was steadfastly hesitant to bat higher in the order.
"It's very simple logic that your best batsmen need to face the most balls," says Sharma. "Holding himself back in all these matches despite injury to top-order batsmen was largely due to the lack of confidence in his own ability."
A close look at Dhoni's batting numbers in the last couple of seasons clearly suggests a pattern of decline in his famously destructive batting style. Last year, he scored 372 runs in the IPL at an average of 31 and a strike rate of 121.96. In 2014, however, he had scored almost the same number of runs, but with a far superior average and strike rate: 371 runs at 74.20, and a strike rate of 148.40. In 2013, it was 461 runs at an average of 41.90 and a strike rate of 162.89.
Of course, critics may argue that Dhoni's numbers in T20 matches for India in the last two years are outstanding—219 runs at an average of 54.75 and a strike rate of 154.22. However, it doesn't mask the fact that he faced only 142 balls and was "not out" in 12 innings out of 16 during that period. Perhaps his ODI record in the same period offers a better perspective: While his strike rate is almost similar to his career strike rate (89), his average has come down from 51 to 38.
Is this the beginning of the end of Dhoni?
"Everyone is human. His frailty isn't surprising; what is remarkable is that he managed to perform like a superman for such a good period," says Kirmani.
A wicketkeeper-batsman who has played non-stop in all formats of the game for almost a decade is perhaps feeling the impact of that enormous workload. Add to that the responsibility of captaincy, and you know why Kirmani refers to him as "superman".
"Before this IPL, if you had asked me who would be my man if I needed 20 runs in the last over, I would have said Dhoni and not Kohli," says Sharma. "Yet, despite the obvious decline in his batting power, I don't think India have anyone in the reserves who is even close to 60% of what Dhoni can still offer as wicketkeeper-batsman."
However, the June tour of Zimbabwe for an ODI and T20 series will be a challenging one for Dhoni, who had always skipped the African nation after his first series more than a decade back.
Slideshow: Wedding photos of cricketers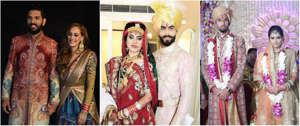 Slideshow: Know your captain - MS Dhoni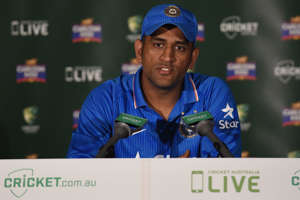 MS Dhoni: Life in pictures