Heartbreak and tears of joy: The jinx of 190s and triple hundreds

India Today
21-12-2016
He came, he saw and he conquered. Karun Nair shattered the record books on Monday as he joined the august company of triple centurions in Test cricket. Nair became the second Indian after Virender Sehwag to score a triple hundred and 26th overall to achieve the milestone.
Nair remained not out on 303 as India declared their first innings at 759/7d in the fifth and final Test against England at the MA Chidambaram Stadium to give the hosts a solid 282-run lead. England reached 12/0 at close on Day 4, still trailing by 270 runs. England had scored 477 in their first innings.
Nair came to the crease at the fall of Virat Kohli's wicket with India at 211/3. He looked good from the word go and stitched a solid 161-run stand with opener KL Rahul to put India in a strong position.
Nair and Rahul play for the Karnataka team in Ranji Trophy and the two have seen and cherished each other's success at the domestic level. The duo was batting at the international level for the first time and they proved their credentials with solid batting display.
Full scorecard: India vs England, 5th Test
It was heartbreak for Rahul, who missed out on his maiden double hundred by only one run and became second Indian and the ninth player in world cricket to be dismissed on 199. Former captain Mohammad Azharuddin was the other Indian who fell short of his double hundred by just one run against Sri Lanka in Kanpur in 1986-87.
It was not the first time that an Indian missed out on a double hundred while the other player slammed a triple century in the same innings.
In 2004 during a Test vs Pakistan in Multan, Rahul Dravid declared India's innings at a mammoth 675/5 leaving Sachin Tendulkar left stranded on 194. However, Sehwag had already created history by becoming the first India to slam a triple hundred.
Here's what exactly happened in these two instances:
PAKISTAN VS INDIA, MULTAN 2004
Dravid, who was standing in for regular skipper Sourav Ganguly in that match, said the declaration was made in the best interest of the team but Tendulkar was not convinced with the explanation. Tendulkar in his autobiography did talk about the incident and revealed he was upset by Dravid's decision to declare.
"I was not given even one ball to get to my double hundred after a message had been sent out asking me to get there as quickly as possible," Tendulkar revealed.
But the good thing was that neither Sehwag nor Tendulkar's efforts went in vain as India won the match by an innings and 52 runs with a day to spare.
In his autobiography Playing It My Way, Tendulkar disclosed how hurt he was at the declaration and he told Dravid to "leave him alone" so that he could come to terms with his disappointment of missing out on a double century.
"I assured Rahul that the incident would have no bearing on my involvement on the field, but off the field, I would prefer to be left alone for a while to come to terms with what had happened," Tendulkar says in the book.
Tendulkar admitted that he was indeed "shocked" at Dravid's decision.
"I was shocked as it did not make any sense. It was Day 2 of the Test match and not Day 4, as it had been in Sydney, a month earlier."
"Disappointed and upset, I made my way back to the dressing room and could sense that the whole team was surprised at the decision (Dravid declaring with me stranded at 194). Some of my team-mates perhaps expected me to throw my gear about in the dressing room in disgust and create a scene. However, such things are not in me and I decided not to say a word to anyone about the incident.
Photos: World records held by Indians in Test cricket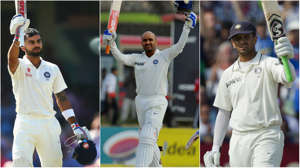 Dravid did apologise at the post-match presentation ceremony. "I had no idea that the match would finish this early. Otherwise, I would have given time to Sachin to complete his double ton."
Tendulkar scored six Test double hundreds in his 24-year long career with the highest score of 248 not out, which interestingly came later that year against Bangladesh in Dhaka.
INDIA VS ENGLAND, CHENNAI 2016
Rahul had a quiet series so far with scores of 0, 10 and 24 before slamming a masterly but unfortunate 199. He has been in and out of the team, not because of poor form but due to injuries. Against New Zealand also, Rahul played only one match before being ruled out of the remainder of the series with an injury.
Rahul opened the innings with Parthiv Patel after England scored 477. The duo started off strongly and put on a 152-run stand before India lost three wickets for only 59 runs leaving the hosts at 211/3.
---
---
Rahul was then joined by Nair and the two played every delivery on its merit but scored at a good pace of 3.84 runs per over and stitched together an all important 161-run stand for the fourth wicket to put India in a good position.

The 24-year-old Rahul was keen to get to 200 quickly and was aggressive in his approach but one rash shot proved costly to him. He was batting at 183 when Moeen Ali came to bowl his 20th over. The Karnataka batsman hammered the right-arm spinner for a four and a six on consecutive deliveries to move to 193. Rahul scored a run each in the next two overs to get to 195.
All looked good, Rahul decided to take on Adil Rashid and found success when he played a beautiful sweep shot for four to reach 199.
This brought the crowd on its feet with every spectator waiting to celebrate the feat. But the next ball from Rashid shocked the Indian fans as Rahul played a loose shot chasing a wide delivery well outside the off stump only to lob a simple catch at cover to Jos Buttler, who doesn't have a history of dropping too many.
This left Rahul and Team India stunned with the batsman standing at the crease in disbelief. He had to drag himself off the pitch after making a strong comeback into the Test side.
More from India Today

India Today