Historic Wimbledon rivalries

Photos
11-06-2016
From Borg vs. McEnroe to Federer vs. Nadal, tennis fans have witnessed fierce rivalry on the court between the greatest players of each generation. As we get ready for the world's most famous tennis tournament, we look back at the most memorable face-offs on the courts of SW19. 
Roger Federer vs. Rafael Nadal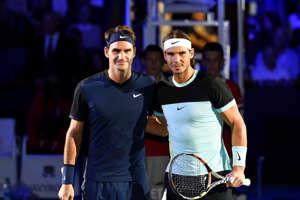 The contrasting styles of Roger Federer (L) and Rafael Nadal made each of their face-offs among the tensest matches in tennis history. While Federer's all-court maneuverability and elegant control is a pleasure to watch, Nadal's unchained aggression and brutal ground-strokes are simply electrifying.
Federer took the top ATP ranking in 2004 and held it for an impressive 237 weeks, until Nadal took it away from him in 2008. Federer regained the top spot 46 weeks later in 2009. The next year, Nadal took back the top rank again.
On the Wimbledon court, they played nine matches against each other, with Federer winning seven of them. But it's the 2007 and 2008 finals that really stick in the memory.
In 2007, top-seeded Federer defeated second-seeded Nadal in a nail-biting 7-6 (9-7), 4-6, 7-6 (7-3), 2-6, 6-2 win. It was Federer's fifth consecutive Wimbledon title, equalling Bjorn Borg's record. And the two came together again in 2008, with Federer hoping to move ahead of Borg's amazing achievement and Nadal aiming to break his rival's grip on grass. 
The pair had dominated men's tennis, winning 14 of the previous 16 Grand Slam titles between them. In a match delayed and then interrupted by rain, Nadal took the first two sets 6-4 6-4, then lost sets three and four by tie-break, before a 9-7 win in the final set gave him the title in a marathon match lasting nearly five hours. 
Commenting later, American tennis legend John McEnroe simply said, "This is the greatest match I've ever seen."
Andre Agassi vs. Pete Sampras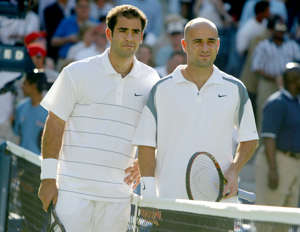 Pete Sampras was undoubtedly the most dominant player of his era, totting up an intimidating 14 major titles including seven Wimbledon crowns. If there's a blot on his resume it's his failure to win the clay-court French Open, but Wimbledon's fast courts suited his aggressive game. Agassi's eight Grand Slam titles, however, included wins in all four major tournaments.
Both the players fought for the World No. 1 spot. Sampras enjoyed the top spot for 82 consecutive weeks when Agassi overcame him in April 1995. He would hold his title for 30 weeks before Sampras again recovered his former position on the table in Nov. 1995. Again, Agassi took the top spot from Sampras in January 1996. 

They delivered a nail-biting 1993 Wimbledon semifinal (Agassi was defending his 1992 title) where both players won two straight sets before Sampras edged the final set for a 6–2, 6–2, 3–6, 3–6, 6–4 win. In 1999, with Agassi coming off the back of a French Open win, Sampras defeated him in a much harder-fought match than the straight-sets scoreline suggests to win the title. 
Margaret Court vs. Billie Jean King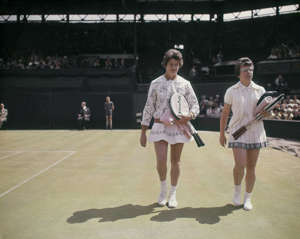 American star Billie Jean King (L) and Australia's Margaret Court had one of the most memorable rivalries in women's tennis in the '60s and the '70s. Facing off for a total of 32 times, Court came out as the winner in 22 matches.
Two of their most memorable matches took place in Wimbledon. In 1962, an 18-year-old and unseeded Billie Jean (then using the surname Moffitt) stunned the world by defeating top-seeded Margaret Court (then known as Margaret Smith) with a stunning 1-6, 6-3, 7-5 victory.
They came together again in 1970. Amazingly, both were carrying injuries: Court to her ankle and King her knee. However, they delivered one of the most memorable finals in Wimbledon history. Court finally took her third Wimbledon title 14-12, 11-9 (modern tie-breaks were yet to be introduced) on the way to her memorable 1970 Grand Slam year: the first time that a player had won all major tournaments in the Open Era. 
John McEnroe vs. Björn Borg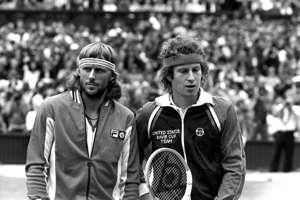 American legend John McEnroe (R) - unsurprisingly, given his volatile reputation - maintained several ongoing rivalries in his illustrious career. For Wimbledon-watchers, though, it's all about him and Björn Borg.  
1979 had been a breakthrough year for McEnroe, who had won the first of his four US Open titles and taken the men's doubles crown at Wimbledon. Borg, three years older, went into the 1980 season looking for his fifth consecutive Wimbledon title. The pair duly met in the final, where McEnroe was booed as he came on court following his bad-tempered exchanges with officials in his semifinal against Jimmy Connors. He shrugged off the atmosphere to take the first set 6-1. 
From the second set, though, Borg's Wimbledon experience and nerve began to show through. The Swede took the second and third sets 7-5 and 6-3, before McEnroe pushed the fourth set to a tie-break, saving a remarkable five championship points before winning 18-16. But the American had given his best and was unable to break Borg's serve in the fifth, eventually losing the deciding set 6-3. At the time, many described it as the greatest match ever played. 
The following year, they met again in the Wimbledon final. Borg had just taken his sixth French Open title (a record that was to stand until Rafael Nadal took his seventh in 2012). but McEnroe prevailed in four sets, bringing an end to Borg's 41-match winning run in SW19. The pair went on to contest the 1981 US Open final, which McEnroe also won. It was Borg's final appearance in a Grand Slam final. The rivalry was cut short by Borg's unexpected retirement at the age of just 26, in 1983. Time magazine wrote, "McEnroe would later say that he never quite recovered psychologically, nor enjoyed tennis as much, after his old foe walked away."
Chris Evert vs. Martina Navratilova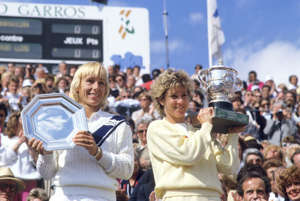 The Evert-Navratilova rivalry is one of the closest and fiercest in tennis history. Over more than 15 years, from 1973 to 1988, they met for a total of 80 times, with Navratilova (R) holding a marginal 43-37 lead. To put that into perspective: the great men's rivalry of the era, McEnroe and Borg, played just 14 competitive matches. 
Navratilova's raw, powerful serve-and-volley game stood in contrast to Evert's clinically precise ground strokes. From November 1975 to August 1987, there were only 23 weeks where one of the pair did not hold the world number one spot. But although Evert held the edge on clay, Navratilova may well be the greatest Wimbledon player, male or female, of all time.  
It's hard to choose a single match between the pair, but the records speak for themselves. Although Evert knocked Navratilova out at the semifinal stage twice (in 1976 and 1980), the Czech legend was generally dominant on grass. She defeated Evert in five Wimbledon finals (1978, 1979, 1982, 1984 and 1985) on her way to a still-unmatched nine singles titles. Along the way, she also picked up seven Wimbledon doubles titles and four mixed doubles titles, the last one coming in 2003 at the age of 46. 
To do Evert justice, she still holds the record for Grand Slam finals contested: a remarkable 34. And she edged Navratilova on clay, taking two of their three French Open finals. But in London, on the grass courts of SW19, Martina reigns supreme, not just over her friend and rival but (surely) everyone else as well. 
Serena Williams vs. Venus Williams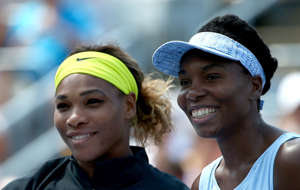 The Williams sisters have, undoubtedly, defined the last decade or women's tennis.  Both have held the world number one spot; both have held dozens of titles. Venus has won a total of 49 singles championships, while Serena holds 69.
Such dominance naturally means that their own rivalry has come to the fore. They have contested the Wimbledon final a remarkable six times. Their first encounter was in the 2000 semifinal, when Venus won 6–2, 7–6 en route to defeating Lindsay Davenport in the final. Venus retained her title in 2001 against Justine Henin, then conceded it to her sister in 2002. The pair contested the 2003 final, with Serena again victorious. 
It switched the other way yet again in 2008, when Venus beat her sister to claim her fifth (and third consecutive) Wimbledon crown. Finally, in 2009, Serena claimed her third title, beating Venus in straight sets. A truly remarkable rivalry, which has so far yielded 11 Wimbledon titles - five for Venus and six for Serena - and some unforgettable tennis.  
Novak Djokovic vs. Andy Murray
Serbian sensation Novak Djokovic (L) and British star Andy Murray currently hold the top two ATP rankings in the world, respectively. Murray may yet prove commentators wrong, but at the moment looks to be tagged as one of tennis' perennial nearly men: he has contested a total of ten Grand Slam finals, winning just two: the 2012 US Open and 2013 Wimbledon crowns. His defeated opponent in both those games? Djokovic. 
By contrast, the Serb has established himself as the dominant force in men's tennis. The pair are the same age (Djokovic is one week younger than Murray), but Djokovic can already boast 12 Grand Slam titles from 20 finals, including three Wimbledon crowns. 
Their tensest match was, perhaps, the 2013 Wimbledon final. Murray, aiming to become the first British man to win Wimbledon since 1936, led the first two sets 6-4, 7-5. Djokovic then raced into a 4-2 lead in the third set, but was pegged back as Murray won three games in a row to go 5-4 up. In an agonising final game Djokovic saved three championship points on his opponent's serve, then forced Murray to save three break points, before netting a return to give the Scot the title. 
During the trophy ceremony, Murray admitted that the game was "the toughest I've ever had to play in my career." Djokovic, showing great sportsmanship, said that Murray was the better player on the day and that he "absolutely deserved to win today." Since that historic game the pair have contested the finals of the 2015 and 2016 Australian Open and the 2016 French Open, with Djokovic taking all three titles. 
Boris Becker vs. Stefan Edberg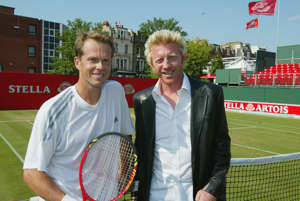 In the '80s and early '90s, Becker (R) and Edberg were at the top of their games. In 1985, German prodigy Becker became the youngest Wimbledon champion aged just 17, a record that still stands. Edberg, a year older, had already claimed that year's Australian Open, beating Swedish compatriot Mats Wilander in straight sets. Becker was to successfully defend his title in 1986 against Ivan Lendl while Edberg, without a Grand Slam win in 1986, took his second Australian Open title in '87. 
From 1988 to 1990, the pair contested three consecutive Wimbledon finals. In '88, a rain-disrupted match stretching over two days ended with Edberg the winner in four sets. The following year Becker, who had been beaten by Edberg in the semifinal at Roland Garros a few weeks previously, annihilated his opponent in straight sets.
Their last Wimbledon final, in 1990, went the full five sets with Edberg taking the honours. They hold five Wimbledon titles between them - three to Becker, two to Edberg - and, since their retirement from tennis, have coached and mentored two of tennis' latter-day greats. Becker has coached world number one Novak Djokovic since 2014, while Edberg spent two years coaching Roger Federer, arguably the greatest male player in Wimbledon history with seven titles from ten consecutive finals. It seems a fitting way to continue one of tennis' most memorable rivalries.