History of deadly plane crashes and sports teams

Photos
30-11-2016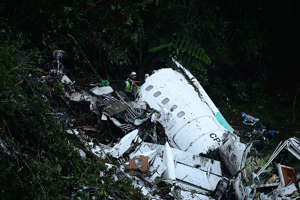 © Raul Arboleda/AFP/Getty Images A chartered plane (pictured above) carrying 81 passengers, including members of the Brazilian soccer team Chapecoense, crashed on the outskirts of Medellín in Colombia on Nov. 29, 2016, killing 75 people. Only two players from the team, Alan Ruschel and Jackson Follman, have survived the crash. Chapecoense, which played in the Campeonato Brasileiro Série A, was heading to Colombia to take part in the first leg of the Copa Sudamericana final against Atlético Nacional. 

This was not the first time that tragedy has struck a sports team on a plane. We remember the teams who lost their players in air disasters. 

Sept. 7, 2011: While travelling to Minsk, the Russian ice hockey team Lokomotiv Yaroslavl lost 27 players, two coaches and seven officials in a plane crash near the Yaroslavl International Airport.
Jan. 27, 2001: Dan Lawson and Nate Fleming, of the Oklahoma State Cowboys basketball team, lost their lives as the plane they were on lost control in a snow storm and crashed near Denver, Colorado, U.S. Also onboard were six members of the staff and broadcasters, who survived the crash.
April 28, 1993: While travelling to a FIFA World Cup Qualifier in Dakar, Senegal, 18 players of the Zambia national soccer team lost their lives along with five team officials, as their plane crashed in Libreville, Gabon.
Dec. 8, 1987: A total of 43 players, managers, staff, cheerleaders and crew members of Peru's first-division soccer team perished as their plane crashed into the Pacific Ocean, only six miles short of its destination, near Callao, Peru.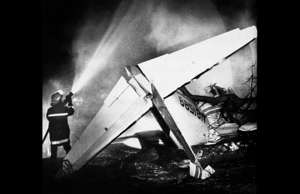 © John Gaines/AP Photo Nov. 25, 1985: Right after the Iowa State women's cross country team became the NCAA Division 1 Runners-Up at the national meet, they met with tragedy as the plane (pictured above) they were on while returning to the city of Ames crashed in Des Moines, resulting in the death of seven runners and faculty. 
March 14, 1980: Fourteen members of the U.S. boxing amateur team were killed when as their plane crashed near Okęcie Airport in Warsaw, Poland.
Dec. 13, 1977: Shortly after lift-off from Nashville International Airport, in Tennessee, U.S., the flight carrying the University of Evansville basketball team crashed, killing 14 players and the coach, Bobby Watson. The team was on its way to face the Middle Tennessee Blue Raiders.
Oct. 13, 1972: Ten players of the Uruguayan rugby club lost their lives in a plane crash in the Andes. Six players survived along with 10 other passengers, who were rescued more than two months after the crash.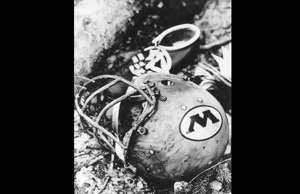 © AP Photo Nov. 14, 1970: A total of 36 players of the Marshall University Thundering Herd football team lost their lives as their aircraft crashed into a hill in Ceredo, West Virginia, U.S. Around 75 lives were lost in the crash. 
Oct. 2, 1970: Fourteen players of the Wichita State football team lost their lives in a plane crash in Clear Creek County, Colorado, U.S. The team was a flying to a game against Utah State University in the city of Logan. (Pictured above) A charred football helmet, bearing the "W" of Wichita State, which was hurled from the wreckage.
Sept. 26, 1969: As the Bolivian soccer team Club The Strongest was returning from a game in Santa Cruz de la Sierra, the plane disappeared. The next day, it was announced that all 74 passengers and nine crew members had lost their lives in a crash near Viloco. Among the casualties were 16 players from the club, two staff members and coach Eustaquio Ortuno. 

April 28, 1968: Five members of the Lamar Tech track team, along with their coach, lost their lives in a plane crash in Beaumont, Texas, U.S. The team was returning from the Drake Relays at Des Moines. Iowa.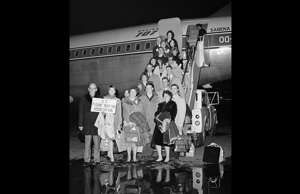 © Matty Zimmerman/AP Photo April 3, 1961: Eight members of the Chilean first-division soccer team, Club de Deportes Green Cross, along with two members of the coaching staff, lost their lives in a plane crash in the Las Lastimas Mountains. 
Feb. 16, 1961: The entire 18-member U.S. Figure Skating team (pictured above) was killed in a plane crash in Berg-Kampenhout, Belgium, along with 10 coaches and officials. The athletes were on their way to participate in the World Figure Skating Championships in Prague, Czech Republic.
Oct. 10, 1960: Sixteen players, along with a student manager and a team booster of the Cal Poly Mustangs college football squad lost their lives in an accident during take-off from the Toledo Express Airport in Ohio.
Aug. 14, 1958: Six members of the Egyptian fencing team lost their lives as their flight crashed into the Atlantic Ocean, about 110 miles from Shannon, County Clare, Ireland.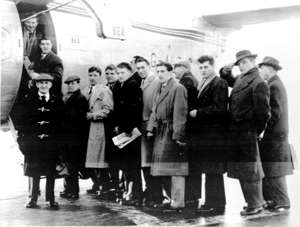 © EMPICS Sports Photo Agency/Press Association Feb. 6, 1958: Eight players and three staff members of the Manchester United soccer club (pictured above), passed away in a plane crash in Munich, Germany, as they were returning home from a European Cup fixture. 
Jan. 7, 1950: On their way to a match against the Traktor Chelyabinsk club, 11 players on the VVS Moscow ice hockey team, along with a team doctor and a masseur, died in a plane crash near Koltsovo Airport in Yekaterinburg, Russia.
May 4, 1949: While returning from a friendly in Lisbon, Portugal on May 4, 1949, the Italian soccer club Torino F.C.'s plane crashed into a church in Turin, Italy, killing everyone onboard, including 18 players, trainers, members of staff, journalists and the plane's crew.
Nov. 8, 1948: The Czechoslovakia men's national ice hockey team lost five members, including the first Slovak ice hockey player in the national team, Ladislav Troják, as their aircraft crashed into the English Channel.