Hollywood movie, PlayStation helped India relax after shock defeat vs Zimbabwe

India Today
21-06-2016
After a cakewalk against Zimbabwe in the One-Day International (ODI) series, the Mahendra Singh Dhoni-led visitors were handed a shock defeat in the first encounter of the three-match Twenty20 series by the hosts.

India, who were without established stars Virat Kohli, Rohit Sharma and Shikhar Dhawan, drubbed the minnows 3-0 in the ODI series for their second successive clean sweep against the hosts. The Indian team, led by Ajinkya Rahane, achieved the same feat last year.
However, the visitors, who played with five debutants, suffered a shocking two-run defeat against Zimbabwe in the first T20.
INDIA'S DASHING REPLY
But India were quick to bounce back in the second T20 with a crushing 10-wicket win to even out the equation before the deciding third T20 tomorrow.
Young opener Mandeep Singh, who scored his debut T20 half-century to guide India to a huge 10-wicket win against the hosts, revealed how the team was able to get over from the shock defeat in Harare.
THE SUCCESS RECIPE
The 24-year-old batsman said the Indian players chose to relax on the eve of the second T20, rather than putting additional pressure on themselves.
"A few boys went to see a movie yesterday, we played FIFA, so we had quite a relaxed day yesterday, and obviously we discussed quite a lot about the previous game, and I think we played really well today," he said.
Indian players went to watch Hollywood thriller "Now You See Me 2" in Harare. The players, alongwith Dhoni, were also seen playing FIFA on PlayStation.
"Obviously that defeat in the opening T20 was hurting, but we discussed a few points that what we need to do and I think whatever we have discussed in that previous game we implemented.
"We have played five games now on this wicket. We discussed a few points and I think we implemented really well. So that was the main thing," said Mandeep.
SLEEPLESS NIGHT
The Punjab batsman, who scored an unbeaten 52 in a modest 100-run chase last night, said the anxiety he felt before the match was surprisingly gone when he came in to bat.
"I had a sleepless night before the match, things like pressure of winning a match or the series play on your mind, and also the fact that the selectors are watching you. Call it pressure or nervousness, whatever you want. But when you go in to bat, it becomes a little easier, at least for me. At that time, I just thought the target is 100, how do I achieve it?
"Once I am inside, these things do not bother me, that the selectors are watching, that this series is very important. Before the match these things do play on my mind, this series is obviously very important, but honestly, once I go in, it is only, I have to bat and win the match," Mandeep said.
Slideshow: India's greatest Twenty20 wins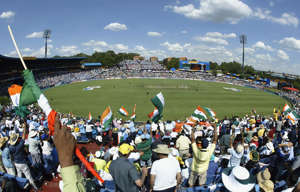 India's greatest Twenty20 wins

More from India Today

India Today