Homeboy Rahane's long wait for a Wankhede welcome

Wisden India
11-12-2016
They are the 41-time winners of the Ranji Trophy. They are the acknowledged kings of domestic cricket. They have thrown up more illustrious batsmen than the rest of the country combined, almost. They pride themselves on possessing a system that ensures that no talent goes unnoticed, no one slips through the cracks, that no good deed goes unrecognised.
They are also the masters of hype; every young batsman, even if just 11 or 13, with some score worth the name is touted as the next Tendulkar or the next Gavaskar. They build up legends and tales, zealously protective of their own and espousing the virtues of the khadoos school to which they lay exclusive claim. And yet, through twists of fate more than anything else, they don't have a single player in the current Indian Test XI.
We are talking about Mumbai, of course. As Bombay, they ruled the domestic scene with an iron fist, their endless supply line of especially high-quality batsmen running roughshod over a majority of the best of the rest. As Mumbai, they have only been slightly less impressive, often running into strong pockets of resistance from other quarters that are no longer willing to roll over and die. But standout names or not, with and without extraordinary individuals, they have nearly every time been able to summon the spunk and the spirit, the determination and the desire, the hunger and the fire, to turn in collective performances that have made them the envy and the object of grudging admiration from the rest of the chasing pack.
And yet… And yet, for the first time in 83 years and 44 Test matches, which translates to the first time ever, India are playing a Test in Mumbai and there isn't a single Mumbaikar standing up to the opposition. There are several famous Mumbaikars closely involved with the ongoing fourth England Test at the Wankhede Stadium, but they are all sitting in the commentary box – Gavaskar, Shastri, Manjrekar – or in the comfort of air-conditioned corporate boxes. And the one man who was, until three days ago, a certainty to be in the playing XI is cooped up frustrated in the dressing-room, an avulsion fracture to his right index finger sustained during match-eve training pouring cold water on his designs of a memorable maiden Test appearance at his beloved Wankhede.
Ajinkya Rahane would have wondered at the irony of the situation if he wasn't otherwise occupied, ruing the cruel, late twist of fate. Since an unmemorable debut against Australia at the Kotla in March 2013, he had to wait two and a half years and a further 17 Test matches before playing another game on Indian soil. In that period, he had made centuries in New Zealand, England, Australia and Sri Lanka, and been dismissed in the 90s in South Africa and Bangladesh. But the wait for another home Test seemed interminable until India finally hosted a Test match in November 2015 when South Africa came calling.
As if to make up for lost time and to purge memories of scores of 7 and 1 on debut, Rahane unfurled 127 and 100 not out in the final Test of that South Africa face-off at the Kotla, the only two hundreds in the entire series of four Tests. Rahane had every reason to look forward to an uninterrupted, unprecedented home bonanza of 13 Tests. Having, however, warmed up with a battling 188 against New Zealand in Indore, Rahane's winter has gone south since. He wiped the floor in the One-Day Internationals against the Kiwis, and had aggregated just 63 runs in five digs in this England series when the training mishap cut his ambitions short, extending his wait for a first Test appearance at the ground where he cut his teeth as a competitive cricketer to at least another ten months, if not more.
© Wisden

Which begs the question – does Rahane miss this Test more, or does the Wankhede miss Rahane more? No contest, you would think. No contest, it probably is, too. Wankhede might say, so what if Rahane isn't there? There still is Koh-li, Koh-li – the newest, trendiest, most catchy chant at Indian venues now – and there is Ashwin. There is Pujara and there is Jadeja. But what of Rahane? There can't be a substitute for the Wankhede, can there be, even if all of India is home? Can there be a replacement for the thrill of turning out in spotless India whites at the ground that is your spiritual home, with family and friends and well-wishers and schoolmates in attendance? The pleasure of holding on to a sharp, or even regulation, catch. The overwhelming sense of feel-good and well-being when the stadium rises as one to applaud a half-century. The lump in the throat when the big screen flashes 'Congrats Rahane, 100'. You will take this anywhere, anytime, against anyone. But when it is in your own backyard? Can't speak from experience, of course, but imagination does allow you to paint a picture. A pretty, and a pretty emotional, one.
Slideshow: 27 'unique' cricket world records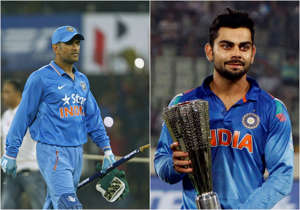 It will happen for Rahane, of course. As it has already happened for Rohit Sharma, who celebrated his first – and to date only – Test appearance in Mumbai with a sparkling century, and is currently recovering from surgery to fix a quadriceps issue. Just as it happened several times for Gavaskar and Tendulkar. And like it has for Sourav Ganguly at the Eden Gardens, Viv Richards at the ARC ground, Brian Lara at the Queen's Park Oval, Steve Waugh at the SCG, Shane Warne at the MCG, Muttiah Muralitharan and Kumar Sangakkara in Kandy. Sometimes, the longer the wait, the sweeter the fruit. But it is unlikely that, right now, Rahane will be thinking along those lines.

Already this series, Pujara has commemorated Rajkot's first Test ever with a century; next week, the Tamil Nadu duo of Vijay and Ashwin has the chance to make the first Test in Chennai for more than three and a half years a memorable one. Both have previously been part of the five-day game at Chepauk, but that will not prevent sentiment from rearing its head once again. "Every blade of grass at Chepauk calls out to me; I also feel as if everyone sitting in the stands is sending out strength and fantastic vibes aimed in my direction when I am out on the park." That's Ashwin-speak, as mesmeric as his offspin. Maybe, a consolatory arm around the drooping Rahane shoulders might not be out of place, either.
Watch: 'Vijay has grown in stature as batsman'