How Gautam Gambhir's Test Return Has Ended in Pain

NDTV
11-10-2016
KL Rahul had an injury on his right hamstring and was ruled out for the remainder of the Test series against New Zealand. In a surprise move, the new selection panel led by MSK Prasad, which incidentally won't pass the eligibility in Lodha recommendations, named Gautam Gambhir as Rahul's replacement for the next two Test matches.
Gambhir doesn't get a chance to play in the second Test in Kanpur but Shikhar Dhawan too sustained a minor fracture on his left hand, and was ruled out of the third Test. He was replaced by Karun Nair but it was obvious that it would be Gambhir who would get a chance at his comeback. Gambhir, who was dismissed for 29 in the first innings, injured his shoulder while fielding, and then again during batting in the second innings, and had to retire hurt. 
Gambhir, who was unbeaten at six at the stage, looked to be in considerable pain and was forced to leave the field due to the injury.
Photos: Watch Out! Nasty injuries on cricket pitch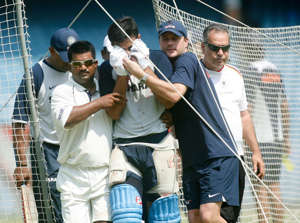 The incident happened when the opener was running between the wickets. While diving to complete two runs from a delivery, Gambhir's landing seemed to cause more damage to an injury on the shoulder that he had picked up while fielding earlier in the match.
He was unable to continue batting following his injury.
The cricketer from Delhi, making his return to the Indian Test team after two years, had been dismissed for 29 in India's first innings.
The injury will come as a major setback to Gambhir, who had been hoping to challenge for a regular place in the Indian team in the ongoing season.
Speaking to NDTV on the repercussions of Gautam Gambhir's injury, cricket great Sunil Gavaskar said, "Gambhir's injury is unfortunate, but that is part and parcel of the sport. If he doesn't bat again in the second innings, it will be difficult for him to come back into the team as KL Rahul and Shikhar Dhawan will return."
"But he was also lucky to play in this Test because of the injuries to Rahul and Dhawan," Gavaskar added.
Watch: 'Sehwag made me jealous at times'