How India's top cricketers have fared on the field after marriage

India Today
02-11-2016
The Indian cricket team is on a roll at the moment winning one series after another in Tests and ODIs alike under the leadership of Virat Kohli and Mahendra Singh Dhoni respectively. Both captains have a settled unit not only on the field but off it as well.
Most of the cricketers in the current Indian side are a part of both the Test and one-day teams. Ever since coach Anil Kumble came into the mix, the team has been victorious on the West Indies tour and in the recently concluded series against New Zealand.
Cricket is a sport which is divided into three segments - batting, bowling and fielding. If a team excels in all three departments then it always ends up on the winning side.
Photos: Wedding photos of cricketers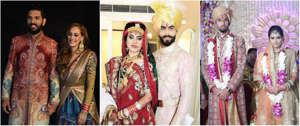 But there are a few other factors which are also equally responsible for a team's success on the field. The support staff, the food which the players eat, their training regime and last but not the least, their life off the field.
A majority of India's cricketers are married now, barring Kohli and a few other youngsters, which gives us the golden opportunity to look at how they have performed ever since they got married.
They say there's a woman behind every successful man. How has marriage affected the performances of India's top guns on the cricket field?
Rohit Sharma and Ajinkya Rahane, for example, have taken giant leaps in terms of their average in both Tests and ODIs. But for players like Dhoni, Ravichandran Ashwin, Cheteshwar Pujara and Ravindra Jadeja, the averages have dipped.
---
---
Watch: Best helicopter shots in cricket history

More from India Today

India Today