How Ishant Sharma met his match Pratima Singh on basketball court

The Indian Express
18-11-2016
FIVE PAIRS of trained eyes follow every galloping step that the 6'4" attempts while dabbling in the basketball dribble. They giggle and politely say Ishant Sharma is "strictly OK" — "it's always funny to watch other sportsmen play our sport". The five sisters are perfectly qualified to pass judgment on anyone's hoop skills given they've represented India at various times over the last ten years.
But even in that awkwardness typical to lanky lads, it is evident to the Singh household that the Indian pacer had done enough to woo the youngest of the five sisters, Pratima, one of India's finest internationals — a gutsy shooting forward and adored team player.
This courtship bloomed on the courtside of the basketball facility at DDA Sports Complex in Vasant Kunj, and was formalised into an engagement in Varanasi last weekend.
It had started when Sharma turned up as chief guest for Delhi's Reebok IGMA Basketball Association (RIBA) League in 2011. According to Akanksha, sister No 4 and India point guard, the Delhi quick chose to not sit stoically on the white VIP sofa on the dais, and instead hopped across the court to mingle with players. He was common buddies with Akanksha's St Stephen's College classmate and struck a friendship with Pratima, who'd dropped by to help her sister Divya organise the meet five years ago.
Photos: Indian cricketers and their WAGs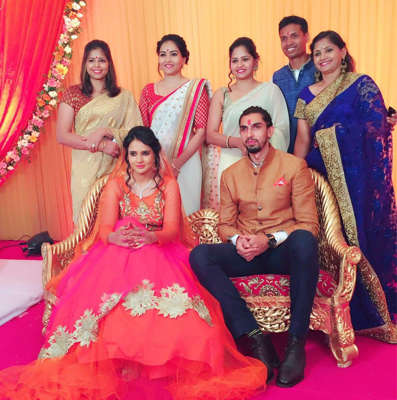 Pratima, 5'9", had followed in the high-ankled footsteps of her elder sisters into basketball. The older two, Priyanka and Divya, are coaches now after building a Delhi women's side and the now-defunct glamorous MTNL team; the third, Prashanti, was one of India's most aggressive post players known for her bulldozing runs. Akanksha, a shade shorter, was playmaker and at one point made three of the starting five for India with Prashanti and Pratima.
Pratima, though, is said to have imbibed the best of the Singh basketball tradition showing deft touch as an outside shooter and boldness when driving in for lay-ups. Former WNBA's Tamika Williams, who coached India briefly, had even said that she could have a shy at pro basketball in the US not too long after she debuted for India as a 16-year-old a decade ago.
If all that sporting pedigree wasn't impressive enough, Ishant Sharma is set to marry — this December — into a family which also boasts a junior I-League team footballer, with the youngest of the brood, Vikrant Solanki, having turned out for Hindustan FC u-19s in 2014.
Vikrant, a midfielder, is also on Delhi's Santosh Trophy squad, and is a little more sympathetic in his assessment of Sharma's basketball skills. "I thought there was too much basketball in the family and my sisters were too good, so I fled to football. Let's just say Ishant plays basketball for fitness, but we can't beat the girls," he laughs, adding that he enjoys Sharma's fiery spells peppered with bouncers.
---
---
"It's a perfect match," says Divya Singh. Basketball might not be as big as cricket in the country, but Pratima's enjoyed an immensely successful career as an international and is an accomplished athlete in her own right, she says. "Ishant's a great guy; down to earth, easy going and respectful. Fame's not gone to his head. It helps that they play sport," the junior India coach says of her rakhi-brother whom the whole family had quietly rooted for when he was running up a 7-for at Lord's two years ago. "We make fun of him though when he plays. He's ok-ok at it but a great sport even when he messes up," says Divya. 

Pratima was the star at the 2008 Senior Nationals for Delhi, known for her lionesque raids into the circle, striking a fine combination with Akanksha, a year older. She represented India at the 2010 Asian Games, but it was a year later after recovering from a career-threatening knee injury at the Senior Nationals that she returned audaciously to average close to 30 points per game. Last year at the Mysore Nationals, too, Pratima — 'Nishi' to her family — had seemed unstoppable and determined to break the Railways-Chhattisgarh hold over the Nationals trophy.

© Indian Express
"Marriage will not change anything. She'll continue playing," says sister Akanksha, adding that the only difference will be that they can expect an Indian cricket star to cheer-lead from the bleachers.
Pratima, a chirpy girl on the court, known to talk to everyone from court attendants to referees at Nationals, is however tight-lipped about the engagement as is the star cricketer. He went mushy on Instagram, though, when he wrote: "There are a lot of people who call you by your name but there is only one person who can makes it sound special. Thank you Pratima for coming in life and making it worth living. I found a great friend, an honest adviser in you, you are someone I can put my trust in and talk anything and everything. my life."
Watch: 10 biggest sixes in cricket history