How MS Dhoni helped Amit Mishra bag a five-wicket haul in series decider

India Today
31-10-2016
Amit Mishra saved his best performance for the series decider as he blew away the Kiwis with figures of five wickets for 18 runs. Immediately after the win, India's premier leg-spinner was quick to highlight how skipper MS Dhoni's advice out in the middle helped him to bowl the series defining spell.
Amit revealed, "In the beginning I was a little tense but MS came up to me and asked me to bowl freely. He told me to bowl wicket taking deliveries like I do and once I did that the wickets followed. I would like to thank the team (in the field) and the tips by MS Dhoni which helped me claim the wickets."
Mishra walked away not just with the man-of-the-match but the man-of-the-series award as well after taking his wicket tally to 15 in five ODIs (next best was Umesh Yadav with 8 wickets). Dhoni kept faith in Mishra and was happy to see the spinner deliver for the team.
"It is good to see Amit bowl well, he has got good control on his flight and also the way he operated with Axar who is more on the flatter side and looks to hit the right areas. It think it was an incredible performance by him (Amit Mishra) in this game", said Dhoni after India beat New Zealand in the Vizag ODI by 190 runs to clinch the series 3-2.
'PHENOMENAL MISHRA'
Former India spinner Nikhil Chopra had pointed out Mishra as India's main weapon before the series began and was delighted that the 33-year-old spinner lived up to his potential.
"Credit where it is due, Amit Mishra got the entire series to play and in the 5 ODIs he has bowled really well. In certain conditions when the ball is spinning you can somehow get carried away and try different things and I think that is where the captain comes in. MS Dhoni told Amit to bowl wicket-taking deliveries and that is exactly what he did. He got the ball to spin from a good line & length. I am very happy for him because here is a man who is in and out of the team and is trying to cement his place and the way he has bowled in the series has been phenomenal," Nikhil Chopra told India Today.
India Today's consulting editor Boria Majumdar was also full of praise for the leg-spinner.
"Amit bowled beautifully and he has been bowling well for a while just look at his record in the IPL and he actually made it back to the Indian team on the basis of his performances in the IPL. Every little opportunity he gets he performs. He is a trier, he tries and tries until he delivers, he is a good guy and full credit to him."
'INDIA NEED CHARACTERS LIKE MISHRA'

Along with his bowling performances, Nikhil Chopra was impressed by Mishra's attitude in the series.
Chopra added, "He is a trier, even in the last game he was hurting when he got out while batting with Axar Patel. He actually felt he could win that game batting with Axar Patel and that is what you want. You need characters like Amit Mishra in your side."
For MS Dhoni this is a crucial series win which will also see the Men in Blue climb back into the top three in ODI rankings.
"For Dhoni it is going to be a break now and I think he will be happy with this win because if India would have lost this series he would have been under enormous pressure after the Test matches to retain his spot as captain. Dhoni has fought hard, he has fought hard with the bat today as well and he deserves this win," Ganguly said.
Having won the Test and the ODI series against the Kiwis a tougher test awaits Team India. The gruelling 5-Test series against England begins on November 9 in Rajkot.
Slideshow: Know your captain - MS Dhoni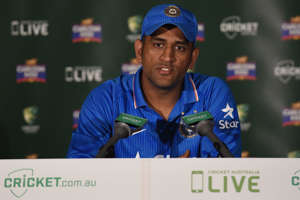 Watch: 'Win over NZ will boost Dhoni's confidence'
More from India Today

India Today