How Paparazzi Forced Sania Mirza to Make Backdoor Entry For Her Own Wedding

NDTV
04-07-2016
Indian tennis star Sania Mirza has revealed that she had to undergo "a trial by fire", referring to the paparazzi and media frenzy, before getting married to Pakistani cricketer Shoaib Malik six years back.
In excerpts, published in The Times of India on Sunday, from her new autobiography 'Ace Against Odds', the 29-year-old said that she had to make a backdoor entry through the kitchen of a luxury hotel for her wedding to avoid the paparazzi.
"As I headed for the biggest occasion of my life, dressed in my bridal finery, my personal car was chased by an army of media men in vans, all the way from my house to Hotel Taj Krishna, where the guests had already gathered for the nikah," writes the winner of six Grand Slam titles.
"To avoid any untoward incident, I was made to enter from the service door at the back of the hotel and through the kitchen area. This was probably another first in the annals of wedding history!"
The autobiography which has documented her journey from a talented teenager to become the World No.1 women's doubles player will be released on July 4 by publishers Harper Collins.
She concludes that once they were inside the hotel, the "ceremony went off beautifully. It had been a trial by fire but the drama ended on a happy note".
Sania has penned the book with her father Imran Mirza.
The Hyderabadi is currently playing at the year's only grass court Major, Wimbledon, where she and Swiss Martina Hingis are the defending champions.
Slideshow: Sania Mirza — the fashionista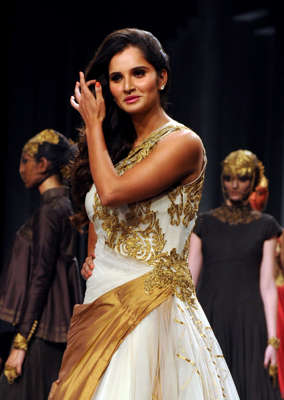 Sania Mirza's hottest red carpet looks