How to eat and train like a Wimbledon tennis champion

The Independent
26-07-2017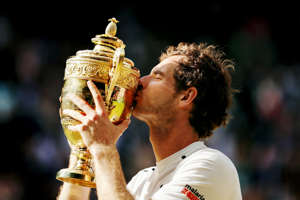 Tennis. Arguably one of the most exciting sports to watch and one of the most fun to play, regardless of whether you're more Murray or Mr Bean.
But whether you're out on the courts on a weekly basis come rain or shine, or simply partial to a casual knock about during Wimbledon fortnight every year, there's a lot we can learn about fitness, nutrition, dedication and ambition from the professionals who travel the world hitting balls back and forth across a net for a living.
One such man is Vasek Pospisil, a former Wimbledon doubles champion and Canadian No.2 tennis player. 
Although yet to win a major tournament in the singles, a few months ago Pospisil made a big change that has made a huge difference to his game: "I changed my diet because I thought I could trim down and lose weight while boosting my energy," he told The Independent.
The 27-year-old has switched to a strict diet, shunning dairy and gluten, although he admits to having a slight weakness for sweet treats, proving even top tennis tennis players are human like the rest of us:
"I should be sugar-free but that's the area where I have some cheat moments," Pospisil says. "You have to stay sane. I don't eat a lot of sugar but I'll have some dark chocolate in the evenings. I try not to go overboard though."
And it's helped him become a better tennis player:
"I feel better on the court, I've trimmed down, I have more energy and don't have dips throughout the day," Pospisil, who is a 6'4", says. "It's pretty stable. The diet is working for me so far but everybody is different."
Novak Djokovic is famously coeliac and follows a largely vegan diet, and one could argue that it's working well for him - he has spoken out before to say he credits his best season ever with switching to a strict diet.
As an athlete, protein is of course important. But apart from the meat in their diets, many top tennis players essentially follow the clean eating movement. (Although they're less vocal about in on Instagram as some health and fitness fans.)
What does this look like on a daily basis though?