How Virat Kohli Is Poised To Be Placed Among Legends

NDTV
18-11-2016
Virat Kohli has scored 200 runs after his bizarre hit-wicket dismissal in the first innings of the Rajkot Test, and remains unbeaten on 151 after the first day of the second Test in Vizag.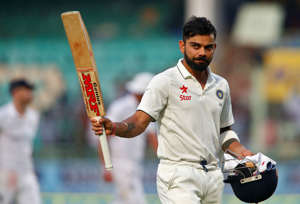 The Indian skipper has aced the art of converting fifties into hundreds. Currently, he has the third best conversion rate in Test cricket after Don Bradman and George Headley.
While Sir Don, with 29 Test hundreds had a conversion rate of 69 per cent, George Headley had 76 per cent. Kohli sits below him at 54 per cent but with four more hundreds in Tests than him.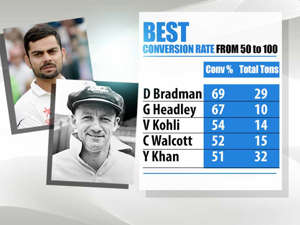 The Indian captain scored his 14th Test ton on Thursday against England and his temperament is making the experts believe that big runs are in store. Sunil Gavaskar says: "Virat puts a high price on his wicket. The minimum price every batsman should put on his wicket is hundred runs. Though Virat has some fifties, most of the time he gets past the fifty mark, he gets to hundred. In fact if you have a look at it, it is 14 hundreds to 13 fifties. That is an outstanding statistic. It tells you his hunger for hundred. In the last six months he has got two double hundreds and I am pretty confident that he will score a couple more before the end of the series. Virat is hungry for big 100s."
Sunil Gavaskar knows a thing or two about scoring big hundreds. He bagged 20 tons in his first 50 Tests, while Virat has managed 14.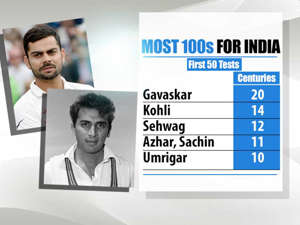 The Little Master is in awe of the Indian skipper's achievement and says: "Virat deserves every bit of the accolade he gets. Look at the progress he has made, not just as a batsman but as a person as well. And that is the stand-out thing as far as I am concerned. He is very rooted and down to earth. I keep talking about what a wonderful role model he has become.
"Yes, he is very expressive on the field because that is his personality. The way he respects seniors and the way he carries himself, I think he deserves every bit of the praise. No wonder social media loves him, no wonder brands want to be associated with him. You not just want to be associated with a successful person but you want to be associated with a nice successful person."
Certainly nice guys do not come last these days and statistics reveal that. He is fifth on the list of best averages after 50 Tests that features the likes of Gavaskar, Dravid, Sehwag and Tendulkar.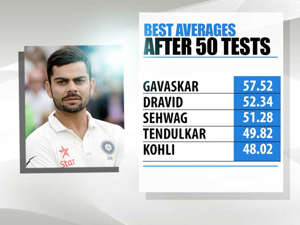 There is no doubt that the Indian skipper will want to make Vizag's debut Test special, given that he has lit up the stadium every time he has walked into the middle here.
He has the proud record of notching up two ODI and one Test 100 now.
---
---
Photos: 26 things you should know about Virat Kohli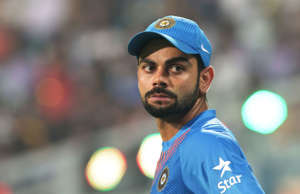 Watch: Virat Kohli's debut ODI innings