How Virat Kohli is right about former Australia wicketkeeper Ian Healy?

The Indian Express
22-03-2017
The intensity and aggression between India and Australia during this four-match Test series is growing with every passing day. From the on-field sledging and heated arguments to off-field blame-game have been regular instances of this bilateral series.
While the Australian media lashed out at Indian skipper Virat Kohli after a piece in Daily Telegraph labeled him as Donald Trump of World sports on the other hand veteran Indian batsman Sunil Gavaskar suggested the home side to focus more on their game and not on the off-field aggressive exchange.
Photos — Cricketers: Then and now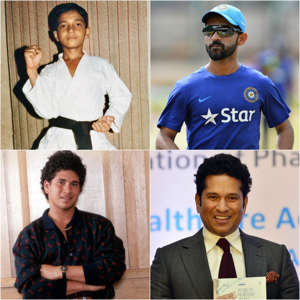 Earlier, former Australian player Ian Healy took a dig at Kohli when he stated that he was losing respect for the present Indian skipper.
"The pressure is starting to tell on (Kohli). I'm losing respect for him. He's got to be a lot more respectful of his opponents. The stuff he did with Steve Smith was unacceptable," Healy told Melbourne radio station SEN.
In reply to former Aussie wicket-keeper, the flamboyant Indian batsman gave it back in the most brilliant way that he could have. Kohli asked to take a look at the instances where Healy himself had been involved events which can never be called as decent.
[I'll lose respect] in his eyes? We've got 1.2 billion people in India. One person doesn't make a difference to my life. And also I think you should go and search on YouTube, when he was given out in Centurion, down the leg side. I heard he said something about me not having good behaviour with umpires – I think you all should YouTube that video and I think, yeah, that says it all. Just see that video and next time you ask me the same question," said Kohli.
---
---
Well, it seems that the right-handed Indian batsman was certainly correct in making the media and fans notice about Ian Healy's behavior on the field during his playing days. Healy once showed dismal gestures after he was given out by the umpire in Centurion. He used unacceptable verbal language and later showed his anger by throwing away his bat while returning back to the pavilion.
On another occasion the Australian team once again came up with disgusting game play when Healy showed a lack of sportsmanship during a match against West Indies. It happened when Brain Lara was on the crease and as the left-handed batsman came down the track to smash the ball hard he totally misjudged it and was stumped. But that was not before Healy fumbled with the ball as he wasn't really able to grab the ball but eventually managed to dismantle the wood work behind Lara.
It seemed that Healy missed out on that easy stumping chance but the umpire raised his finger without referring it to the tv umpire. However, replays revealed that Lara had managed to ground his bat.