How Virat Kohli shattered AB de Villiers' record

India Today
28-10-2016
Virat Kohli has been in sensational form this year, scoring heavily in all formats. Kohli has been Bradmanesque in T20s, has slammed three hundreds in nine ODIs, and hammered two double hundreds in Tests.

The Delhi dasher has plundered 1614 runs in the shortest format, cracking four hundreds. He led India to a 3-0 series whitewash against Australia, the Asia Cup T20 title in Bangladesh and to the semi-finals of the World T20 at home. Kohli then turned his focus on to the Indian Premier League, where he amassed a record 973 runs.
Kohli has been equally sensational in Tests this year, leading India to series victories over West Indies and New Zealand. Recently, he became the first Indian captain to slam two double hundreds in Tests.
While Kohli has been breathtaking in all the three formats, his penchant for breaking records in one-day cricket has been unstoppable.
Kohli, who has formed the backbone of the Indian middle-order, has proved his mettle as a master chaser. He has impressed all with his aggressive approach, reading of the game, leadership skills and gradually climbed up the stairs to become the mainstay of Indian batting.
The 27-year-old, with 14 hundreds in successful chases in ODIs, equalled Tendulkar's record. While Tendulkar had 14 hundreds in 124 innings, Kohli has the same in a remarkable 59 innings.
Slideshow: Virat Kohli - On and off the cricket field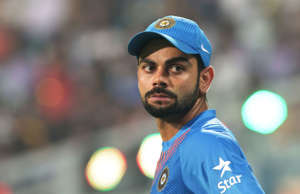 He is now No.4 in the list of players with most ODI centuries. Kohli has surpassed Sri Lanka's Kumar Sangakkara's tally of 25 hundreds and his behind Tendulkar (49), Ricky Ponting (30) and Sanath Jayasuriya (28).

Continuing with his record-breaking spree, Kohli yesterday smashed another record in one-dayers.
The Indian run-machine became the fastest to pile up 7500 runs in one-day cricket, surpassing South African superstar AB de Villiers.
Kohli reached the milestone in just 167 innings, beating de Villiers (174 innings) by a significant margin.
The legend of Kohli has touched new horizons since the time he burst onto ODI cricket. Kohli's insatiable hunger for runs has earned him comparisons with 'Little Master' Sachin Tendulkar.
Kohli has been second to none since making his ODI debut in 2008. He has scored plenty of runs and has been a dominant force ever since. Kohli's biggest years in terms of runs were 2010 to 2014.
In 2010, Kohli fell five short of reaching the 1000-run mark but did that for the next four consecutive years (2011-2014). And after a dip in form in 2015, Kohli has once again ruled in 2016.

Years Matches Innings Runs  Avg   100s
2008      5            5      159   31.80    0
2009      10           8      325  54.16    1
2010      25          25     995  47.38   3
2011      34          34     1381  47.62   4
2012      17           17     1026  68.40  5
2013      34          30     1268 52.83   4
2014      21           20     1054 58.55  4
2015      20          20      623 36.64   2
2016       9           9        674 96.28   3
In these eight years, Kohli has not spared a single opposition, and he has shown a special liking for Australia, Sri Lanka, Bangladesh, West Indies and New Zealand.
The bulk of Kohli's runs have come against Sri Lanka (1856), followed by West Indies (1143), Australia (1002) and New Zealand (826).
Kohli has also shown that he is equally deadly on foreign soil. He has scored 1001 runs in Australia - the most outside India - 970 in Bangladesh, 569 in Sri Lanka and 424 in England.
Watch: When Virat made his ODI debut
More from India Today

India Today