Humanly impossible to match up to Sachin Tendulkar: Virat Kohli

India Today
11-07-2016
Virat Kohli is geared up to lead India in the four-Test series in the West Indies but before another hectic international season got underway, the 27-year-old once again reminded fans and the media to stop comparing with batting maestro Sachin Tendlulkar.
Photos: Virat Kohli - On and off the cricket field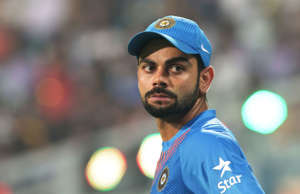 Kohli has been in sublime form over the last year. He has been piling up runs across formats and his sensational run in T20s (Internationals and the Indian Premier League), has been phenomenal.

The aggressive Delhi batsman stamped his authority as a modern-day great and has won a lot of admirers. Cricket greats and fans alike have hailed him the best in the business and even went on to compare him with Tendulkar, after he single-handedly helped India overcome Pakistan and Australia to see the team through to the semi-finals of the ICC World Twenty20.
'HE SHOULD BE LEFT APART'

However, Kohli himself has strictly objected to such parallels being drawn. In a recent interview to the International Cricket Council (ICC) website, Kohli has justified his stand by stating why he shouldn't be compared to his idol- Tendulkar.
"I don't see why people compare me with him because the way he played his cricket and the way he inspired people, I don't think anyone else has been able to inspire people like that. Where he is, I think all the comparison should start leaving him aside. Even if people want to compare, he should be left apart, it should start from under him," Kohli said.
Kohli also said Tendulkar had motivated him and many others to take up the game.
"Sachin Tendulkar motivated all of us to play cricket."
'HUMANLY IMPOSSIBLE'
Kohli said Tendulkar's legacy should be respected and appreciated and that it would be inhuman to try and match his records.
"I don't intend to match up to the numbers that he has produced for India because it is humanly impossible to that you will be able to play that long period because he started at 16 firstly and then to be so consistent, you cannot guarantee that."
"That's once in a lifetime kind of legacy in cricket. We should appreciate that, respect that and not get carried away with comparisons. He has left a legacy which will be hard to recreate. To play for 24 years and score 100 centuries is not an easy thing.
"He will probably be the one and only man in Indian cricket to have that sort of an impact," Kohli said.
Kohli has been impeccable with his off-field training regime as well. He has been training hard at the gym and is believed to have a strict diet. With a never-say-die attitude, Kohli has been rewriting record books in the recent past.
"I will be happy with what I have achieved at the end of my career because I give my 120 percent," he said.
More from India Today

India Today