Ian Healy, you just saved my life

The Roar
09-03-2017
Given the way the Indian team had been playing in this series against Australia, I barely have any hair left to tear out of my already depleted skull.
The fear of the proverbial cap bursting its seams and my bottled angst gushing out like a geyser has kept me away from platforms like The Roar these past weeks.
But Ian Healy has thankfully solved that problem.
I laughed until the tears ran down my face and I fell off the bed as I read about his rant on Melbourne radio station SEN.
Photos: 'Special' world records of Indian cricketers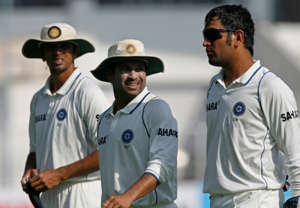 Healy said, "The pressure is starting to tell on [Virat Kohli]. I'm losing respect for him. He's got to be a lot more respectful of his opponents. The stuff he did with Steve Smith was unacceptable."
Really Heals? Wow! This from a man who once told Arjuna Ranatunga: "You don't get a runner for being an overweight, unfit, fat c***."
This from a man who screamed at a Mike Atherton refusing to walk: "You're a f****** cheat."
Of course, that came right back at his unsuspecting face from Atherton: "When in Rome, dear boy!"
To be fair, Heals had a couple of genuinely funny ones. He is said to have directed this at his favourite target, Ranatunga, when the Aussies could not get him out: "Put a Mars bar on a good length. That should do it!"
---
---
He was mainly crass, however, among the sledges which are widely known, and if he had played in the age of the excellent stump cams we have these days, posterity would have been the richer by his output. 

So when Heals starts ranting on sledging (as he did against the Kiwis a year ago as well), it is a bit rich, and perhaps a mild case of the pot calling the kettle black.
This is a series with a lot of pride at stake. And India's pride, until last night, had been wallowing in dust and the nose was black from being rubbed in the cracks on some terrible pitches by a better prepared Aussie team.
Sledging tends to be at its peak when things aren't going so well for the team doing the sledging. So India are doing much of the sledging at the moment and the Aussies know exactly how to handle it.
On another day it will be the Aussies joining Matthew Wade in his (currently mindless) sledging, and India will know how to handle it.
We clearly don't need sermonising from folks who figure prominently in every single list that's ever been compiled of the 'Top 20 sledges of all time'.
Hold your horses Heals. But thanks for making me laugh.